Friday, April 30, 2021
  Around Campus
By News and Internal Communications
 PHOTO GALLERY by Paul Chouy
RIO GRANDE VALLEY, TEXAS – More than 50 graduates from the UTRGV School of Social Work celebrated the completion of their master's degrees with family and friends during a special drive-through hooding ceremony on Thursday, April 29, on the Edinburg Campus. 
The 2020 and 2021 graduates took part in a hooding ceremony, which is considered an important and symbolic ritual signifying the end of a journey and the beginning of a new one. The ceremony does not replace commencement for the graduates, which will take place May 7-8 for the Class of 2021 and May 13-15 for the Class of 2020. 
The School of Social Work holds an in-person hooding ceremony every year, however, because of the pandemic Dr. Luis Torres-Hostos, founding dean of the School of Social Work, determined a drive-through ceremony would be the ideal opportunity for graduates to commemorate their achievement with family and friends.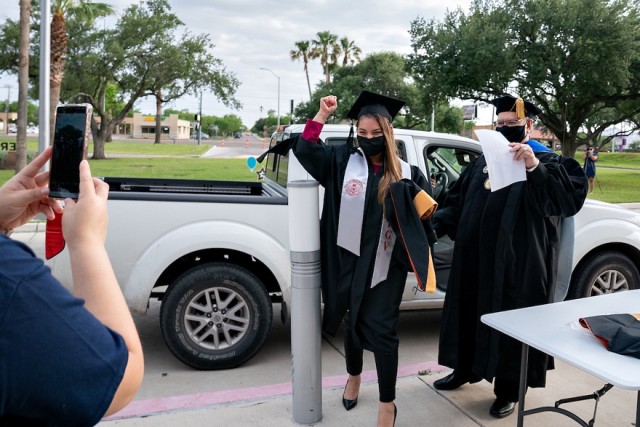 "We wanted to host this ceremony, rather than foregoing it again like last year, to honor our students who have been through a lot in the past year and still stayed true to their course," said Torres-Hostos, who conducted his first hooding ceremony as dean on Thursday evening. "This is also a way to get us to slowly start shifting our thinking toward coming back together in the fall."
Graduates and their loved ones drove up in their vehicles to the UTRGV Performing Arts Complex circle drive where the graduate, who was masked per COVID-19 guidelines, stepped out of the vehicle and onto a stage to have their hood placed over their head by Torres-Hostos or a faculty member who played a major role in their UTRGV journey, all while their family remained in the vehicle and cheered them on.
The ceremony was a family affair for Dr. Romeo Escobar, assistant professor in the School of Social Work. The proud father called it "an auspicious moment" when he placed the master's hood on his daughter, Bianca.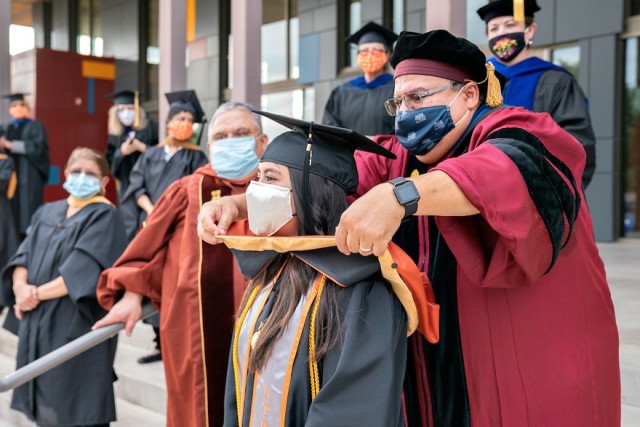 "I am beyond blessed because not only am I graduating, but my dad hooded me so that's a really big honor for me," said Bianca. "I have unconditional support from my family and they pushed me along and I was able to get here today. It's an awesome feeling that I'm finally graduating." 
Bianca is the youngest of four and the third sibling in the family following on the pathway to social work.
"This is very special. I think that she felt that this was a profession for her when she received her undergraduate degree from UTPA," said Romeo. "She started doing some case work for foster children and then she realized 'I think I need to go into social work because I enjoy helping families, and I enjoy helping children.'"
Also, taking part in the hooding ceremony was Jharezee Guzman from Hidalgo, who was thrilled to be completing this part of her academic career.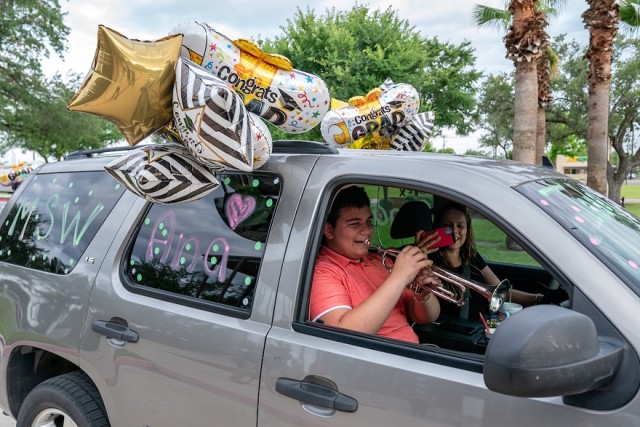 "When I first considered going into a two-year program, I felt like time was going to go by so slow, but wow these years flew by," Guzman said. "It all feels so surreal and I can't believe I am accomplishing this dream of getting a master's degree in social work."
Torres-Hostos said this past year has been a challenge and has shown the important role social workers have in society. 
"The economic collapse and health crisis precipitated by the COVID-19 pandemic, and the social instability of the past year, have disproportionately impacted some of the most vulnerable people in our society, from the elderly to racial and ethnic minorities," said Torres-Hostos. "Food insecurity, housing instability, loneliness and isolation, and health and mental health concerns have all increased, making the need for social workers critical. Our graduates stand ready to make an immediate impact in the Rio Grande Valley and beyond." 
The UTRGV School of Social Work is the only bachelor's and master's degree program in social work south of San Antonio.
To learn more about the School of Social Work, visit www.utrgv.edu/socialwork/.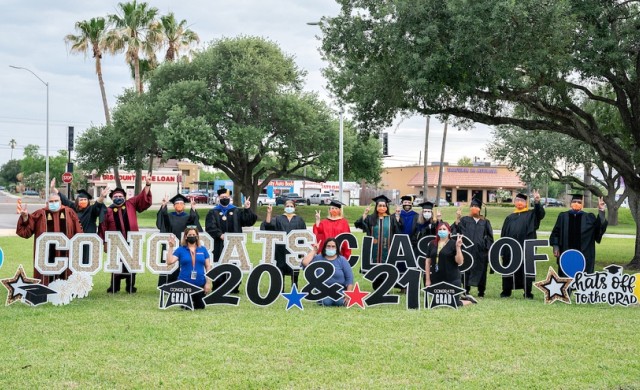 UTRGV SPRING 2021 COMMENCEMENT
UTRGV Spring 2021 Commencement ceremonies will be held in-person on Friday, May 7, on the Edinburg Campus, and Saturday, May 8, on the Brownsville Campus. To view ceremony times, visit www.utrgv.edu/commencement/ceremonies/spring-2021-commencement.
ABOUT UTRGV
The University of Texas Rio Grande Valley (UTRGV) was created by the Texas Legislature in 2013 as the first major public university of the 21st century in Texas. This transformative initiative provided the opportunity to expand educational opportunities in the Rio Grande Valley, including a new School of Medicine, and made it possible for residents of the region to benefit from the Permanent University Fund – a public endowment contributing support to the University of Texas System and other institutions.
UTRGV has campuses and off-campus research and teaching sites throughout the Rio Grande Valley including in Boca Chica Beach, Brownsville (formerly The University of Texas at Brownsville campus), Edinburg (formerly The University of Texas-Pan American campus), Harlingen, McAllen, Port Isabel, Rio Grande City, and South Padre Island. UTRGV, a comprehensive academic institution, enrolled its first class in the fall of 2015, and the School of Medicine welcomed its first class in the summer of 2016.