Tuesday, March 23, 2021
  Around Campus
By Dimitra Trejo
RIO GRANDE VALLEY, TEXAS – The UTRGV School of Medicine's Class of 2021 celebrated a memorable Match Day on Friday, with 50 medical students matching to residency programs around the country. 
UTRGV's second class of medical students will graduate in May. More than half of ​the soon-to-be graduates will stay in Texas for their residency. In all, 29 of the 50 matched to programs in Texas, and nine will participate in residency programs in the Rio Grande Valley.
Match Day is a national day of transition, when fourth-year medical students open and read their letters from the National Residency Matching Program (NRMP). The NRMP program ​matches for graduating students with available training positions at ​health systems around the country.
UTRGV students ​will train through residencies in primary care ​and medicine, ​as well as in procedural specialties such as orthopedic surgery, anesthesiology, general surgery, ​otolaryngology - head and neck surgery, dermatology, emergency medicine, psychiatry and radiology. Students matched to a number of prestigious residency programs, such as UT Southwestern, Cleveland Clinic, Massachusetts General Hospital, New York Presbyterian Hospital – Columbia University Medical Center, ​the University of Washington and the University of Virginia, among others.
This year marked a special match day for UTRGV fourth-year medical students, as they joined their classmates and closest family members for the school's first in-person event since the pandemic. Masks and other safety guidelines were observed. The event also was livestreamed.
Dr. John H. Krouse, dean of the UTRGV School of Medicine and executive vice president for Health Affairs, said medical students exceled this year, despite setbacks and challenges during the COVID-19 pandemic. 
"No one could have predicted the events of the last 12 months. Clearly it was unprecedented in medical education and it was unprecedented in clinical care," Krouse said. "And you, our medical students, were in the midst of it, trying to learn clinical medicine deep in a pandemic.
That has not happened in a century in this country, and your lives will forever be touched by the experiences you've had in the last year. It's been a remarkable time."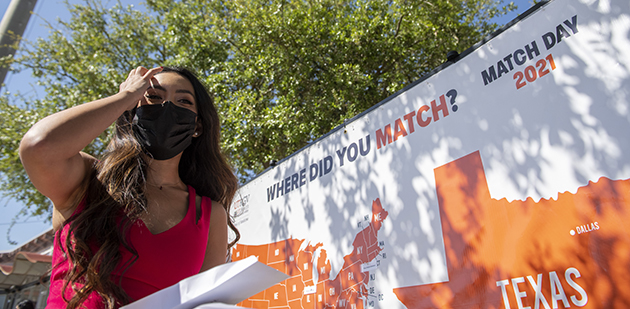 FOURTH-YEAR STUDENTS, NOW RESIDENT PHYSICIANS
Patrick Ojeaga, UTRGV fourth-year medical student as well as student regent for the UT System Board of Regents, participated in Match Day along with his brother, Macaulay Ojeaga, a student in the same class.
"Attending medical school with my brother, Mac, has truly been an unforgettable experience," Patrick Ojeaga said. "It was great to be able to pursue our goal of becoming physicians together. Having each other as a support system for four challenging years of medical school was a major bonus."
The brothers, originally from McAllen, opened their letters at exactly 11 a.m., like thousands of fourth-year medical students across the country, to learn that they had been accepted to the residency programs they preferred.
"I feel overwhelmed with gratitude for everyone who has helped me along this journey, and I cannot wait to begin serving patients and the community," Patrick Ojeaga said. "I have matched to the University of Texas Southwestern Medical School's residency program, where I will be focusing on orthopedic surgery.
"And I'm proud of my brother, who matched to the University of Kansas School of Medicine in Kansas City for their otolaryngology residency program."
Fourth-year medical student Lauren Bayliss, from Seguin, Texas, said she was grateful to have participated in the traditional Match Day event, especially after the challenges of the past year.
"I'm glad to be moving forward in my medical career," said Bayliss, who now heads to the University of Texas Medical School at Houston as part of the school's Emergency Medicine residency program.
"My attraction to fast-paced environments and the appeal of a broad scope of practice confirmed that emergency medicine was the career for me," Bayliss said.
Matching with his chosen internal medicine program was fourth-year UTRGV medical student Adedayo Okanlawo, from Houston, who is now bound for Massachusetts.
"Massachusetts General Hospital is the teaching hospital of Harvard Medical School," Okanlawon said. "I am very honored and excited for the opportunity to go there and learn from some of the greatest minds in medicine."
Dr. Leonel Vela, UTRGV senior associate dean for Educational Resources and senior associate vice president for Education, recalled the long journey students experience to make it to Match Day, not just this year, but every year.
"I remember vividly the White Coat Ceremony in 2017 that welcomed this class into the medical profession, as they prepared for the journey to becoming practitioners of the art and science of medicine," Vela said. "Match Day celebrates a wonderful and significant achievement as students enter the next phase of their medical education journey, as they transition to residency programs for training in their chosen medical specialties."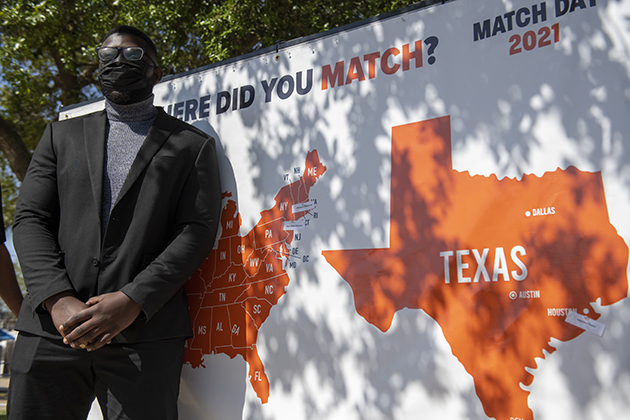 ABOUT UTRGV
The University of Texas Rio Grande Valley (UTRGV) was created by the Texas Legislature in 2013 as the first major public university of the 21st century in Texas. This transformative initiative provided the opportunity to expand educational opportunities in the Rio Grande Valley, including a new School of Medicine, and made it possible for residents of the region to benefit from the Permanent University Fund – a public endowment contributing support to the University of Texas System and other institutions.
UTRGV has campuses and off-campus research and teaching sites throughout the Rio Grande Valley including in Boca Chica Beach, Brownsville (formerly The University of Texas at Brownsville campus), Edinburg (formerly The University of Texas-Pan American campus), Harlingen, McAllen, Port Isabel, Rio Grande City, and South Padre Island. UTRGV, a comprehensive academic institution, enrolled its first class in the fall of 2015, and the School of Medicine welcomed its first class in the summer of 2016.