Monday, March 8, 2021
  Awards and Recognitions, Community
By Victoria Brito
RIO GRANDE VALLEY, TEXAS – International Women's Day has been celebrated across the globe today in celebration of the social, economic, cultural and political achievements of women. 
The University of Texas Rio Grande Valley's International Admissions and Student Services hosted its annual IWD celebration virtually, to honor the international women's community at UTRGV. The event also was streamed on Facebook Live.
"In a year defined by a tremendous challenge and a continued transformation, we are gathered today to celebrate International Women's Day at UTRGV," said Samantha Lopez, director of UTRGV IASS. "Unfortunately, this year we will not be able to gather and be close to each other. Still, we choose to be here to hold this event virtually to celebrate and acknowledge the outstanding work of our international female faculty and students."
This year's theme was Choose to Challenge.
"We all have the power that we can bring change," said Dr. Parwinder Grewal, UTRGV executive vice president for Research, Graduate Studies and New Program Development. "As you know, gender equity is a big problem all around the world, and in the United States we have a big equity gap."
He called on everyone to take the action needed to address equity.
"Equity in all its forms is an important cause that we need to work on," Grewal said. "This year has been particularly tough on all women. COVID-19 has exposed so much of what women can do for families and communities."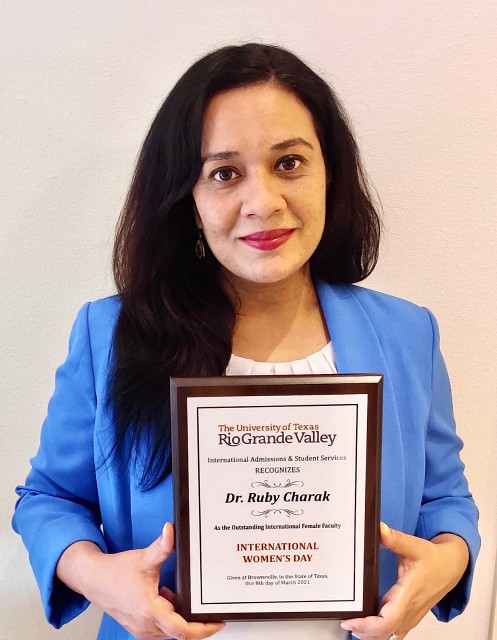 RECOGNIZING AND HONORING WOMEN AT UTRGV
Dr. Ruby Charak, associate professor of psychology, was honored as the 2021 Outstanding International Female Faculty. She was nominated by the Women's Faculty Network.
Charak is from India and has been on faculty at UTRGV since 2016. She works with and mentors students from around the world.
"I am honored and humbled to be recognized," she said. "Today, as I reflect upon my experiences and travels from India to Europe to the U.S., I realize that my journey is a part of my identity now – an identity that is ever-evolving, full of passion, compassion and growth."
As Charak accepted her award, her mother was there to witness her daughter's achievement, eyes filled with happy tears.
"I would like to take this opportunity to encourage women to believe in their dreams and aspirations," Charak said. "And as you make your way to the top echelon, remember to throw the rope back."
Also being honored were the International Female Students: Undergraduate and Graduate. The awardees were given a $1,000 scholarship to further their education at UTRGV.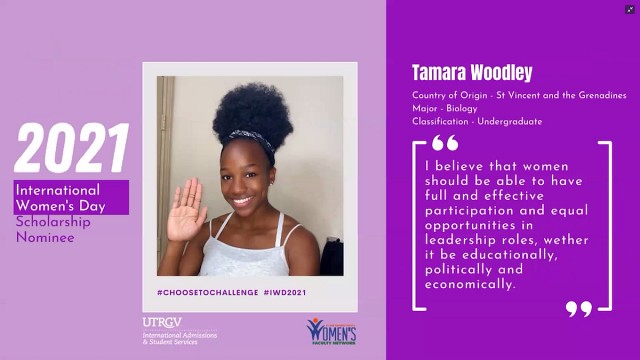 UNDERGRADUATE HONOREE
The undergraduate student honored was student-athlete Tamara Woodley, from the Caribbean island of St. Vincent and the Grenadines. A sophomore biology major, she is a member of the UTRGV Women's Track and Field team.
"Right now, I am on the road today traveling to Houston for a competition," Woodley said. "I did my best to be here to express my gratitude and how much it means to me to accept this scholarship. I come from a small island and it took a lot for me to adjust to the U.S., so I thank everyone for giving me the opportunity to do so."
GRAD STUDENT HONOREE 
The graduate honoree was Haimanti Majumder, from Bangladesh. She is pursuing a master's degree in chemistry at UTRGV and will graduate Fall 2021. She is heavily involved in research within her department.
"My grandmother used to tell me, 'Be a woman who will never be suppressed by any other,'" Majumder said. "I belong to a country where, still, women are considered as less capable than men. They are not encouraged to study in technical subjects."
Majumder expressed gratitude to UTRGV for giving her a space to attain an education and help chip away at the gender barriers in her country.
"Now, I am at a better place here at UTRGV," she said. "Here, at least, all my rights and safety has been assured and I have the independence to do my research work. Everything has been possible through my supervisor, who I would like to give a special thanks. Dr. Mohammed Jasim Uddin has been a great support for my academic and personal life."
ABOUT UTRGV
The University of Texas Rio Grande Valley (UTRGV) was created by the Texas Legislature in 2013 as the first major public university of the 21st century in Texas. This transformative initiative provided the opportunity to expand educational opportunities in the Rio Grande Valley, including a new School of Medicine, and made it possible for residents of the region to benefit from the Permanent University Fund – a public endowment contributing support to the University of Texas System and other institutions.
UTRGV has campuses and off-campus research and teaching sites throughout the Rio Grande Valley including in Boca Chica Beach, Brownsville (formerly The University of Texas at Brownsville campus), Edinburg (formerly The University of Texas-Pan American campus), Harlingen, McAllen, Port Isabel, Rio Grande City, and South Padre Island. UTRGV, a comprehensive academic institution, enrolled its first class in the fall of 2015, and the School of Medicine welcomed its first class in the summer of 2016.