Distinguished Speaker Series

  Tuesday, February 9, 2021
  Around Campus, Alumni
By Melissa Vasquez
RIO GRANDE VALLEY, TEXAS – Actor, artist and activist Terry Crews was all smiles when he spoke to a virtual audience of UTRGV students, staff and faculty during the university's Distinguished Speaker Series on Monday night.
"Hello! Hello! Good evening everybody. Ay! Ay!" Crews said, as he opened the highest-attended DSS event in UTRGV history, with more than 1,200 individuals watching from home.
Crews was part of the 17th season of one of the university's most popular events, which has been held in a virtual format since September due to the ongoing COVID-19 pandemic. This season the lineup has included actor and activist John Leguizamo and CNN's Anderson Cooper.
The virtual event, hosted by UTRGV Student Activities, was dedicated to the late Lew Hill, UTRGV men's basketball head coach, who died Sunday at the age of 55. Hill was head coach at UTRGV for five seasons, taking over the program in 2016.
During his talk, Crews opened up to the audience about how art became his passion when he was a young boy living in Flint, Michigan. For many who didn't know, Crews' first job was as a courtroom sketch artist in Michigan.
"I am an artist first and foremost, which is really wild because I grew up in a very religious household. It was a very strange household. My father was addicted to alcohol and my mother was addicted to religion. So, it was a weird place to grow up because they were always fighting," Crews said. "For me, art was my peace. I remember as a kid pulling out the paper, pencils and colored pencils and markers, and I would get lost for hours and hours."
He said his love and commitment to art led him to many opportunities and opened doors for him, which included scholarships that took him "out of the hood," as he put it, and let him see a great part of the world.
"My art talent developed out of the desire to want peace," he said. "It was enough to get me a lot more than I thought I would ever have."
Crews said he draws, paints and creates to this day, and admitted his favorite thing to draw when he was child, ironically, were muscles.
"This may be of no shock to anybody, but I used to draw muscles. Comic books, that was my thing, and I would draw muscle men and superheroes," he said.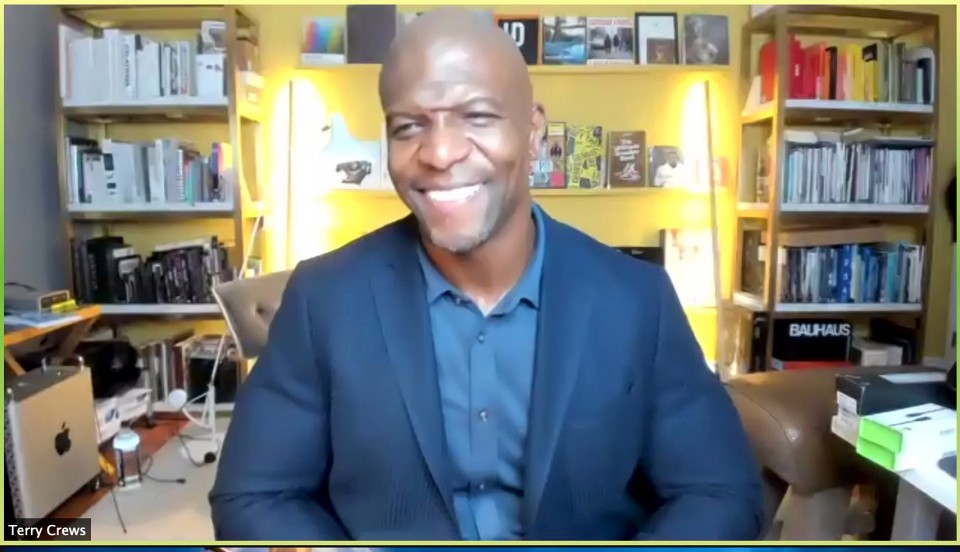 A best-selling author and former NFL athlete who played for the Los Angeles Rams, San Diego Chargers and Washington Redskins, Crews shared with his UTRGV audience how, in 1977, Star Wars changed his life. A self-proclaimed Star Wars nut, Crews said the storytelling and groundbreaking effects resonated with him and inspired his journey to Hollywood.
"I knew in that moment that I would be in entertainment forever," Crews said.
Best known for his roles in film and television, which include The Expendables film franchise, comedy series Brooklyn Nine-Nine and Everybody Hates Chris, and the popular Old Spice commercials, Crews also discussed his role as "Silence Breaker" in the #MeToo Movement, in which he was recognized as a Time Person of the Year in 2017, along with numerous individuals who helped launch the movement.
Crews said that, when the Harvey Weinstein scandal broke and he heard the women's stories of sexual assault or harassment, it took him back to the moment when he was sexually assaulted by a powerful Hollywood executive.
"I felt like if I did not stand up, I would be a fraud. That was my point," Crews said. "If I don't stand with these women and if I don't speak out, then I don't think I will have another chance.
"I thanked the women for coming forward because it was their courage that allowed me to tell my story," he said.
More than 100 questions were submitted by attendees for Crews during the event. A lucky few were chosen to ask him the questions in person.
Throughout the evening, Crews offered tidbits of advice, but one stood out.
"The best advice that I can tell you is to do something that you are afraid to do, not go giant and don't jump off a cliff, but just take a little step, just one little step," he said. "That really changed my life forever."
MORE ABOUT DSS 
The Distinguished Speaker Series is a signature program under the leadership of Student Activities, that aims to provide the university and surrounding community with world-class speakers and lecturers.
The series has brought in notable speakers such as former leader of Russia Mikhail Gorbachev, former U.S. Secretary of State Madeleine Albright, author and civil rights activist the late Dr. Maya Angelou, Emmy award-winning CNN host Larry King, and Grammy/Oscar award-winning R&B artist John Legend.
To learn more about the UTRGV Distinguished Speaker Series, visit www.utrgv.edu/studentactivities/distinguished-speaker-series.  
ABOUT UTRGV
The University of Texas Rio Grande Valley (UTRGV) was created by the Texas Legislature in 2013 as the first major public university of the 21st century in Texas. This transformative initiative provided the opportunity to expand educational opportunities in the Rio Grande Valley, including a new School of Medicine, and made it possible for residents of the region to benefit from the Permanent University Fund – a public endowment contributing support to the University of Texas System and other institutions.
UTRGV has campuses and off-campus research and teaching sites throughout the Rio Grande Valley including in Boca Chica Beach, Brownsville (formerly The University of Texas at Brownsville campus), Edinburg (formerly The University of Texas-Pan American campus), Harlingen, McAllen, Port Isabel, Rio Grande City, and South Padre Island. UTRGV, a comprehensive academic institution, enrolled its first class in the fall of 2015, and the School of Medicine welcomed its first class in the summer of 2016.