Wednesday, December 30, 2020
  Awards and Recognitions
By Amanda Alaniz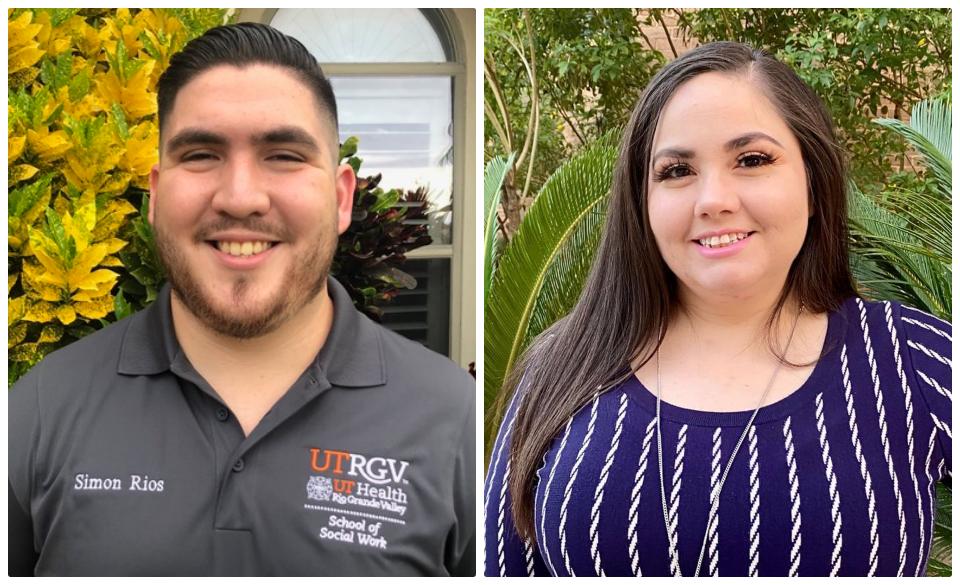 RIO GRANDE VALLEY, TEXAS – UTRGV social work graduate students Zuni Ortega and Simon Rios recently were accepted to be part of the Council on Social Work Education Minority Fellowship Program (CSWE MFP) 2020-2021 cohort.
The fellowship program is designed to enhance the training on full-time, master's-level, direct practice-focused social work students in their final year at a CSWE-accredited institution.
The overall purpose of the program is to help reduce health disparities and improve behavioral healthcare outcomes for racially and ethnically diverse populations by increasing the number of culturally competent master's level behavioral health professionals available to serve underserved populations.
Ortega and Rios were excited to learn they had received the fellowship. They both share a similar goal in wanting to offer valuable mental health-related resources in the Rio Grande Valley.
GETTING A JUMP ON A CAREER PATH
Rios earned his bachelor's degree in sociology at Duke University and returned home to McAllen. He said he was inspired to go into social work after interning at a behavioral hospital and working with a social worker who was also a therapist.
He said she shared her experience in the field and he learned what she was able to do with her degree, which in turn helped him decide to enroll for his master's degree in social work at UTRGV.  He knew he wanted to find a career in the mental health field, so when he received the fellowship, he thought it was a perfect match for him.
"I was excited because I wanted to work with substance abuse and mental health, and the fellowship does provide a lot of trainings throughout the year," he said. "I want to become a licensed clinical social worker after I graduate, so by being able to expand my knowledge in mental health before I even graduate and gain experience, I can be ready for the licensing exam after I graduate."
ADVOCATE FOR MENTAL WELLNESS
Ortega, an Edinburg resident, was a forensic scientist for nearly eight years and had the chance to volunteer for a crisis response team. During her time helping the team, she said, mental health was something that began to grow close to her heart.
She had the opportunity to work alongside a social worker and a therapist, which helped guide her into the social work program at UTRGV. There, she learned that social work uses many community resources and advocates for the well-being of the person, and that's when her interest in the field began to grow.
When Ortega found out she had received the fellowship, she was grateful for the opportunity and saw how this would help her career-wise, especially for someone new to the social work field.
"This is such a great opportunity for me, I am beyond grateful for having it. I got to meet some of the other fellows, got to know their background and why they chose social work. It's going to open so many doors, especially because I'm not from the field. I worked in a lab," she said. "So, being able to talk to people from this field and having them mentor me – it's really helpful."
FUTURE CAREER GOALS IN SOCIAL WORK
The year-long fellowship offers the fellows numerous resources, like webinars, mentorships and trainings.
Fellows must identify mental health and/or substance abuse delivery to underserved populations as their focus, and must be committed to seeking employment in mental health and/or substance use disorder services or prevention with the target population immediately after graduation, for at least two years.
Rios and Ortega both are committed to helping minority populations after graduation and already are laying out their plans for the future.
Rios said his goal after graduation is to work with adolescents who struggle with substance abuse and mental health issues in the Valley. He already is studying for the licensing exam to become a social worker, and eventually will work toward becoming a clinical social worker.
He said he would like to stay in the area to start practicing and offer much-needed resources.
"The Latino population is one of the most underserved, especially when it comes to mental health needs. From personal experience, there is this discrepancy within the Latino communities, especially between the older generations and the newer," he said. "I think social work is vital to clarify that these issues exist. And for the ones who need the help, the help is there."
Ortega shares similar views about overcoming the stigma attached to mental health, especially in underserved communities.
She said it's important to have mental health resources readily available for Latino communities, and to try to make them feel at ease.
"If you put yourself in a minority position, there's all these misconceptions about your culture. And as a minority, we don't have enough mental health professionals who look like us, who can represent us. And I want to help change that," Ortega said.
She would like to work with trauma-impacted communities, such as youth and first responders, once she has her license to practice.
FACULTY SUPPORT
Both students learned about the fellowship from Dr. John Gonzalez, UTRGV associate dean of Academic Affairs and associate professor in the School of Social Work. He has been encouraging students to apply for the fellowship, which can help open many doors for them after graduation, he said.
Two UTRGV students having received the fellowship says something great about UTRGV's MSSW program and the courses available. 
"Students who receive this fellowship are the cream of the crop across the nation. Having two students receive this fellowship elevates our School of Social Work, as well as the university," Gonzalez said. "This student accomplishment raises the bar for our current and future students. We have set a new standard."
Those interested in the Council on Social Work Education Minority Fellowship can visit cswe.org.
To learn more about the UTRGV School of Social Work, visit www.utrgv.edu/socialwork/. 
ABOUT UTRGV
The University of Texas Rio Grande Valley (UTRGV) was created by the Texas Legislature in 2013 as the first major public university of the 21st century in Texas. This transformative initiative provided the opportunity to expand educational opportunities in the Rio Grande Valley, including a new School of Medicine, and made it possible for residents of the region to benefit from the Permanent University Fund – a public endowment contributing support to the University of Texas System and other institutions.
UTRGV has campuses and off-campus research and teaching sites throughout the Rio Grande Valley including in Boca Chica Beach, Brownsville (formerly The University of Texas at Brownsville campus), Edinburg (formerly The University of Texas-Pan American campus), Harlingen, McAllen, Port Isabel, Rio Grande City, and South Padre Island. UTRGV, a comprehensive academic institution, enrolled its first class in the fall of 2015, and the School of Medicine welcomed its first class in the summer of 2016.