Tuesday, December 22, 2020
  Awards and Recognitions
By Victoria Brito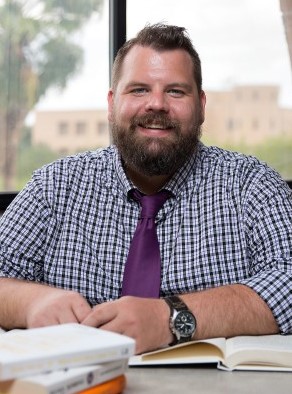 RIO GRANDE VALLEY, TEXAS – UTRGV's First Year Writing Program is one of four recipients of the Conference on College Composition and Communication's 2020-2021 Writing Program Certificate of Excellence.
The program consists of more than 30 lecturers in the Department of Writing and Language Studies who teach first-year writing composition core courses required under all UTRGV undergraduate degree plans. These courses are English 1301 and 1302.
Andrew Hollinger, Lecturer III in writing and language studies and coordinator of the UTRGV First Year Writing Program, said this recognition is validation to the whole team of lecturers who contribute to this program's curriculum.
"As a program, we are all in this together," Hollinger said. "And the fact that someone was able to see our intense effort, passion, devotion and persistence in our work is incredibly affirming. It is just nice to be seen and recognized," Hollinger said.
Hollinger said the quality of teaching within this UTRGV program was a big factor in getting the recognition.
"The professionalism of our teaching core and the way we approach writing is something I am proud of," he said. "We are constantly on the forefront of content and pedagogy, which is something we work really hard to do."
The second thing that sets the program apart from others is UTRGV's position as a Hispanic Serving Institution and its B3 (bicultural, bilingual, biliterate) status, and how those designations affect teaching across all departments.
"One of the cool things about our writing program is our B3 status," he said. "Part of that status includes is the way that we address and incorporate language. This is not something that you find in all writing programs across the country. But preserving language and culture, while understanding the ways it can affect, inform and implicate writing and the writing process, is an important part of what we do at UTRGV and in the writing program."
Dr. Walter Diaz, dean of the UTRGV College of Liberal Arts said this national recognition is an exciting achievement for any writing program.
"Our First Year Program faculty and leadership have worked very hard to build and sustain this program," he said. "This is a well-deserved recognition and we are profoundly grateful for it."
The program will be recognized at the CCCC Writing Program Certificate of Excellence on during the 2021 CCCC Annual Convention, scheduled April 7-10 in Spokane, Washington.
ABOUT UTRGV
The University of Texas Rio Grande Valley (UTRGV) was created by the Texas Legislature in 2013 as the first major public university of the 21st century in Texas. This transformative initiative provided the opportunity to expand educational opportunities in the Rio Grande Valley, including a new School of Medicine, and made it possible for residents of the region to benefit from the Permanent University Fund – a public endowment contributing support to the University of Texas System and other institutions.
UTRGV has campuses and off-campus research and teaching sites throughout the Rio Grande Valley including in Boca Chica Beach, Brownsville (formerly The University of Texas at Brownsville campus), Edinburg (formerly The University of Texas-Pan American campus), Harlingen, McAllen, Port Isabel, Rio Grande City, and South Padre Island. UTRGV, a comprehensive academic institution, enrolled its first class in the fall of 2015, and the School of Medicine welcomed its first class in the summer of 2016.