Monday, December 21, 2020
  Awards and Recognitions
By Victoria Brito
RIO GRANDE VALLEY, TEXAS – Capping off 2020 with another merit, Dr. Eluterio Blanco Jr., clinical assistant professor in the UTRGV School of Rehabilitation Services and Counseling, becomes one of just 15 Emerging Scholars named by the newsmagazine Diverse: Issues in Higher Education.
Blanco has been with UTRGV since 2015 and received his doctorate in rehabilitation counseling in 2018 from UTRGV. He now serves as coordinator of the addiction studies program.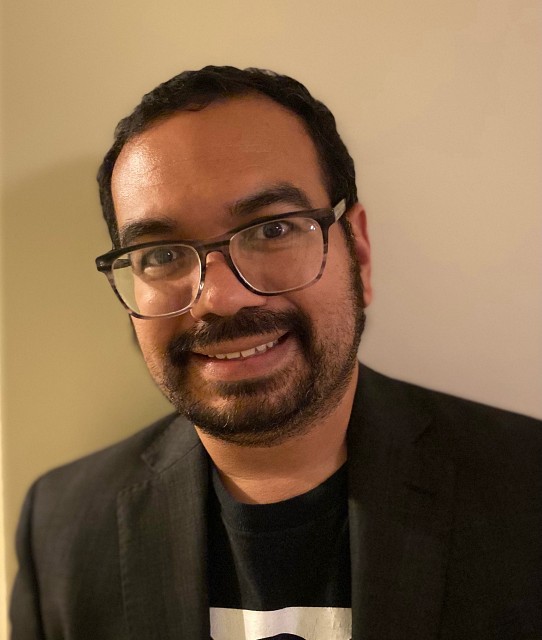 "I feel honored to be recognized," Blanco said "These efforts are not done for recognition, but of course it feels great to be recognized by peers and people who are on the same platform as I am." 
Blanco is a licensed chemical dependency counselor, specializing in substance use and addiction in Hispanics. His area of research focuses on exploring stigma in addiction.
"My dissertation focused on exploring stigma within mental health providers, stigmas specifically toward people with substance abuse disorders among Mexican American counselors and other healthcare providers," he said.
His initiatives and efforts at UTRGV and in Hispanic addiction contributed to his selection as an Emerging Scholar.
ENHANCING BEHAVIORAL HEALTHCARE
In 2016, Blanco served as a co-principal investigator on a three-year federal grant from the Substance Abuse and Mental Health Services Administration to provide screening, brief intervention and referral treatment (SBIRT) for UTRGV students pursing degrees in healthcare professions.
"SBIRT is a process to train healthcare providers to recognize substance use and address it, because doctors, physicians and nurses really need specific training to address substance abuse with their patients," he said.
DEVELOPING NEW DEGREES AT UTRGV
Blanco also was instrumental in the creation of the Bachelor of Science in Addiction Studies and now serves as the coordinator of the program.
The fully online program provides professionals already working in the substance abuse field a flexible way to earn a degree and advance their careers.
"My primary research has been in this addiction studies degree," he said. "It was only a minor and we expanded it to a full bachelor's degree."
The program is only the second of its kind in Texas, and Blanco currently is leading the process to seek national accreditation for the undergraduate program by the National Addiction Studies Accreditation Commission (NASAC). Accreditation is expected by spring or summer 2021. 
Blanco was nominated for consideration as an Emerging Scholar by Dr. Brue Reed, professor and director of the UTRGV School of Rehabilitation Services and Counseling. 
"It is external validation of the important work he is doing to promote substance abuse prevention and treatment with a focus on Hispanic/Latino populations," Reed said of Blanco's efforts. "The school is very proud of his selection." 
In September, Blanco was recognized by the Texas Association of Addiction Professionals (TAAP) as the 2020 Terry B. Hale Professional of the Year.
"I am still riding the wave from the TAAP award, which I didn't think I was going get, and this additional recognition is just something on top of it. It shows me that all these efforts have really added up to something meaningful," said Blanco.
ABOUT UTRGV
The University of Texas Rio Grande Valley (UTRGV) was created by the Texas Legislature in 2013 as the first major public university of the 21st century in Texas. This transformative initiative provided the opportunity to expand educational opportunities in the Rio Grande Valley, including a new School of Medicine, and made it possible for residents of the region to benefit from the Permanent University Fund – a public endowment contributing support to the University of Texas System and other institutions.
UTRGV has campuses and off-campus research and teaching sites throughout the Rio Grande Valley including in Boca Chica Beach, Brownsville (formerly The University of Texas at Brownsville campus), Edinburg (formerly The University of Texas-Pan American campus), Harlingen, McAllen, Port Isabel, Rio Grande City, and South Padre Island. UTRGV, a comprehensive academic institution, enrolled its first class in the fall of 2015, and the School of Medicine welcomed its first class in the summer of 2016.