UTRGV film student's documentary selected for International Film Festival in Russia

  Tuesday, December 1, 2020
  Awards and Recognitions
By Amanda Taylor
RIO GRANDE VALLEY, TEXAS – For Joann González, a 20-year-old UTRGV Theater and Film major, the COVID-19 pandemic affected her family in various ways – but one of the hardest was not being able to visit her grandfather.  
Now her film, "A Series of Windows," about the struggle with social distancing, was selected to be part of the 40th International VGIK Festival in Moscow, Russia. This prestigious festival saw more than 345 applications from 140 film schools from around the world. 
She said her film was created to resonate with anyone struggling with social distancing, and focuses on what it feels like to stand behind windows and look into your own life from a safe distance.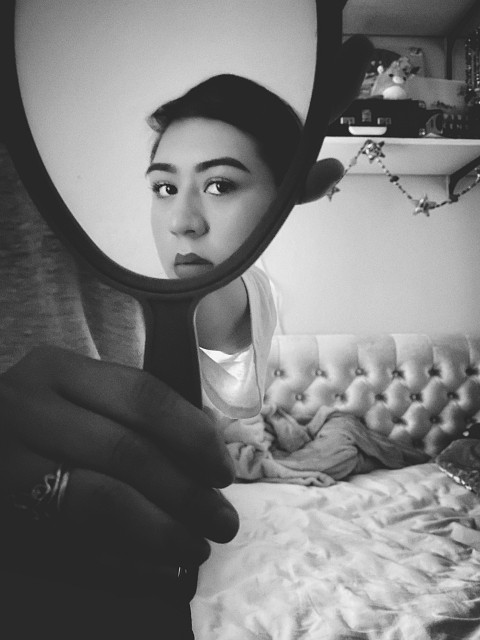 "This film represents a look at my life during the COVID-19 pandemic, in isolation," González said. "Every single shot taken was set behind a series of windows."  
And while her film was inspired by the COVID-19 pandemic, the feelings of isolation the film depicts can be universal. 
"I wanted the film to resonate in people even after the pandemic is over," she said. "That way, people can view the film years from now when all of this is over, hopefully, and still understand the feelings behind it."  
González, a UTRGV senior set to graduate this semester, started the film during a summer workshop in documentary TV and film with Dr. Ferenc Moldovanyi, UTRGV assistant professor of theatre.  
"Once I saw the film, I knew that it was great and I wasn't surprised when I found out she had placed in the festival," Moldovanyi said. "I was happy, but not surprised." 
"This film festival is one of the oldest film festivals in the world," Moldovanyi said. "Entering into film festivals like this is important for students to gain experience and help get exposure for their films."  
González, who plans to pursue a master's degree in film at UT Austin after graduating this year from UTRGV, said that while she had never made a documentary before, she knew she wanted to incorporate her passions for poetry and art. So she structured the film with a series of scenes that depict isolation and desolation brought on by the pandemic, while she narrates a poem.   
"I have a background in literature, so even though I've never done anything like this before, it was great for me to be able to combine film and poetry," González said. "I couldn't believe it at first when I found out my film was selected for the festival, but the idea of entering into these types of festivals is becoming less scary for me now."
She said she is less intimidated because of the practice she got in Moldovanyi's course, coupled with the encouragement he gives his students.
The VGIK Festival ran online from Oct. 28 through Nov. 20, and the films selected are available for viewing online.  
You can view "A Series of Windows" here.  
Opening ceremonies at the film festival are available here.  
ABOUT VGIK 
The 40th VGIK International Student Festival is organized by the Russian VGIK, founded in 1919 by film director Vladimir Gardin at the Moscow Film School, the oldest film school in the world.  
From 1934 to 1991, the film school was known as the All-Union State Institute of Cinematography. Film directors taught at the Institute, including Lev Kuleshov, Marlen Khutsiev, Aleksey Batalov, Sergei Eisenstein, Mikhail Romm, and Vsevolod Pudovkin. Alumni include Sergei Bondarchuk, Elem Klimov, Sergei Parajanov, Alexander Sokurov, and Andrei Tarkovsky. 
ABOUT UTRGV
The University of Texas Rio Grande Valley (UTRGV) was created by the Texas Legislature in 2013 as the first major public university of the 21st century in Texas. This transformative initiative provided the opportunity to expand educational opportunities in the Rio Grande Valley, including a new School of Medicine, and made it possible for residents of the region to benefit from the Permanent University Fund – a public endowment contributing support to the University of Texas System and other institutions.
UTRGV has campuses and off-campus research and teaching sites throughout the Rio Grande Valley including in Boca Chica Beach, Brownsville (formerly The University of Texas at Brownsville campus), Edinburg (formerly The University of Texas-Pan American campus), Harlingen, McAllen, Port Isabel, Rio Grande City, and South Padre Island. UTRGV, a comprehensive academic institution, enrolled its first class in the fall of 2015, and the School of Medicine welcomed its first class in the summer of 2016.