Brownsville bakery owner gets support, resources from UTRGV business incubator

  Thursday, November 19, 2020
  Community
By Maria Elena Hernandez
RIO GRANDE VALLEY, TEXAS – In early March, Karina Saldivar opened a bakery in Brownsville called Amor y Pan. It was the realization of an idea she first had more than 15 years ago. 
"And within two weeks, there was a shutdown for all businesses," she said.
Precautions to prevent the spread of COVID-19 closed Amor y Pan. But with the help of lessons learned at the UTRGV Entrepreneurship and Commercialization Center Business Incubator, she promoted her business online.
"I kind of knew who my target was, what kind of ages were looking for this kind of food," Saldivar said. "So, I started doing social media more focused to those people.
"It did help me to kind of stay afloat in those really hard months, given that I had just opened."
Amor y Pan offers healthy versions of breads and desserts. Sometimes, though, customers need convincing.
"I'll have people call and they're like, 'I think I forgot to ask for sugar-free.' And I'm like, 'No, everything's sugar-free,'"  Saldivar said.
While Saldivar considered opening a traditional pastry shop as early as 2003, she started creating healthy versions after her brother was diagnosed with an autoimmune disease.
"It gets to a point where you realize it all boils down to food," she said.
When her brother started taking the healthy desserts she made to parties, she started getting requests.
"It just kind of took off," she said.
FINDING RESOURCES
While setting up her business, she learned about the UTRGV Entrepreneurship and Commercialization Center. She participated in the center's business incubator, which offers aspiring and current entrepreneurs education to grow and expand their businesses.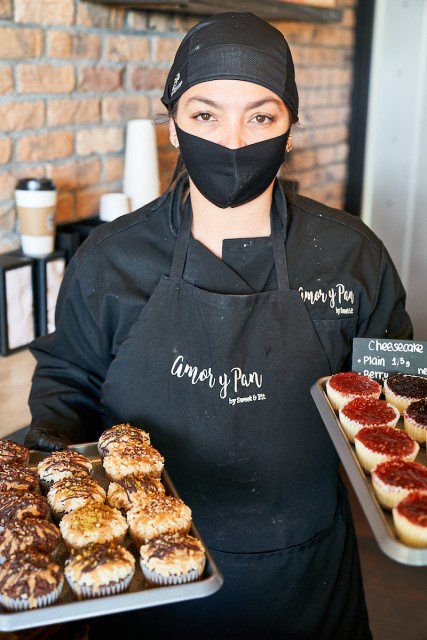 The services she used included the KauffMan FastTrac® and the Adopt a Startup at UTRGV program.
In the Adopt a Startup program, UTRGV students gather customer and market information to help startups.
"They do market research that normally costs thousands of dollars. … It opens your eyes to a new demographic that you don't even know it was possible to reach with your little store," she said.
The Brownsville bakery owner said she found it easy to talk to the center's staff about her goals.
"I feel that they're as excited as I am about Amor y Pan," she said.
The UTRGV Entrepreneurship and Commercialization Center also gave her a chance to network with other entrepreneurs.
"One of my neighbors, IQ's Juice Bar, had the same classes and they literally opened, I want to say, a month before I did," she said.
She and other small business owners support each other by spreading the word about each other's businesses, partnering in giveaways, and tagging each other on social media.
SUPPORTING SMALL BUSINESSES
Even before she opened her business, Saldivar said, she showed her support for small businesses.
"There's just something rewarding, you know, to going into these small places. You feel like you're making a change in the city and in that person who's working every morning," she said.
And now as a small business owner herself, Saldivar said she tries to shop at small businesses even more.
"And I try to tell my friends to do it, because it is rewarding, buying from somebody local," she said.
Shoppers can show their support for all small businesses on Nov. 28 – that's the Saturday after Black Friday, known as Small Business Saturday. It's a shopping holiday that encourages people to support small businesses.
According to the Small Business Administration, almost half the U.S. private-sector workforce is employed at a small business.
"Brownsville is thriving. Not only Brownsville, but the Valley is thriving, and the Valley is in need of new businesses and new ideas," Saldivar said. "So don't hesitate if you have a good idea. Just go, especially go to UTRGV incubator."
As she mentions the long days and constant hustle needed to run her business, the Amor y Pan owner smiles.
"I feel so full of gratitude right now, especially because people have been accepting Amor y Pan. People have been welcoming us, recommending us," she said. "It's so rewarding. You know, waking up at 4 o'clock in the morning, it's totally worth it."
To learn more about the services available at the UTRGV Entrepreneurship and Commercialization Center, visit utrgv.edu/ecc.
ABOUT UTRGV
The University of Texas Rio Grande Valley (UTRGV) was created by the Texas Legislature in 2013 as the first major public university of the 21st century in Texas. This transformative initiative provided the opportunity to expand educational opportunities in the Rio Grande Valley, including a new School of Medicine, and made it possible for residents of the region to benefit from the Permanent University Fund – a public endowment contributing support to the University of Texas System and other institutions.
UTRGV has campuses and off-campus research and teaching sites throughout the Rio Grande Valley including in Boca Chica Beach, Brownsville (formerly The University of Texas at Brownsville campus), Edinburg (formerly The University of Texas-Pan American campus), Harlingen, McAllen, Port Isabel, Rio Grande City, and South Padre Island. UTRGV, a comprehensive academic institution, enrolled its first class in the fall of 2015, and the School of Medicine welcomed its first class in the summer of 2016.