Wednesday, November 18, 2020
  Around Campus, Community
By Amanda Alaniz
RIO GRANDE VALLEY, TEXAS – The UTRGV School of Rehabilitation and Counseling Services will introduce a new Bilingual Counseling Certificate program in Spring 2021.
The program will be available to clinical rehabilitation counseling graduate students.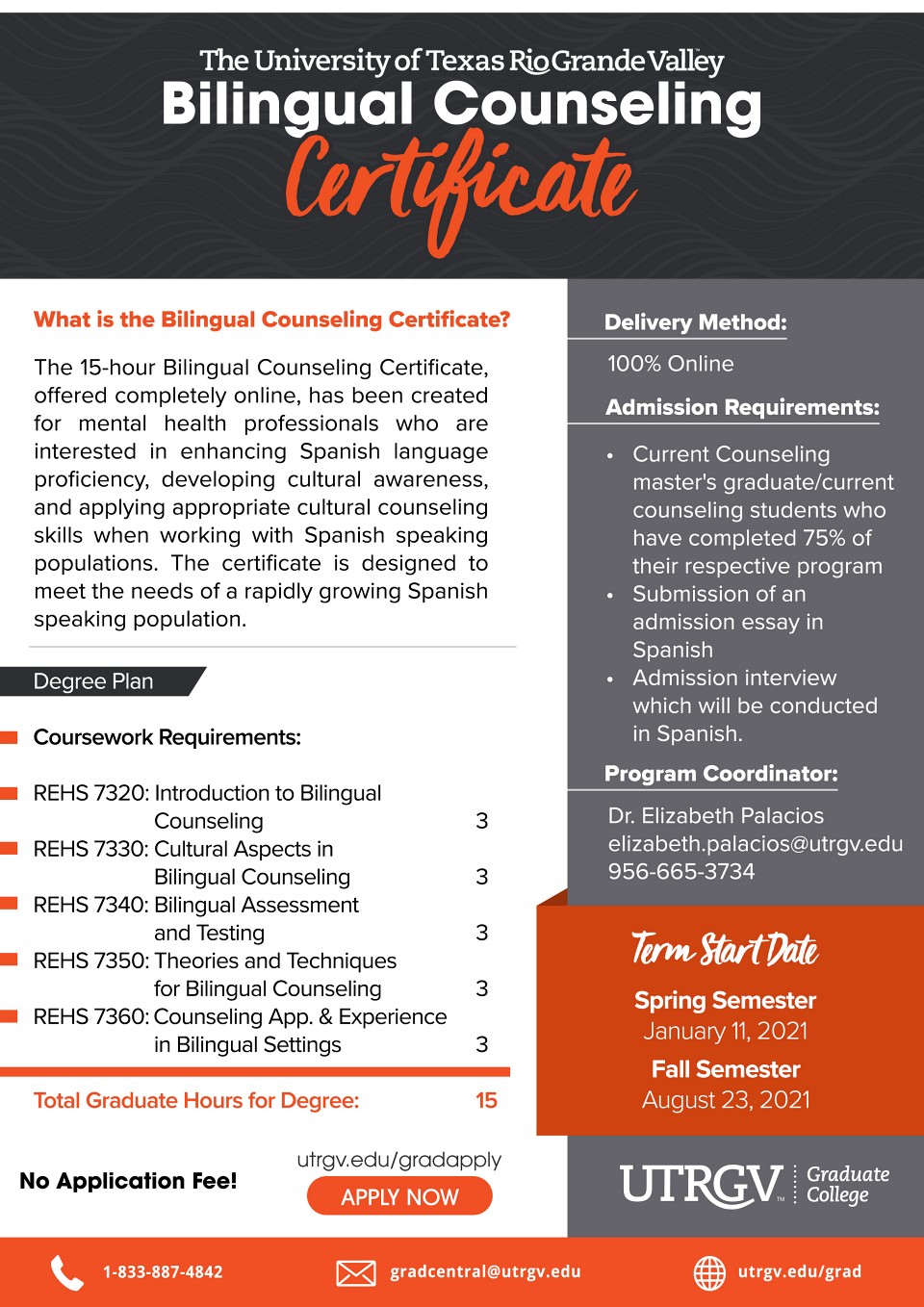 The 15-hour Bilingual Counseling Certificate was created for mental health professionals who are interested in enhancing Spanish-language proficiency, developing cultural awareness and applying appropriate cultural counseling skills when working with Spanish-speaking populations.
The certificate will be offered completely online, with the degree plan entailing five different courses.
Required courses are:
Introduction to Bilingual Counseling (REHS 7320).
Cultural Aspects in Bilingual Counseling (REHS 7330).
Bilingual Assessment and Testing (REHS 7340).
Theories and Techniques for Bilingual Counseling (REHS 7350).
Counseling Application and Experience in Bilingual Settings (REHS 7360).
Admissions requirements for students who are interested are:
Current counseling master's graduate student who have completed 75% of their respective program or a person who holds their graduate degree.
Submission of an admission essay in Spanish.
Admission interview which will be conducted in Spanish.
Dr. Elizabeth Palacios, a clinical assistant professor and graduate coordinator for the School of Rehabilitation Services and Counseling, is program coordinator for the new Bilingual Counseling Certificate. She said the idea to offer the program started after a conversation between Dr. Bruce Reed, UTRGV professor and director of the university's School of Rehabilitation Services and Counseling, and his daughter.
"The idea started about two years ago. Dr. Bruce Reed's daughter had undergone a similar program when she completed her master's degree. She was surprised that UTRGV didn't have a bilingual counseling program or a certificate program," she said. "That's when the conversations started, and we've been working on it since then."
The significance of having the certificate available, Palacios said, is the fact that the Rio Grande Valley is an area where Spanish is the predominant language. The school wants students not only to be equipped, but also to have the opportunity to apply their personal background in future counseling careers, she said.
"We wanted to allow students to have something to show for their bilingualism, whether they stay here in the Valley or venture out," she said. "We wanted to make sure they had the backing of a program, and of the university, saying, 'This clinician is able to provide counseling services to the Spanish-speaking population.'"
The classes will shape counseling skills to better help Spanish-speaking patients, starting with making sure they have a working knowledge of the language, Palacios said.
"We want make sure we are properly preparing individuals to speak intelligibly and provide accurate bilingual and Spanish approaches," she said.
To learn more about the Bilingual Counseling Certificate, contact Palacios at elizabeth.palacios@utrgv.edu or (956) 665-3734.
ABOUT UTRGV
The University of Texas Rio Grande Valley (UTRGV) was created by the Texas Legislature in 2013 as the first major public university of the 21st century in Texas. This transformative initiative provided the opportunity to expand educational opportunities in the Rio Grande Valley, including a new School of Medicine, and made it possible for residents of the region to benefit from the Permanent University Fund – a public endowment contributing support to the University of Texas System and other institutions.
UTRGV has campuses and off-campus research and teaching sites throughout the Rio Grande Valley including in Boca Chica Beach, Brownsville (formerly The University of Texas at Brownsville campus), Edinburg (formerly The University of Texas-Pan American campus), Harlingen, McAllen, Port Isabel, Rio Grande City, and South Padre Island. UTRGV, a comprehensive academic institution, enrolled its first class in the fall of 2015, and the School of Medicine welcomed its first class in the summer of 2016.