Friday, November 6, 2020
  Community
By News and Internal Communications
By Dimitra Trejo
RIO GRANDE VALLEY, TEXAS – As a physician, mother and educator, Dr. Keila Rodriguez has seen first-hand the uncertainty and fearfulness of children and families trying to navigate the insecurities and fears of the COVID-19 pandemic. 
So, to help families cope, the UT Health RGV pediatrician and assistant professor of pediatrics in the UTRGV School of Medicine wrote a children's book – titled "When the World is Sick" – that addresses the pandemic and the best precautions to help protect families from the virus.  
"Children learn through observing their environment, from their own parents, and from reading," Rodriguez said. "I wanted to develop a resource especially for them as they are living through this pandemic, and decided to write this book on staying safe."  
She noticed that patients were coming in with anxiety and other emotional and mental health issues throughout the year. 
"I saw my own 2-year-old child struggle with all of the life changes that came with the pandemic, and not fully comprehending what was going on," she said, "and I decided to do something about it."  
She knew the illustrated book would have to be comprehensible to children in order to help them better understand COVID-19, how to stay safe, and how to cope with their changing world.  
"I wanted to help children understand that there are ways to stay safe during COVID-19, to help them learn that these strategies could make the virus less scary," she said. "Seeing how the characters in the book deal with these changes also helps kids learn, it's not just them struggling with all of this."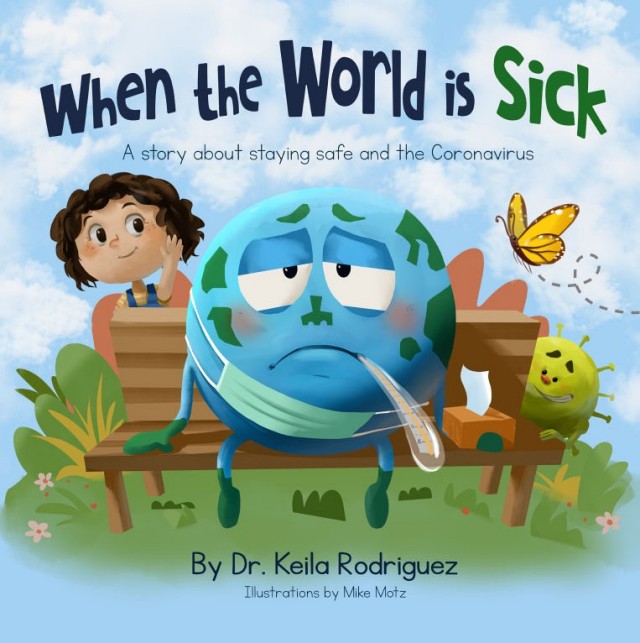 She said it's important to remember that the little ones do understand what's going on and are affected by these life changes.  
"But they just might not have the language to talk about what they're feeling," she said. "This is why reading books is so important and helpful." 
Rodriguez said her book already has had a positive response. 
"I have heard from parents who tell me their kids now count aloud to 20 when washing their hands, or remind their parents to wear their mask to stay safe – and that's exactly what I was hoping for," she said. "I hoped this book would be a helpful resource for kids and their families. At the very least, this opens the opportunity for discussion between parents and their children about what this coronavirus is." 
"When the World is Sick" is available on Amazon.com.
ABOUT UTRGV
The University of Texas Rio Grande Valley (UTRGV) was created by the Texas Legislature in 2013 as the first major public university of the 21st century in Texas. This transformative initiative provided the opportunity to expand educational opportunities in the Rio Grande Valley, including a new School of Medicine, and made it possible for residents of the region to benefit from the Permanent University Fund – a public endowment contributing support to the University of Texas System and other institutions.
UTRGV has campuses and off-campus research and teaching sites throughout the Rio Grande Valley including in Boca Chica Beach, Brownsville (formerly The University of Texas at Brownsville campus), Edinburg (formerly The University of Texas-Pan American campus), Harlingen, McAllen, Port Isabel, Rio Grande City, and South Padre Island. UTRGV, a comprehensive academic institution, enrolled its first class in the fall of 2015, and the School of Medicine welcomed its first class in the summer of 2016.