Tuesday, November 3, 2020
  Alumni
By Amanda Taylor
RIO GRANDE VALLEY, TEXAS – UTRGV alumna Josie Del Castillo is among the 40 finalists chosen in the annual AXA Art Prize, a prestigious student art exhibition hosted by the New York Academy of Art in New York City.
This is the second time Del Castillo has been chosen to be featured in the exhibition; she was selected to participate in 2019 with her work "Don't Touch Me, I am Sensitive," a self-portrait of Del Castillo standing boldly against a blood orange sky with cactus spines sprouting from her silhouette.
Del Castillo graduated from UTRGV with a Master of Fine Arts in Studio Art in spring 2020, but not before submitting her new artwork to AXA for this year's exhibition.
Her new piece, titled "Healing, Learning, and Growing," features an oil-on-panel-canvas nude self-portrait of Del Castillo with her arms wrapped around herself in profile stance. Her body is emerging from vibrant green aloe vera plants sprouting around her thighs.
"I find beauty in figurative painting, and by having this concept in mind, I use the love for figurative work to also find love for my body, despite my flaws," Del Castillo said of her portrait. "I am holding myself as a form of self-love. I am emerging from an aloe vera that I have used before to represent healing."
This year's judges were artists Julia Chiang, Erik Parker, Laurie Simmons and Salman Toor, alongside Jennifer Schipf, global practice leader for art at AXA XL.
The gallery is now available virtually for public viewing due to the COVID-19 pandemic. This is the first time that the AXA Art Prize has allowed exhibitions to go virtual.
Just like last year's exhibition, there were more than 400 submissions from 125 schools, from both undergraduate and graduate programs.
Submissions first were reviewed by regional jurors from the Prize's Strategic Advisory Board of 34 major art schools and programs in the United States, including the Rhode Island School of Design (RISD), Columbia University School of Arts, California College of the Arts the School of the Art Institute of Chicago, Pratt Institute and Bard College.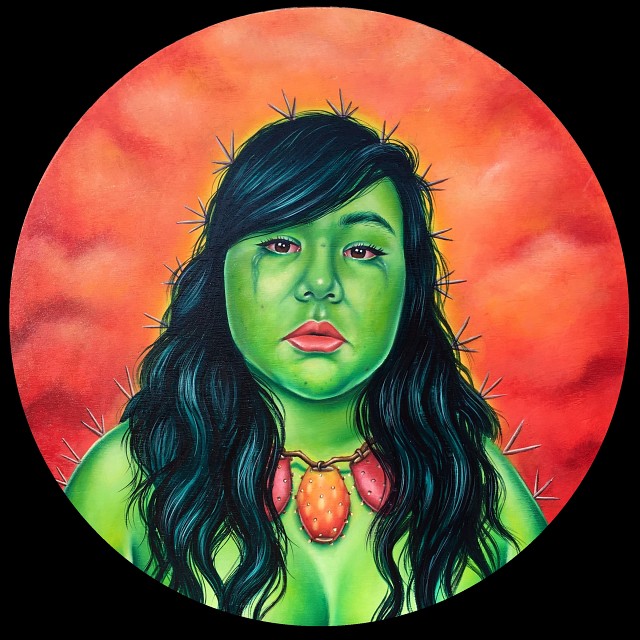 "Last year, when I went to New York, it was amazing," Del Castillo said. "It was just like art heaven. And so, to be able to exhibit once again, it gives me hope. It gives me hope that what I'm trying to pursue has a chance and that doors are continuing to open for me, even in dark times."
Del Castillo's piece is included in the 40 works in the exhibition, which includes paintings, drawings and prints. Pieces were chosen by an exhibition jury comprised of Ian Alteveer, curator for modern and contemporary art at the Metropolitan Museum of Art; Lauren Haynes, curator of contemporary art at Crystal Bridges Museum of American Art; Brett Littman, director of the Isamu Noguchi Foundation and Museum; and Eugenie Tsai, senior curator of contemporary art at the Brooklyn Museum.
Pursing art during the pandemic hasn't been easy, Del Castillo said. Her usual daily routine was interrupted, not only by social distancing, but also after she contracted the virus herself.
"My symptoms weren't too bad. Thankfully, I didn't have to go to the hospital," she said.
Her most significant symptoms were body chills, loss of taste and smell, and body aches. She was able to beat COVID-19, but the uncertainty of when things will get back to normal has taken a toll on her mental health, she said.
"I am sensitive to the energy around me, and by continuously being exposed to the recent news, it took a negative toll," she said. "Before the pandemic, I was in the studio every day and had a set routine. During the pandemic, I felt unmotivated and struggled to find the energy to be productive. The new challenge is getting back into a routine and being productive in a new setting."
Del Castillo said that even if she doesn't place first or second this year, she is still happy to be included in such a prestigious exhibition and is looking forward to what opportunities this will offer.
First and second prize winners of the exhibition will be announced Nov. 17, 2020. The first-prize winner gets $10,000; second-prize winner gets $5,000.
This year's finalists and their work can be viewed here.
ABOUT THE AXA ART PRIZE
The AXA Art Prize, formerly the XL Catlin Art Prize, shines a spotlight on the re-emergence of figurative art in the contemporary art world. Now in its second year in North America, the prize is founded on a 10-year legacy of a previous prize established in the UK and recognized young artists through a prestigious London exhibition and catalogue publication. Over a decade, the prize established a strong reputation as an insightful overview of emerging talent and has continued to build on that position of credibility in North America.
The AXA Art Prize is comprised of three exhibitions, taking place in San Francisco, Chicago and New York, and a printed catalogue, all designed to showcase the finalists' work. The contest provides a unique platform for new artistic talent and gives the next generation of figurative artists the perfect forum in which to launch their careers.
ABOUT UTRGV
The University of Texas Rio Grande Valley (UTRGV) was created by the Texas Legislature in 2013 as the first major public university of the 21st century in Texas. This transformative initiative provided the opportunity to expand educational opportunities in the Rio Grande Valley, including a new School of Medicine, and made it possible for residents of the region to benefit from the Permanent University Fund – a public endowment contributing support to the University of Texas System and other institutions.
UTRGV has campuses and off-campus research and teaching sites throughout the Rio Grande Valley including in Boca Chica Beach, Brownsville (formerly The University of Texas at Brownsville campus), Edinburg (formerly The University of Texas-Pan American campus), Harlingen, McAllen, Port Isabel, Rio Grande City, and South Padre Island. UTRGV, a comprehensive academic institution, enrolled its first class in the fall of 2015, and the School of Medicine welcomed its first class in the summer of 2016.