UTRGV professors discuss horror movies, rare blue moon on Halloween

  Thursday, October 29, 2020
  Around Campus, Community
By News and Internal Communications
By Amanda L. Alaniz and Amanda A. Taylor 
RIO GRANDE VALLEY, TEXAS – Halloween is a chance for people to dress up as someone – or something – they're not. It's a night dedicated to tricks, treats and frights. 
The year 2020 may be a bit different because of the need for social distancing during the pandemic, but there are still plenty of other ways to celebrate the holiday. One favorite way is to watch horror movies. 
Let's start with some background: What puts the "horror" in horror movie? 
Dr. Ed Cameron, a UTRGV professor of English and film studies in the Department of Literatures and Cultural Studies, dedicates a portion of his courses to the horror genre. 
Horror films, he said, usually terrifies the audience by incorporating the supernatural or grotesquerie. 
Sometimes, we even ask ourselves why we watch horror movies, if they can frighten us so much. 
Cameron said people gravitate toward these kinds of movies because they offer an adrenaline rush, and a brief escape from everyday life. 
"We talk about people who are thrill seekers. They will climb mountains without any kind of safety devices or parachute out of planes. Of course, those people are seeking a thrill that has a little more danger involved than going to a horror film, but I think the purpose might be similar," he said.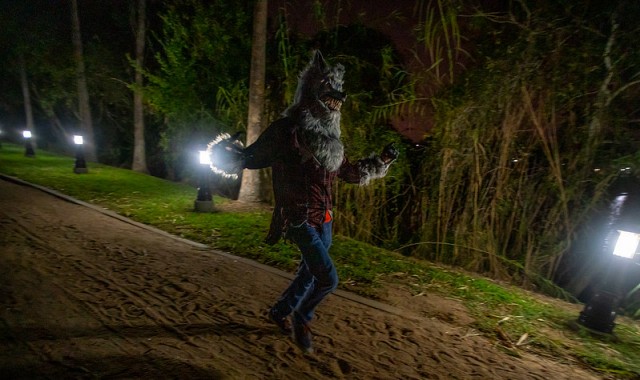 "A horror film can give you that adrenaline rush. We have this need to be thrilled, but we don't necessarily want to be thrilled in real life because that can be traumatic." 
Halloween is the perfect time to turn off the lights, turn on a scary flick and be prepared to scream. And it doesn't hurt that, this October, there will be a full moon on this spooky holiday.  
What better movies to watch than those about werewolves, a creature often associated with lunar phases.  
"Lycanthropy is when one turns into a wolf, that is the center of werewolf movies. The lore of the werewolf is a human turns into a werewolf, or wolfman, on a full moon because that's when the gravitational pull from the moon is pulling that out," Cameron said. "The full moon has always been historically attached to pulling out the mad side of society. And there's this notion of the gravitational pull, which is an astronomical anomaly.   
"The gravitational pull means when the moon is the fullest, it also pulls you, us, into its vortex and pulls out the badness in us."    
The word lunatic? It does stem from the word "luna," the moon.   
So, do full moons bring out the beast in us, or is it all tall tales to create a good scare?   
Check out more about what Cameron had to say about horror films here.   
BLUE MOON RISING
With that in mind, this Halloween night marks a rare event – a blue moon. 
A blue moon can occur either when you have two full moons in one month, like what we are experiencing this year on Halloween, or when you have four full moons in one year. The first full moon this month occurred on Oct. 1.
The last time a blue moon occurred on Halloween in all time zones was in 1944, and the next time we'll see a full moon on Halloween will be in 2039, though it may not be considered a blue moon. Full moons are separated by 29 days, so while most months are 30 or 31 days, it's possible to see two full moons in a single month, but it is still a rare event. 
"Typically, you get one full moon a month, but because the cycle of the lunar phases can be shorter, you can get two full moons in a single month," said Dr. Nicolas Pereyra, assistant professor in the UTRGV Department of Physics & Astronomy. "When this happens, you call the second full moon a blue moon, which is what's happening at the end of this month."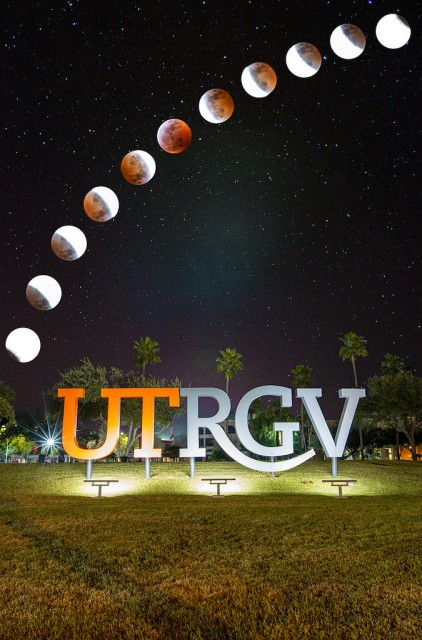 A prominent Halloween trope, the moon for centuries has been used as a beacon to help guide travelers across oceans and control the ebb and flow of the tides. Aside from the sun, the moon is the only other object in space that is highly visible to the naked eye, a nightlight for the sleeping world beneath. 
While the full moon may not turn you into a werewolf, (unless you've been bitten, of course) there has been speculation that the moon can control people's emotions and actions, since most living things on earth are composed mostly of water. 
"There has been no confirmed connection with the moon phases affecting historic events," Pereyra said. "But having said that, there are many people who believe or support the idea that we are directly affected in some way by these lunar phases, so that's something we can't discard either."  
Those who want to check out the blue moon for themselves need only turn their gazes upward at midnight – naturally. Pereyra said this will be when the full moon is at its brightest and most visible.  
"Midnight is your best shot as you'll be looking at the moon at its highest point," he said. "that will be your sharpest, clearest view, and that's when you'll have the least atmosphere between you and the moon." 
Check out more about this month's Halloween blue moon here.
Whether you plan to stock up on your favorite Halloween candy and binge scary movies, or you want to take advantage of this rare blue moon and finally conduct that séance, just make sure your Halloween festivities are socially distanced – and you wear your masks. 
Happy Halloween!  
ABOUT UTRGV
The University of Texas Rio Grande Valley (UTRGV) was created by the Texas Legislature in 2013 as the first major public university of the 21st century in Texas. This transformative initiative provided the opportunity to expand educational opportunities in the Rio Grande Valley, including a new School of Medicine, and made it possible for residents of the region to benefit from the Permanent University Fund – a public endowment contributing support to the University of Texas System and other institutions.
UTRGV has campuses and off-campus research and teaching sites throughout the Rio Grande Valley including in Boca Chica Beach, Brownsville (formerly The University of Texas at Brownsville campus), Edinburg (formerly The University of Texas-Pan American campus), Harlingen, McAllen, Port Isabel, Rio Grande City, and South Padre Island. UTRGV, a comprehensive academic institution, enrolled its first class in the fall of 2015, and the School of Medicine welcomed its first class in the summer of 2016.