Monday, October 26, 2020
  Awards and Recognitions
By Amanda Alaniz
RIO GRANDE VALLEY, TEXAS – UTRGV has been ranked among the top universities in the country and in Texas for its success at enrolling students from low-income backgrounds and graduating them into promising careers.
The ranking comes in the annual U.S. News & World Report Best Colleges Rankings, and places UTRGV as a Top Performer on Social Mobility for National Universities.
UTRGV ranked second in Texas, below University of Texas at Arlington, and 36th nationally on the social mobility list.
U.S. News & World Report measured how well colleges graduated students who received federal Pell Grants; the majority of Pell Grant awardees are students whose adjusted gross family income is under $50,000.  
For its latest rankings, U.S. News & World Report assessed 1,452 U.S. bachelor's degree-granting institutions on 17 measures of academic quality, such as average six-year graduation rate, average first-year student retention rate and Pell Grant graduation rates.
UTRGV ranked 144th overall in Top National Public Universities, and eighth among Texas Public Universities.
NUMBER ONE FOR LEAST STUDENT DEBT
The university also placed first in the nation among public institutions for least student debt, a ranking released earlier this year. UTRGV students who graduated in 2018 incurred average debt of $11,661.
"UTRGV strives to provide high-quality and accessible resources to our students," said Dr. Janna Arney, UTRGV deputy president and interim provost. "We're focused on helping our students succeed, graduate with as little debt as possible and jumpstart their prosperous careers."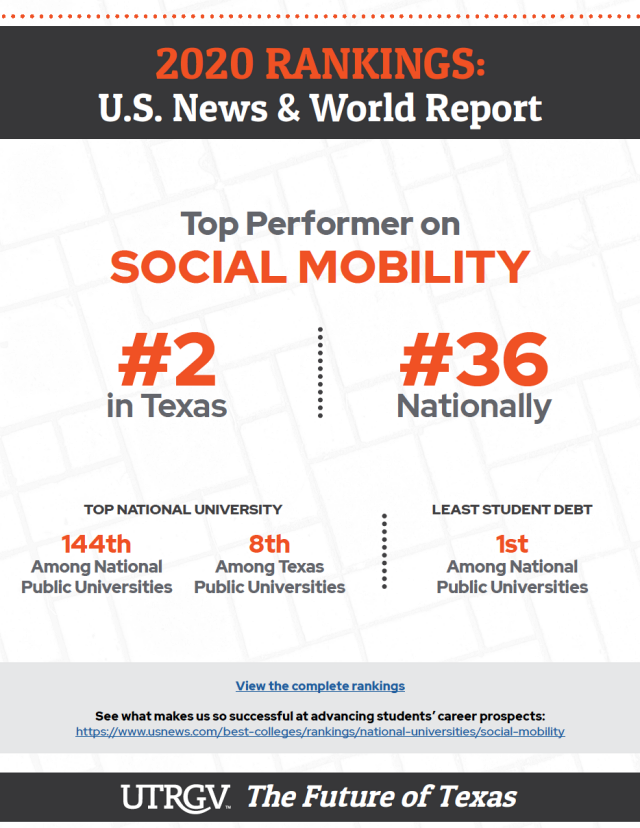 UTRGV has one of the lowest average tuitions among the Texas' public universities. It also offers:
Guaranteed Tuition: UTRGV's tuition is guaranteed for all students for four years, meaning costs will not increase during that period.
12-Hour Cap: UTRGV caps tuition charges at 12 hours, which means any additional courses a student enrolls in after 12 hours are free. For example, if a student enrolls in 15 hours, the extra class is free; 18 hours, the two extra classes are free.
Tuition Advantage: The UTRGV Tuition Advantage program covers the cost of tuition and mandatory fees for students with a family income of $95,000 or less.
UTRGV President Guy Bailey said everything UTRGV does centers around student success.
"Helping our Vaqueros be successful starts with affordability of a valuable education," Bailey said. "Our students are the future success stories of Texas. We want them to graduate and venture into the workforce equipped to meet the challenges of a global marketplace. We are committed to providing helpful initiatives for our students."
Visit https://www.usnews.com/best-colleges to view the full list of U.S. News & World Report's rankings.
ABOUT UTRGV
The University of Texas Rio Grande Valley (UTRGV) was created by the Texas Legislature in 2013 as the first major public university of the 21st century in Texas. This transformative initiative provided the opportunity to expand educational opportunities in the Rio Grande Valley, including a new School of Medicine, and made it possible for residents of the region to benefit from the Permanent University Fund – a public endowment contributing support to the University of Texas System and other institutions.
UTRGV has campuses and off-campus research and teaching sites throughout the Rio Grande Valley including in Boca Chica Beach, Brownsville (formerly The University of Texas at Brownsville campus), Edinburg (formerly The University of Texas-Pan American campus), Harlingen, McAllen, Port Isabel, Rio Grande City, and South Padre Island. UTRGV, a comprehensive academic institution, enrolled its first class in the fall of 2015, and the School of Medicine welcomed its first class in the summer of 2016.