Monday, October 26, 2020
  Awards and Recognitions
By Amanda Alaniz
RIO GRANDE VALLEY, TEXAS – What if some UTRGV students told you that you could be in class virtually using a phone app?
Well, a group of UTRGV students presented that very idea at the inaugural 2020 HSI Battle of the Brains – and they walked away national champions.
Their winning idea was the creation of an app called ARC Learning. It focuses on recreating the "classroom feel" using augmented reality, which can make remote learning a little easier and fun.
The UTRGV team was awarded a $20,000 grand prize and a $5,000 technology champion scholarship for its winning app idea.
HSI Battle of the Brains competition serves as an HSI academic national championship, as well as an experiential diversity recruiting showcase of top Latinx talent from colleges and universities around the country. The event was sponsored by Dell, Lyft and Expedia Group.
The competition took place between Oct. 14-17 – all done virtually.
Participating teams were given 24 hours to develop a comprehensive solution to a designated issue. Students also had to create a marketing plan, be able to successfully pitch their idea to a panel of experts, and then showcase a demo.
The issue given to the UTRGV team was how to make remote learning better for students and teachers. The team agreed the overall issues they needed to solve were the lack of resources, and connectivity issues.
The team consisted of students from various UTRGV colleges and majors:
Natalia De La Garza, senior, biology with a concentration in biological sciences major, Mercedes.
Alexandra Salinas, senior, mechanical engineering major, Mission.
Mauricio De Leo, senior, physics / chemistry major, Matamoros, Tamaulipas.
David Gonzalez, senior, entrepreneurship and innovation major, Brownsville.
Gema Hernandez, senior, entrepreneurship and innovation major, Brownsville.
Subbalakshmi Mandapaka, graduate, Master of Science in computer science, India.  
Ryan Mowers, senior, applied mathematics and music performance major, Harlingen.
UTRGV mentors for the team were:       
Russell Adams, associate professor, director/PI of I-Corps, department chair for International Business and Entrepreneurship, Robert C. Vackar College of Business and Entrepreneurship.
Dr. Noe Vargas, assistant professor of mechanical engineering, College of Engineering and Computer Science.
Dr. Andras Balogh, professor of mathematical and statistical sciences, College of Sciences.
Students weren't made aware of the problem until the day of the competition, when the "24-hour hack-a-thon" began on Thursday, Oct. 15. During that time frame, they had to create everything from start to finish.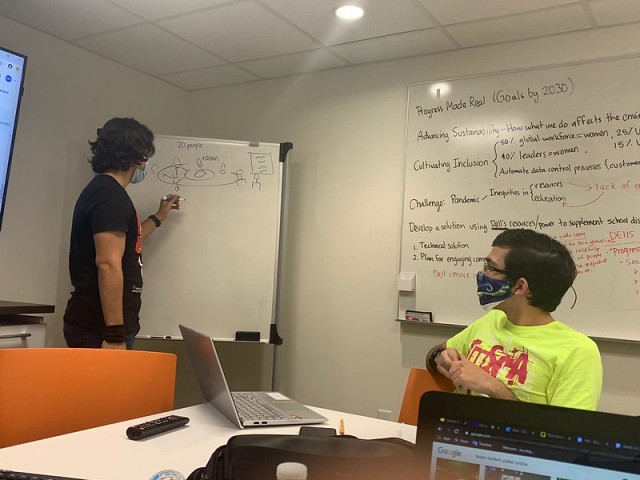 READY. SET. GO.


Each student brought something different to the table when it was time to discuss a solution to the problem. Mandapaka said that before the competition began, the one idea they were all certain of was that they would have to rely on their own skillset.
"We knew we were going to apply our skills, but we didn't know what the problem statement was. We had to rely on our instincts and our skills for the whole event," she said.
The grad student had some experience with software development, so she knew that would benefit the group.
The team's idea was to develop an application that would recreate a classroom setting, but virtually. The app ideally would be available for students and teachers.
Students would be able to create their own avatars, and they could keep track of their progress and participate in a variety of activities. 
De Leo said there were many ideas going back and forth between the team members. They each wanted to go a different route, considering their backgrounds. He wanted to create something with "science or technology." However, he said hearing different ideas from the team helped him learn something new.
"We spent about four to six hours discussing how to solve the problem," he said. "During that period of time, I realized how enclosed I was in my own ideas, so to speak. I am open minded. But you do realize there's more to it than whatever you think. And I thought that was something amazing that I discovered."
AND THE WINNER IS …

After their presentation, Mandapaka said Gregory Gibson, founder of the HSI Battle of the Brains and HBCU Battle of the Brains, spoke with the team briefly. He asked them one simple question – "are you considered a small school?" 
"He said, 'Hey you guys, you did an amazing job. We're really proud of what you presented, the solution and everything.' And that kind of gave us a positive feeling, that this is good," she recalled. "Then he asked, 'Are you considered a small school?' We said yes. He said, 'Well you shouldn't be anymore. This puts you guys on the map.' That was really uplifting."
When the team found out they were the winners, they were surprised and shocked. Hernandez said she had been recording the results to reveal on her personal Facebook.
"I was completely happy. Dr. Lance Nail said he's going to be hearing my screaming for a while now," she said, laughing. Nail is dean of the Vackar College of Business and Entrepreneurship.
Hernandez said they weren't sure what the other schools created, but they did know who else was competing. It made them nervous, she said, but she was proud of her team and what they were able to do in 24 hours.
Among the universities that competed included Fairleigh Dickinson University (runner-up), University of Central Florida, Rutgers University-Newark, UT San Antonio, Texas State University, St. Edwards University, University of Illinois at Chicago, and California State Polytechnic, Pomona. 
In a congratulatory email from Jonathan Barona, executive director of the HSI Battle of the Brains, he said, "We were blown away by your team and could not think of a more deserving champion."
PATH TO SUCCESS
The competition tested the students' skillset and how to work as a team, students said, but the opportunities, classes and help offered at UTRGV were key for them being prepared.
De Leo said UTRGV does offer excellent programs, but the strong suit of the university is the level of engagement with faculty, which helped him the most.  
"You have students who really want to be someone in the world and want to leave a mark, and you have faculty willing to give an extra effort to help," he said. "That level of engagement from professors is the real preparation that UTRGV gave me."
De La Garza, who had participated in other competitions, said she's grateful for what UTRGV has offered her to hone her skills and impact her future.
"Through the classes, through the professors, through the opportunities, they've really prepared me enough to participate in this national competition. Doctoral students, graduate students, there were some PhDs there pitching their ideas," she said. "Coming from a school that was small and wasn't well known, that made me really proud that I was at that level and we won."
Hernandez said she was grateful to have been given the opportunity to participate in the national competition and was glad her professor gave her a little nudge to join.
"There were moments we disagreed. But at the end of the day, we came together, worked as a team and created something innovative," she said. "And we took the crown! We had an amazing team and we couldn't have won without each other."
The question now is, could the next step be making the ARC Learning app into reality?
ABOUT UTRGV
The University of Texas Rio Grande Valley (UTRGV) was created by the Texas Legislature in 2013 as the first major public university of the 21st century in Texas. This transformative initiative provided the opportunity to expand educational opportunities in the Rio Grande Valley, including a new School of Medicine, and made it possible for residents of the region to benefit from the Permanent University Fund – a public endowment contributing support to the University of Texas System and other institutions.
UTRGV has campuses and off-campus research and teaching sites throughout the Rio Grande Valley including in Boca Chica Beach, Brownsville (formerly The University of Texas at Brownsville campus), Edinburg (formerly The University of Texas-Pan American campus), Harlingen, McAllen, Port Isabel, Rio Grande City, and South Padre Island. UTRGV, a comprehensive academic institution, enrolled its first class in the fall of 2015, and the School of Medicine welcomed its first class in the summer of 2016.