Friday, October 23, 2020
  Around Campus, Community
By Amanda Alaniz
RIO GRANDE VALLEY, TEXAS – Many medical students start dreaming of working in the healthcare field when they're young.
Patrick Ojeaga, a fourth-year student at the UTRGV School of Medicine, has carried that passion for science and service since he saw, first-hand, family who were involved in medicine.
Ojeaga is on his way to becoming an orthopedic surgeon and is completing his clinical rotations, continuing his duties in different organizations relating to the School of Medicine and beginning a new, unique chapter in his life and career.
Ojeaga recently was selected to be one of 10 student regents by Texas Gov. Greg Abbott, a position he will hold on the UT System Board of Regents through May 31, 2021.
He said it was an incredible feeling to find out he had been appointed.
"Before me, I believe there were 14 other student regents in the UT System. So, I'm the 15th, and being the first one from the Valley and from UTRGV – it's such an honor," he said. "I do hope to serve well and make everyone proud."
Student regent is a non-voting position, but Ojeaga will sit with the Board of Regents during meetings and hear discussions relating to the universities. He also will have the opportunity to share his opinions and comments regarding students.
He said the position will be a new experience, and having a chance to participate in governance at a state level can be helpful for his future. He also will get a chance to understand and see operations within higher education.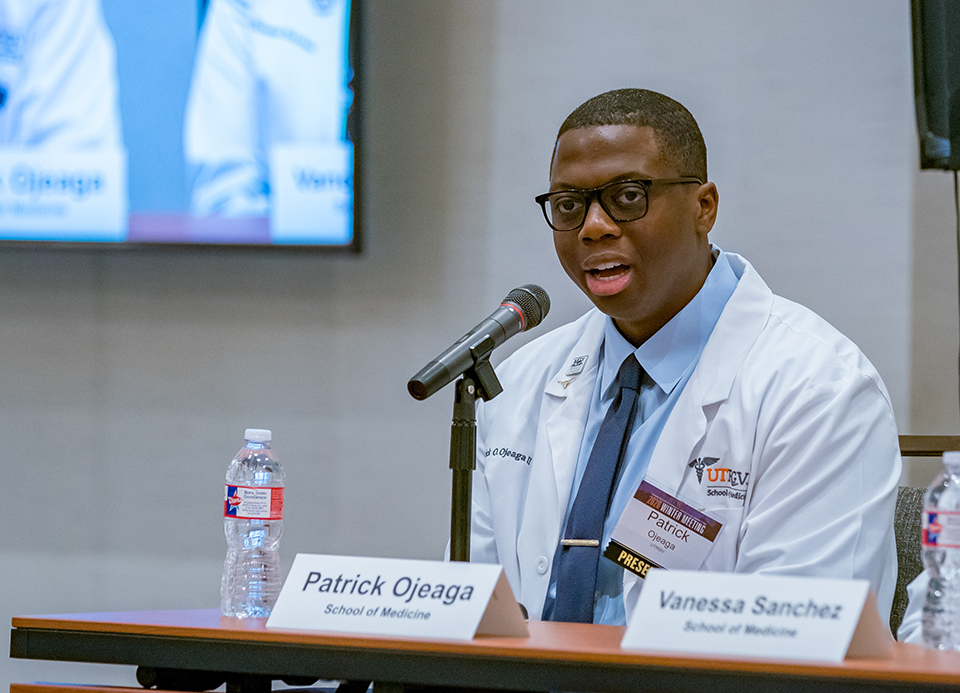 He didn't tell too many people when he started the application process, because he didn't want to "make any noise" in case he didn't get it. But when he did get the good news, his family members were the first to know.
"They're incredibly proud. They wanted more information on the role, and after explaining to them what the role is, they understood. They're proud of me and I have their support," he said with a smile.
A HELPING HAND
As valuable an experience serving on the Board of Regents will be for Ojeaga, volunteering, helping and being heavily involved in the School of Medicine remains a priority for him.
He previously served as president for the UTRGV School of Medicine's Texas Medical Association (TMA) and American Medical Association (AMA) chapters. He is the current TMA medical student representative on the TEXPAC Executive Committee, and is an executive board member of the Hidalgo-Starr County Medical Society.
He also is a member of the UTRGV SOM's Admissions Committee, co-founded UTRGV SOM's Student Ambassador Program, and is a student academic peer tutor, mentor and Big Sibling.
Under the Big Sibling program, he was mentoring incoming School of Medicine students, answering common questions like, "How do you survive?" and "How do you thrive in medical school?"
"In terms of surviving medical school, I think I was able to give them great advice. And thriving, that's subjective but I think I was able to help them with things like, how to study, what resources to use, what to do in your free time," he said. "A lot of students were new to the area, so I was able to share experiences and things I like to do in the Valley."
FUTURE SURGEON
He was very young when he knew he wanted to help others, having grown up in a family where individuals were involved in medicine and the healthcare field. He also had a passion for science.
Ojeaga graduated from UT Austin with a Bachelor of Science and Arts degree in biology and a certificate in Pre-Health Professions. And in typical Renaissance Man fashion, he was a defensive lineman on Longhorns football team. He said he does miss playing the game and the team atmosphere, but he still goes back to watch games and continues to support his alma mater.
After receiving his degree, he knew he wanted to go into the medical field because it offered a combination of science and service. So, he decided to begin his journey by applying to the UTRGV School of Medicine.
Growing up in the Valley, he said, he has seen people who were unable to receive vital healthcare services due to lack of access or financial struggles. He knew he wanted to be part of the UTRGV School of Medicine, because its mission is to provide high-quality and compassionate care for the community.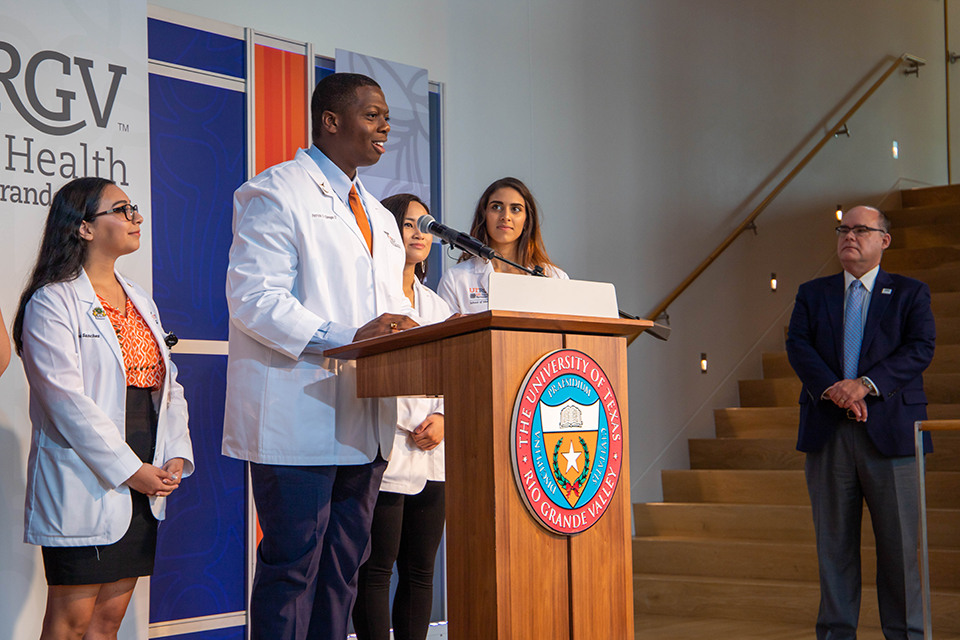 "I am into my fourth year. So, now it's a lot of rotations and interviewing for residency programs. I will be pursuing orthopedic surgery residency," he said. "And the endgame for me would be becoming an orthopedic surgeon, which is five years of residency."
When the pandemic hit, he was pulled out of his clinical rotations, but he since has returned to completing the rotations for his degree requirements and currently is on an orthopaedic surgery visiting rotation.
Before, he said, he was on a plastic surgery rotation at Doctor's Hospital at Renaissance and another orthopaedic surgery visiting rotation.
"It's been great to be able to get back to helping patients again," Ojeaga said.
His advice to future medical students is to not get discouraged by the pandemic. They can still make an impact and will be able to learn what they need to, he said. They do need to be prepared to work hard and should try to enjoy every moment.
MAKING LASTING CHANGES
Now that the fall semester has started at UTRGV and he has started his fourth year in medical school, he already is participating in Board of Regents meetings over the phone and via Zoom.
He hopes to be in a position to benefit all university students.
"As student regent, I hope to make an impact and contribute to the UT System, and be able to suggest and implement change that will benefit my fellow students," he said. "There are some issues I have in mind, and I hope to be able to make an impact in those areas."
ABOUT UTRGV
The University of Texas Rio Grande Valley (UTRGV) was created by the Texas Legislature in 2013 as the first major public university of the 21st century in Texas. This transformative initiative provided the opportunity to expand educational opportunities in the Rio Grande Valley, including a new School of Medicine, and made it possible for residents of the region to benefit from the Permanent University Fund – a public endowment contributing support to the University of Texas System and other institutions.
UTRGV has campuses and off-campus research and teaching sites throughout the Rio Grande Valley including in Boca Chica Beach, Brownsville (formerly The University of Texas at Brownsville campus), Edinburg (formerly The University of Texas-Pan American campus), Harlingen, McAllen, Port Isabel, Rio Grande City, and South Padre Island. UTRGV, a comprehensive academic institution, enrolled its first class in the fall of 2015, and the School of Medicine welcomed its first class in the summer of 2016.