UTRGV's K9 Officer Odin retires after almost 10-year career on campus

  Thursday, October 22, 2020
  Community, Around Campus
By Amanda Taylor
 PHOTO GALLERY by David Pike
RIO GRANDE VALLEY, TEXAS – After almost 10 years serving the UTRGV campus and community, Officer K9 Odin, known as "Odie," is hanging up his badge to enjoy retirement.
Odin, who started with legacy institution UTPA in 2011, has worked with his partner, Sgt. Molly Ralph, to keep the campus community safe and act as a community ambassador to bridge the UTRGV Police Department with public schools.
A retirement ceremony was held for K9 Officer Odin on Wednesday, Oct. 21 – which doubled as a going away party for his handler, Ralph, as this marked her last day working at UTRGV.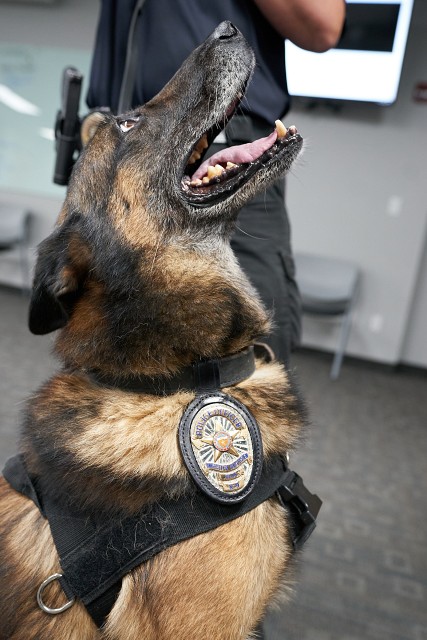 Ralph and Odin are moving to San Antonio, where Ralph will continue her police work at UTSA.
Both Odin and Ralph have developed a reputation throughout UTRGV and the surrounding communities as a dynamic duo who attended countless school assemblies and community events on top of their daily responsibilities with the UTRGV Police Department.
"I think he's ready for this retirement," Ralph said, adding that Odin has some developing arthritis natural in a dog his size and age. "Nobody wants to wait until a dog is broken before they can retire."
Odin, who is looking forward to plenty of movie nights on the couch and leisurely walks around his new home, is a Belgian Malinois who has worked his entire career with Ralph.
Ralph has been the only handler Odin has known, and will remain under Ralph's care as he adjusts to civilian life.
Some of Ralph's fondest memories from her time at UTRGV include the many school presentations that they attended. She estimates they easily have met more than 2,000 school children during their work as community ambassadors.
"I think, more than anything, he's brought a lot of joy, especially to children," Ralph said. "When we'd go into schools every year for Red Ribbon Week, we'd go to different elementary schools, junior highs and high schools around the Valley. The PD was always really good about letting us go and do those."
Ralph said having the children able to see Odin created a different kind of impact on them, better than a standard presentation. Ralph worked closely with the UTRGV community and got to know many individuals personally and, with Odin's help, they were able to create more meaningful bonds with the UTRGV community.
"There were many times that Odin and I would be working and people would come up to us to ask about something and they'd see Odin. And they'd naturally start asking about him, and that created more personal interest about the PD and what we do," Ralph said.
While many people will miss seeing the duo around campus, Ralph said, the facilities and maintenance staff probably will breathe a sigh of relief.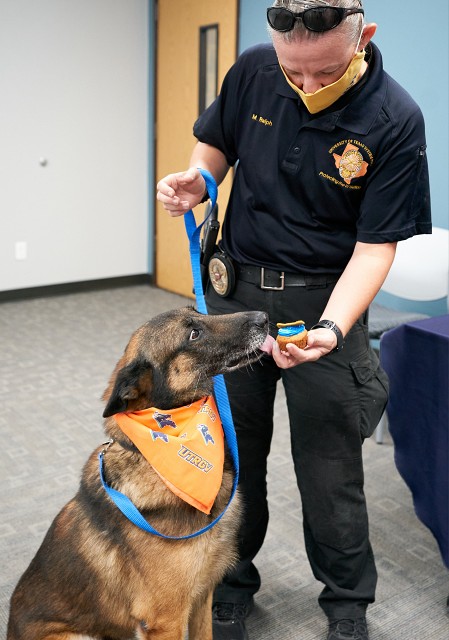 "There'd be so many times that Odin and I would be doing a sweep around campus and they'd see this giant wolf come around the corner, not knowing that I was close behind him. And they'd scream or end up dropping something because they'd be startled," Ralph said with a laugh.
While Odin will not be working on campus at UTSA with Ralph, Ralph said she'll be sure to keep him involved and get him used to a normal routine, even if that includes more park visits instead of campus visits.  
Ralph is leaving the UTRGV PD K9 unit in good paws with current K9 officers Suzy and Eyka and their handlers. She credits Assistant Chief James Loya for opening doors for Ralph that changed her life, as she was able to incorporate so many different interests in one career at UTRGV.
"I would just like to thank the department in general for allowing me to start this opportunity and continue it, and see it through to the end of Odin's career. It has just changed everything for me," she said.
ABOUT UTRGV
The University of Texas Rio Grande Valley (UTRGV) was created by the Texas Legislature in 2013 as the first major public university of the 21st century in Texas. This transformative initiative provided the opportunity to expand educational opportunities in the Rio Grande Valley, including a new School of Medicine, and made it possible for residents of the region to benefit from the Permanent University Fund – a public endowment contributing support to the University of Texas System and other institutions.
UTRGV has campuses and off-campus research and teaching sites throughout the Rio Grande Valley including in Boca Chica Beach, Brownsville (formerly The University of Texas at Brownsville campus), Edinburg (formerly The University of Texas-Pan American campus), Harlingen, McAllen, Port Isabel, Rio Grande City, and South Padre Island. UTRGV, a comprehensive academic institution, enrolled its first class in the fall of 2015, and the School of Medicine welcomed its first class in the summer of 2016.