Tuesday, October 20, 2020
  Around Campus, Awards and Recognitions
By Victoria Brito
RIO GRANDE VALLEY, TEXAS – A group of 16 UTRGV computer science students recently had an opportunity they never saw coming: They got scholarships to attend a prestigious gathering of women in computing.
The Grace Hopper Celebration conference – named for Rear Admiral Grace Hopper, a former U.S. naval officer and one of the first women to receive a doctorate in mathematics in 1934 from Yale University – is held annually in her name. The conference is hosted by AnitaB.org, a digital community founded in 1987 to "connect, inspire and guide" women in computing.
The theme of this year's conference was Together We Build. Due to the COVID-19 pandemic, the event was virtual for the more-than 30,000 who attended the conference.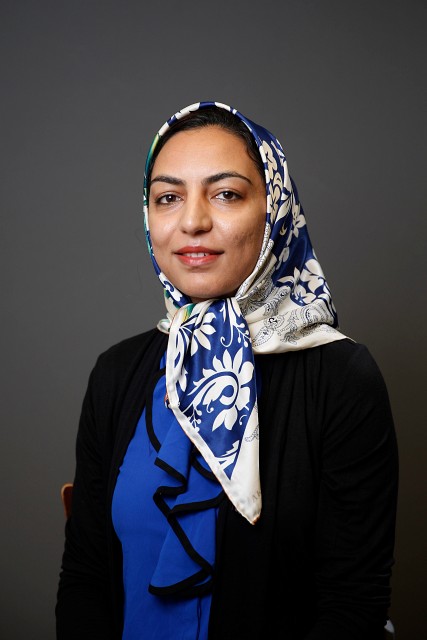 Dr. Marzieh Ayati, assistant professor of computer science in the UTRGV College of Engineering and Computer Science, said she encourages her female students each year to apply for the Student and Faculty Scholarship the organization offers.
This year, AnitaB.org awarded scholarships to attend the conference to the 16 UTRGV students, along with two faculty members – Ayati and Dr. Xuan Wang, assistant professor of information systems in the Robert C. Vackar College of Business and Entrepreneurship. This was the largest awarding of scholarships to a single institution in conference history, according to Cullen White, chief of staff at AnitaB.org.
Ayati played a pivot role in encouraging her students to apply for the opportunity.
"We have so many talented and smart female students at UTRGV," Ayati said. "Unfortunately, some of them are not confident enough to apply for scholarships and different opportunities. As a faculty member, it is my responsibility to encourage and empower them to believe in themselves."
Mathematics major Raven Solis is pursing computer science as a minor, and credits Ayati as her main inspiration for applying for the scholarship.
Solis said she didn't feel confident, but she applied for the scholarship anyway and was selected. For her, a key take-away from the conference was seeing the support women in the field have for each other, especially when it comes to job seeking.
"I think that just going to a computing conference like GHC is a great honor, and something as small as putting it on our resumé will make a big difference for all of us when it comes to future employment or even deciding to continue our education," Solis said.
Amairany Lopez, a senior computer engineering major, said she has been wanting to attend the Grace Hopper Conference for years.
"I have attended much smaller conferences and they always leave a positive footprint in my life, and I could not imagine the impact GHC was going to have," Lopez said. "I have in the past left conferences so motivated to continue developing my career. GHC is special because it provides a wide range of opportunities to obtain an internship or a job."
Ayati said students often reach out to her in surprise when they receive either a scholarship or job prospects from top tech companies.
"Attending conferences such as GHC, which celebrates diversity and women in computing fields, provide a great opportunity for female students to attend hands-on workshops, learn new technical topics and enhance their professional network," Ayati said.
"But I think the most important part is, they meet successful female leaders in this male-dominated tech industry and find female role models. I have seen students come back from these conferences with more confidence and empowerment and become STEM advocates among women."        
The 16 UTRGV students who received the GBC scholarship are:  
Raven Lopez, junior, computer engineering. 
Alejandra Santos, senior, computer science. 
Kassandra Guerra, senior, computer science. 
Victoria Mena, junior, English with a minor in computer science. 
Lynda Grimaldo, junior, computer science. 
Amairany Lopez, senior, computer engineering. 
Raven Solis, senior, mathematics. 
Denise Lopez, sophomore, computer science. 
Jasmine Guajardo, junior, computer engineering. 
Isabel Sanchez, senior, computer science. 
Lizbeth De La Torre, senior, computer science. 
Yamel Heredia, senior, business administration with a minor computer science. 
Vanessa Guerrero, junior, computer science. 
Maria Romero, senior, computer science. 
Anahi Florez, junior, civil engineering with a minor in computer science. 
Hideki Garcia, masters in experimental psychology with a bachelor's in electrical engineering and minor in computer science.
ABOUT UTRGV
The University of Texas Rio Grande Valley (UTRGV) was created by the Texas Legislature in 2013 as the first major public university of the 21st century in Texas. This transformative initiative provided the opportunity to expand educational opportunities in the Rio Grande Valley, including a new School of Medicine, and made it possible for residents of the region to benefit from the Permanent University Fund – a public endowment contributing support to the University of Texas System and other institutions.
UTRGV has campuses and off-campus research and teaching sites throughout the Rio Grande Valley including in Boca Chica Beach, Brownsville (formerly The University of Texas at Brownsville campus), Edinburg (formerly The University of Texas-Pan American campus), Harlingen, McAllen, Port Isabel, Rio Grande City, and South Padre Island. UTRGV, a comprehensive academic institution, enrolled its first class in the fall of 2015, and the School of Medicine welcomed its first class in the summer of 2016.