Monday, September 28, 2020
  Community
By Amanda Alaniz
RIO GRANDE VALLEY, TX – To help address the emotional, as well as the physical toll frontline medical workers are facing during the COVID-19 pandemic, the UTRGV School of Rehabilitation Services and Counseling is offering free counseling services.
The initiative, called "The Wellness Project," focuses primarily on individuals in healthcare who have been affected by the pandemic.
Counseling will be individually focused. Any issues related to stress, grief, and death and dying, could be common topics in the sessions.
Cameron Ortega, a lecturer for School of Rehabilitation Services and Counseling and clinical director of the SRSC Wellness Counseling Clinic, is leading the project.
Discussions about services began in late July, when the department identified a need.
"We realized that COVID-19 has had a huge impact on our community, especially on our frontline medical workers. They're overwhelmed," Ortega said. "There's a lot going on. They are helping others who have been impacted. Then they go home and take care of their families. There's a lot of stress and grief and trauma.
"We thought, how can we support this community of medical workers that are supporting our community?"
The importance of having counseling services available for medical workers is to provide an outlet to discuss any feelings, stresses and anxiety they may have, she said, and counseling can help people process what is going on.
"If it's left untreated, the anxiety could lead to depression," she said.
The counseling sessions are confidential, conducted in a telemedicine format with licensed clinicians; the therapists are all Rehabilitation Services and Counseling faculty members.  
Counseling sessions will be at no cost to medical workers seeking the service. Services will be limited to four to six sessions of about an hour each. Anyone who needs extended or more intensive counseling will be referred to appropriate providers.
Ortega hopes The Wellness Project brings awareness to the importance of mental health and recognition of frontline workers.
"I hope the project makes an impact in servicing our mental health needs, knowing there's support and knowing we appreciate what the frontline workers are doing for our community," she said. "They're out there helping us. We want to support and help them, too."
Anyone with questions or interested in scheduling an appointment can email SRSCCounselingCenter@UTRGV.edu.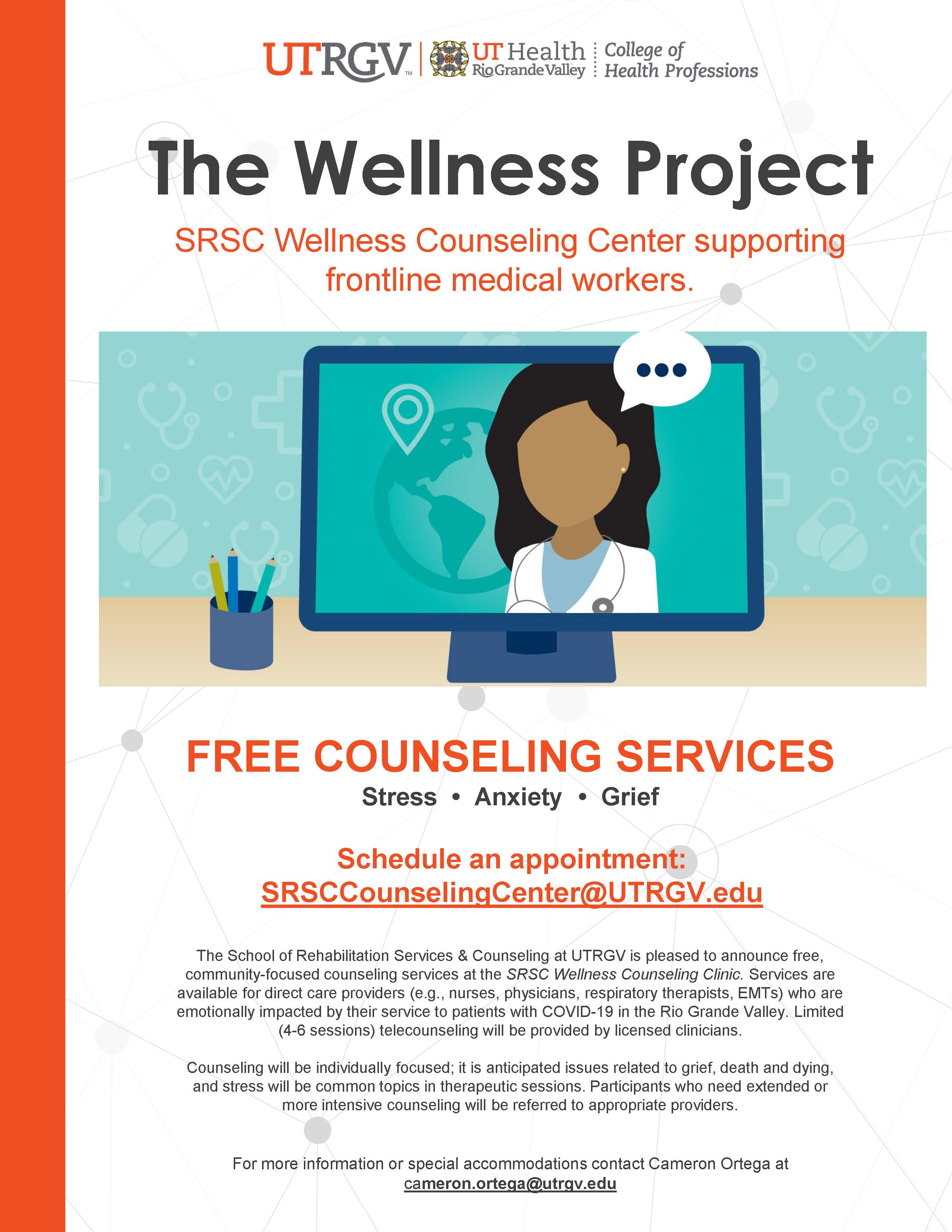 ABOUT UTRGV
The University of Texas Rio Grande Valley (UTRGV) was created by the Texas Legislature in 2013 as the first major public university of the 21st century in Texas. This transformative initiative provided the opportunity to expand educational opportunities in the Rio Grande Valley, including a new School of Medicine, and made it possible for residents of the region to benefit from the Permanent University Fund – a public endowment contributing support to the University of Texas System and other institutions.
UTRGV has campuses and off-campus research and teaching sites throughout the Rio Grande Valley including in Boca Chica Beach, Brownsville (formerly The University of Texas at Brownsville campus), Edinburg (formerly The University of Texas-Pan American campus), Harlingen, McAllen, Port Isabel, Rio Grande City, and South Padre Island. UTRGV, a comprehensive academic institution, enrolled its first class in the fall of 2015, and the School of Medicine welcomed its first class in the summer of 2016.