Thursday, September 24, 2020
  Research, Community
By Maria Elena Hernandez
RIO GRANDE VALLEY, TEXAS – UTRGV and Pharr-San Juan-Alamo ISD have collaborated on a program to bridge the gap between high school agricultural science teachers and the latest research in the field.
"As technology advances so quickly, it doesn't take too long to fall behind," said Romeo Robles, the PSJA ISD Career and Technical Education Coordinator who oversees the agriculture and welding pathways.
The school district's well-established agricultural program includes a new agricultural science facility and more than 40 acres of organic crops. But many educators are not familiar with the related research underway at UTRGV.
It was an issue Robles and Dr. Rupesh Kariyat, assistant professor in the UTRGV Department of Biology, recognized while discussing potential partnerships. One solution proposed was a workshop for teachers.
"We want to update them on what the new developments in this field are," Kariyat said.
To help support the program, Kariyat applied for and received the Plant Biology Learning Objectives, Outreach Materials & Education Award from the American Society of Plant Biologists.
WORKING WITH RESEARCHERS
While planning the workshop, Kariyat said, he understood the time constraints teachers face.
"We wanted to do this in a very intensive way because they have very busy schedules. We cannot get them for many days or a whole semester," he said.
So, when the program started last summer, they employed an intense, week-long, boot-camp-style approach. Each day, the PSJA agricultural science teachers would meet with a UTRGV faculty member, instructing on a different topic:
Bradley Christoffersen – Plant water relations and ecohydrology.
Engil Pereira – Soil biology and soil health.
Pushpa Soti – Weed science and weed management.
Veerachandra Yemmireddy – Food science and food microbiology.
Rupesh Kariyat – Pests and pollinators.
"Every morning, they have lectures from one of these faculty members, and then in the afternoon, they go to the lab. They may also go into the field. The faculty member and their graduate students will assist them, and they will learn at least one hands-on activity," Kariyat said.
He said the chance to share research was eye-opening for one faculty member participating.
"He did some very cool experiments in the class," said Kariyat. "He was pleasantly surprised to see that everyone thoroughly enjoyed it. And he never thought… his research to be very crowd-pleasing or attractive to the public."
GATHERING TEACHER FEEDBACK
Kariyat, who published a paper this summer about the workshops, is waiting to collect formal feedback from the participating teachers later this year.
"We wanted to bring them back again in December. Actually, we wanted to bring them back again this summer, but COVID happened," he said.
However, PSJA CTE coordinator Robles said he already has had positive feedback from the teachers.
"They were really excited to know that what students are actually doing at the university level can be brought to the high school level," Robles said. "And I know they equipped them with some supplies, where they could come back and teach their high school classes with the exact same thing that they learned at the boot camp. They were very excited about that.
"They were also excited to see what's happening in the industry at the present time, because a lot of times, that's where the disconnect is," he said.
In addition to supplies, participating teachers received USB drives with all the information shared in the workshops. Kariyat said that, based on the number of educators involved in the workshops, the lessons could reach more than 2,000 high school students.
He said he hopes to expand the program to more Rio Grande Valley school districts, where it could also serve as an introduction to the university itself.
"We believe that this will become a pipeline for students from different school districts to learn more about UTRGV and our science programs," Kariyat said.
For more information about the UTRGV Department of Biology, visit utrgv.edu/biology.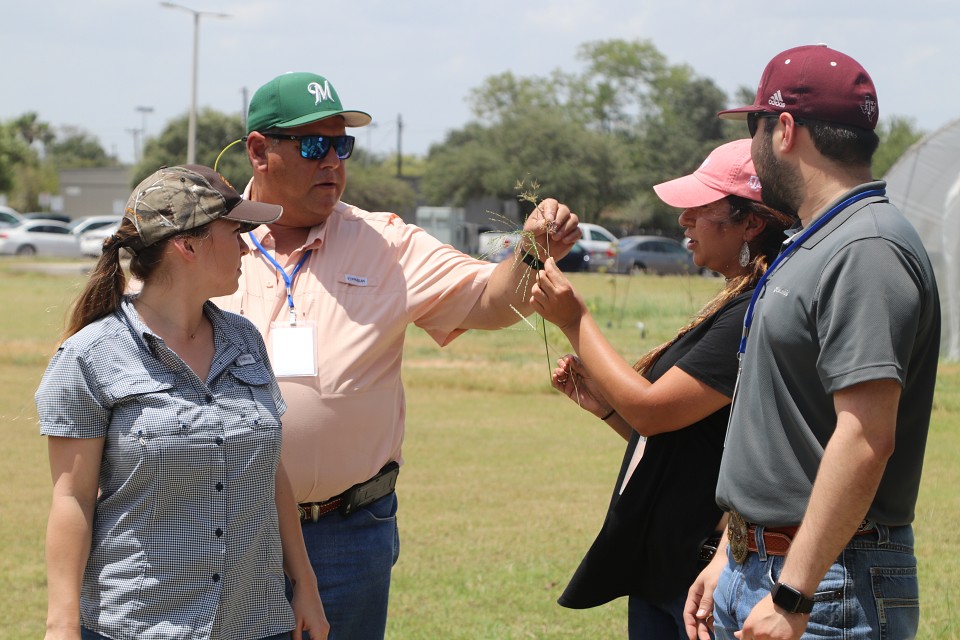 ABOUT UTRGV
The University of Texas Rio Grande Valley (UTRGV) was created by the Texas Legislature in 2013 as the first major public university of the 21st century in Texas. This transformative initiative provided the opportunity to expand educational opportunities in the Rio Grande Valley, including a new School of Medicine, and made it possible for residents of the region to benefit from the Permanent University Fund – a public endowment contributing support to the University of Texas System and other institutions.
UTRGV has campuses and off-campus research and teaching sites throughout the Rio Grande Valley including in Boca Chica Beach, Brownsville (formerly The University of Texas at Brownsville campus), Edinburg (formerly The University of Texas-Pan American campus), Harlingen, McAllen, Port Isabel, Rio Grande City, and South Padre Island. UTRGV, a comprehensive academic institution, enrolled its first class in the fall of 2015, and the School of Medicine welcomed its first class in the summer of 2016.