Wednesday, September 23, 2020
  Research
By Maria Elena Hernandez
RIO GRANDE VALLEY, TEXAS – On a map of the Rio Grande Valley, parts of Brownsville are highlighted in a deep red color.
The red spots are a conundrum for UTRGV disaster studies graduate student Desiree Padilla. The Edinburg resident compiled the map, which shows the number of confirmed patients with Alzheimer's disease by zip codes.
"We wanted to see if, in those maps, we'd be able to tell where there are clusters or hot spots of people with Alzheimer's," Padilla said.
So, using ArcMap, a geographic information system, she found two spots in Brownsville at zip codes 78520 and 78521. That led to even more questions.
"I don't really know what their demographic is or like what kind of chronic illnesses there are," said Padilla, who also created maps showing factors like walkability, food accessibility and crime rates by zip codes.
"All of these are factors that contribute to whether or not a person is healthy or if they feel safe going outside. Therefore, does that safety kind of promote them being able to walk around and exercise?"
CROSSING DISCIPLINES
The questions may seem unusual for someone majoring in disaster studies. But Padilla's work was part of her internship with the Lights of Summer UTRGV Alzheimer's Program, where fellow intern Amanda Guerrero, of Weslaco, is a graduate student majoring in counseling and guidance. 
Dr. Gladys Maestre, director of the UTRGV Alzheimer's Disease Resource Center for Minority Aging Research (AD-RCMAR), believes researchers have to bring all disciplines to this health issue.  
"Because as we are seeing, if there is a health problem, nothing else really can compensate that. So we need to bring in all these students that really want to make a change," she said.
Maestre also hopes the internships will attract more Latinos to the field of neuroscience – especially Latinas, because many Latinas who are looking for a creative outlet too often overlook science.
"Science can be colorful," she said. "It can be engaging in a way that a Latina can feel passionate about and contribute to in ways that we really need."
RAISING AWARENESS
Finding ways to draw more Latinos into neuroscience was itself part of Guerrero's internship. The counseling and guidance graduate student researched different communication models to engage and attract researchers into the field.
She also planned ways to promote existing resources, including seminars the UTRGV Alzheimer's Disease Resource Center hosts.
"We're planning on creating a database with previous seminars, so that way all those seminars can be accessible to people who are interested in engaging in neuroscience," she said.
In addition to the seminar database, Guerrero created Wikipedia pages for Hispanic neuroscience researchers, with the goal of reaching not just students and scientists but also the general public.
"In order to engage our community, we're raising awareness of researchers who are doing research not only on Hispanic populations, but also on underserved populations in general, including the Valley," she said.
Social media could also be used as an outlet to share information about neuroscience, she said.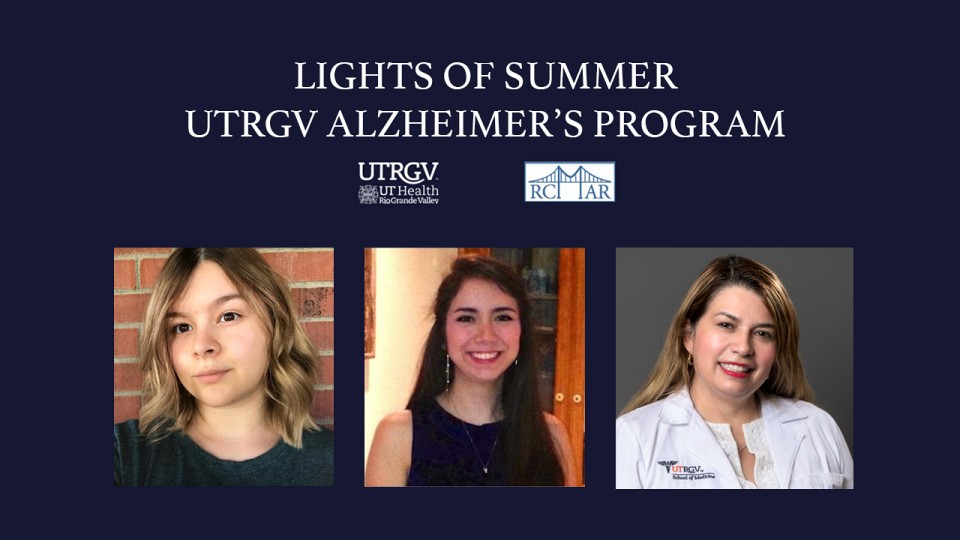 LEARNING APART, BUT TOGETHER
Online platforms were especially important to the Lights of Summer UTRGV Alzheimer's Program interns, as their three months of work was completed remotely.
The program's director still hasn't had a chance to meet Guerrero or Padilla in person.
"It came with challenges and adventures," Maestre said, "but I think this also opened up possibilities for them to be more flexible. Psychological flexibility – it's required to be innovative." 
As part of the internship, Maestre added a networking component so the graduate students could meet with different university staff members.
"The staff was very supportive," said Guerrero, the intern from Weslaco. "We've met so many different staff from the RCMAR that just were there to help us throughout our entire internship."
BUILDING ON LESSONS
Both interns said they were surprised by some of the lessons learned, like how different university departments are interconnected. And while they completed their internships in August, the UTRGV Alzheimer's Disease Resource Center now plans to expand on their work.
"We are generating a couple of articles and also working with the faculty at the disaster studies program to actually generate resources for the community," Maestre said.
She also is looking for funding to test the plans Guerrero created for sharing information with the public and attracting Latino researchers into neuroscience.
"I think they did very important work," she said of the interns. "This work can change not only certain aspects of what we do at UTRGV, but I hope that the work they did during the internship is going to affect their lives."
Maestre plans to continue the Lights of Summer UTRGV Alzheimer's Program next year, and encourages graduate students from different majors to apply.
"I see a big need for integration of all these disciplines," she said.
For more information about the UTRGV Alzheimer's Disease Resource Center for Minority Aging Research, visit https://www.utrgv.edu/som/alzheimers-disease-resource-center/.
ABOUT UTRGV
The University of Texas Rio Grande Valley (UTRGV) was created by the Texas Legislature in 2013 as the first major public university of the 21st century in Texas. This transformative initiative provided the opportunity to expand educational opportunities in the Rio Grande Valley, including a new School of Medicine, and made it possible for residents of the region to benefit from the Permanent University Fund – a public endowment contributing support to the University of Texas System and other institutions.
UTRGV has campuses and off-campus research and teaching sites throughout the Rio Grande Valley including in Boca Chica Beach, Brownsville (formerly The University of Texas at Brownsville campus), Edinburg (formerly The University of Texas-Pan American campus), Harlingen, McAllen, Port Isabel, Rio Grande City, and South Padre Island. UTRGV, a comprehensive academic institution, enrolled its first class in the fall of 2015, and the School of Medicine welcomed its first class in the summer of 2016.