Thursday, August 27, 2020
  Science & Technology
By Maria Elena Hernandez
RIO GRANDE VALLEY, TEXAS – More than $3 billion worth of produce was imported last year – at the Pharr International Bridge alone. 
But the multibillion-dollar process can hit a snag: Before food can travel into the United States, it has to be inspected.  
"We don't have enough skilled people to actually look at these shipments efficiently for any pests or diseases," said Dr. Rupesh Kariyat, assistant professor in the UTRGV Department of Biology. 
And for perishable imports, time is an issue. 
"If you are not able to identify and process them in a very fast and effective manner, then the shipment gets stuck there for a while. And then it ruins, right? Because these are all fresh produce," Kariyat said. 
To help create a local skilled workforce to address the demand, UTRGV is working with government agencies and other organizations to create paid, semester-long externships for university students.  
Kariyat said the CEO of the Texas International Produce Association often mentioned the possibility of having interns from area universities, which the association could train and eventually hire. 
Now, the Texas International Produce Association is a partner in the new UTRGV program, along with the U.S. Department of Agriculture, U.S. Fish and Wildlife and the Pharr International Bridge. 
A grant of almost $500,000 from the USDA Agriculture and Food Research Initiative Competitive Grants Program: Education and Workforce Development Research and Extension Experiences for Undergraduates will fund the program. 
"We got the grant for five years and it starts this month," said Kariyat, principal investigator for the grant.  
The funding will create seven externships each year for students in the biology and sustainable agriculture and food systems undergraduate programs. The externships will provide hands-on training to become: 
Agricultural specialists. 
Food regulation specialists. 
Plant pathogen specialists. 
Invasive species management specialists.  
Analytical plant and soil chemistry specialists. 
Kariyat said medical students have an opportunity to shadow doctors, "but for our students who are interested in these fields, it's very limited. So, what we are doing is asking them, 'Do you want to work on the bridge? Or do you want to work in a soil and plant lab? Or do you want to work with USDA?'"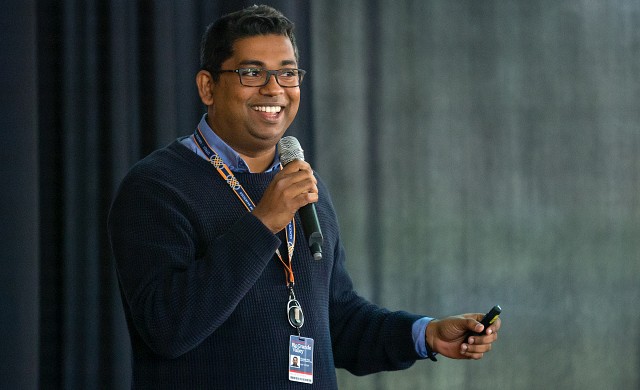 Those sectors constantly have positions, he said, but sometimes can't find the right people to fill them, so the externships will help fill that need. 
Students considered for the program will need to have completed core coursework related to the externship, and have a class in conjunction with it, Kariyat said. 
In addition to Kariyat, UTRGV faculty involved and who also are co-principal investigators for the grant are: 
Bradley Christofferson, assistant professor of Biology.
Pushpa Soti, assistant professor of Biology.
Alex Racelis, associate professor of Biology.
Veerachandra Yemmireddy, assistant professor in the UTRGV School of Earth, Environmental and Marine Sciences.
"Students will still take classes, but they work there for 20 hours a week and they get paid for that," he said. 
When the externships are complete, the Texas International Produce Association – which represents more than 250 members in Texas – will help students locate potential jobs.  
"This is a great opportunity," Kariyat said. 
Having these local jobs can benefit not only students who would like to stay in the Rio Grande Valley after graduating, but also organizations that experience high turnover from employees recruited from outside the area. 
"They work on our bridges for maybe a year or so, and they want to go to San Diego or somewhere else. They don't stay here," he said. 
To learn more about the program, contact Kariyat at 
rupesh.kariyat@utrgv.edu
.
ABOUT UTRGV
The University of Texas Rio Grande Valley (UTRGV) was created by the Texas Legislature in 2013 as the first major public university of the 21st century in Texas. This transformative initiative provided the opportunity to expand educational opportunities in the Rio Grande Valley, including a new School of Medicine, and made it possible for residents of the region to benefit from the Permanent University Fund – a public endowment contributing support to the University of Texas System and other institutions.
UTRGV has campuses and off-campus research and teaching sites throughout the Rio Grande Valley including in Boca Chica Beach, Brownsville (formerly The University of Texas at Brownsville campus), Edinburg (formerly The University of Texas-Pan American campus), Harlingen, McAllen, Port Isabel, Rio Grande City, and South Padre Island. UTRGV, a comprehensive academic institution, enrolled its first class in the fall of 2015, and the School of Medicine welcomed its first class in the summer of 2016.