A look back at Conque's first year

  Wednesday, August 26, 2020
  Athletics, Around Campus
By News and Internal Communications
By Jonah Goldberg
RIO GRANDE VALLEY, TEXAS – One year ago today, Chasse Conque walked into his office next to the UTRGV Fieldhouse and took a deep breath. 
It was his first official day as vice president and director of Athletics. Conque had been working to set plans in motion since accepting the job on Aug. 1 – including a brief trip to the Valley for a series of meetings with staff and stakeholders.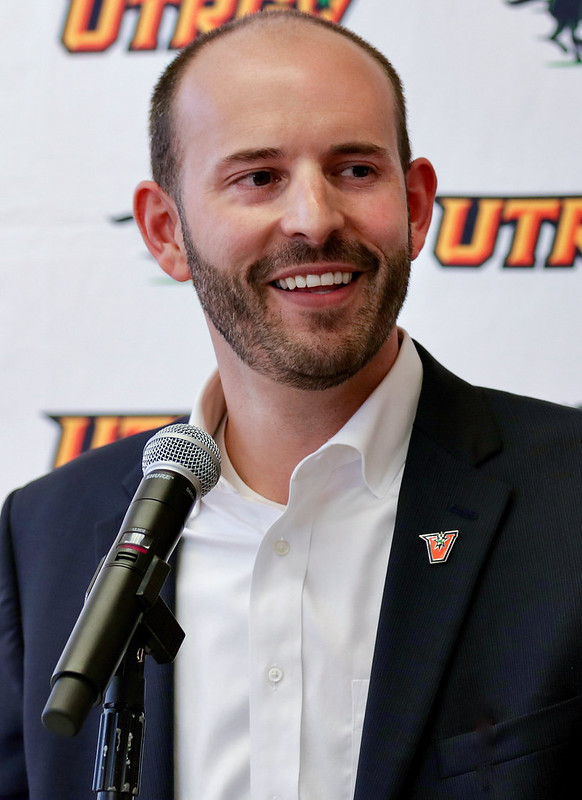 So, on Aug. 26, 2019, he arrived at the office early, before anyone else, wanting a moment of calm before getting to work.
Then he spent much the next few months "drinking water out of a fire hose."  
At his introductory press conference the next day, Conque stated his intention to "Rally the Valley" behind UTRGV Athletics. It has since become a rallying cry, not only for athletics but also for the university and the region, and has grown in meaning to include UTRGV's efforts during the COVID-19 pandemic to help the Valley in its most trying times. 
Conque previously had served as vice chancellor and director of Athletics at Little Rock from 2015-19. Now, he was going back and forth between UTRGV's Edinburg and Brownsville campuses and points in-between, shaking hands, getting to know his new home. He served up hotdogs and burgers at Picnics with the President. He helped energize crowds at UTRGV Day celebrations. 
"The first few months were certainly intense," Conque said recently as he looked back at his first year at UTRGV. "But that's a good thing. I wanted to get to know as many people as I could, from students to faculty to staff to the community. My family and I were and continue to be touched by how welcoming everyone is. We knew very quickly that we had made a good decision in coming here and that we were now home." 
He said UTRGV President Guy Bailey and his entire leadership team provided critical guidance both during his transition to the Valley and throughout this first year.  
"Their advice and friendship have been, and will continue to be, invaluable," Conque said. 
FOCUS ON THE COMMUNITY  
UTRGV Athletics rallied behind the Valley in a big way during Conque's first year, ranking 20th in the nation with its 1,526 community service hours as a department, with the stewardship of five programs ranking among the top 10 in their sports. The men's soccer team led the nation among its peers by completing 120 hours of community service. The women's golf team ranked 57th in the nation among all sport programs by averaging 17 hours of service per student-athlete. And UTRGV student-athletes spent 208 hours volunteering at the Food Bank RGV, preparing about 14,500 meals. 
Conque also placed an emphasis on a unified university community by bringing student-athletes, coaches and staff to the Brownsville Campus on a bi-weekly basis.  
UTRGV Athletics also formed a partnership with the City of Brownsville to bring more events, including competitions, camps, clinics and fan days, to Brownsville. Starting in December 2020, UTRGV is scheduled to begin host an annual women's basketball tournament on South Padre Island, with the potential for bringing high-profile men's games to the Island, as well.   
Conque is also focused on making sure that the UTRGV basketball teams routinely get an opportunity to play in the premiere entertainment venue in the Valley, which is why the men's and women's teams are scheduled to play multiple games at Bert Ogden Arena in 2020-21.  
When the COVID-19 pandemic shut down most on-campus operations and increased food insecurity among the general student population, UTRGV Athletics stepped up to donate more than $5,000 worth of food to the UTRGV Student Food Pantry. Additionally, UTRGV Athletics began offering content to help those in quarantine by posting a weekly TownePlace Suites Good Night Story and partnering with UT Health RGV to offer tips on #WorkoutWednesday. 
"The Valley has done so much for us, which is why it's so important we do as much as we can for the Valley," Conque said. "The pandemic has caused significant adversity for our region, but we're all in this together. We want everyone to know that, whether there are sports actively competing or not, we're here for them, no matter what." 
THE ROAR OF THE CROWD 
Conque knew that in order to get people to rally behind UTRGV Athletics, he needed to enhance the fan experience. By his second week in office, Conque already had taken a good look at the empty courtyard outside the UTRGV Fieldhouse and dreamed up Vaquero Village.  
He saw this as an opportunity for fans from all walks of life to come together before games, and over the course of the next few months, the courtyard's landscaping was transformed: Lights were hung on strings; new picnic and cocktail tables arrived; couches, lounge chairs and a custom inflatable rounded out the family atmosphere. 
Debut day was set for Dec. 3, to allow time for renovations to the fieldhouse to be completed. And, men's basketball was set to host defending Southland Conference Champion Sam Houston State. That day, Red Panda – declared by Sports Illustrated to be "the NBA's favorite halftime show" – was also set to perform.  
Coincidentally, Dec. 3 was also Conque's 100th day on the job. 
In the corporate and political worlds, the first 100 days is often considered the most crucial, a test of whether or not a leader can gain traction with his or her vision, and Conque had cut through that early time like a buzzsaw.
"We are grateful to Chasse for his leadership and for the strong community focus he has provided," said UTRGV President Guy Bailey. "He has brought renewed action, as well as vision, to our athletics department and helped Rally the Valley in the process."
Conque enjoyed his 100th day in office with a ribbon cutting ceremony to celebrate the launch of Vaquero Village and the renovations. The men's basketball team pulled off a heart-pumping, double-overtime victory, and UTRGV Athletics staff the next morning woke up to an email from Conque. Here's just some of what he said: 
Congratulations and many thanks to each of you for making yesterday a special day .... There are days that can't be taken away from us, and yesterday was certainly one of those days. … I hope y'all felt and heard the kudos and positive energy throughout the night … We WILL have more days like yesterday and I appreciate all you have done to help create even more energy around our program. … Now, sustaining this is our next task.  
If the UTRGV Athletics staff hadn't already fully coalesced behind Conque, that email clinched it.  
There were other innovations, too: External operations and facilities and events staffs went on to make sure the Vaquero Village was operating at peak efficiency over the next few months. Businesses bought UTRGV spirit flags to display on game day and help #RallyTheValley behind UTRGV Athletics. The UTRGV Baseball Stadium saw the addition of the corral, a section of party decks where fans could bring their own food to grill during games. Dynamic signage. A new batting cage. And those stairs, painted with a Vaqueros orange exclamation. 
STRONG ATTENDANCE 
The enhanced fan experiences led to strong attendance at home events, with baseball seeing its highest attendance in more than a decade – up 20 percent over the previous year. Men's basketball saw a 13.5 percent increase, and women's basketball had a 16.2 percent increase in attendance. And the volleyball team recording the third-best attended season in program history. 
"I really want to thank our fans for making my first year so memorable," Conque said. "The energy they brought to our games was something special. Even on the road, I'll never forget the support. Together, we're really making our mark." 
STRONG ACADEMICS 
UTRGV student-athletes had an incredible year scholastically, pushing the departmental cumulative grade point average (GPA) to 3.38, including a department record 3.48 GPA in the spring, and combining for 106 Academic All-WAC honors. In the fall, 157 student-athletes recorded a 3.0 GPA; 34 of them posted a perfect 4.0. In the spring, an astounding 218 student-athletes had a 3.0 GPA; 68 of them had a perfect 4.0. 
UTRGV's commitment to academics extends beyond the student-athletes, as UTRGV Athletics is partnering with colleges on campus to create curriculum-based learning experiences. In 2019-20, the athletics marketing team began working with the Robert C. Vackar College of Business & Entrepreneurship, directly entering classrooms on both campuses each month while working to create internships. UTRGV Athletics also is working with the new Hospitality and Tourism Management program, to help give students opportunities for real-world, hands-on experience by helped with implementation of UTRGV athletic events. 
"Everyone is here to get a degree, and I am so proud of the tremendous work of our young people to excel whether in the classroom or through online classes," Conque said. "Part of the mission of UTRGV is to transform the Valley and the world by promoting student success. Our student-athletes have answered the call and we're excited to be working with colleges across campus to be able to further student success on a wider scale."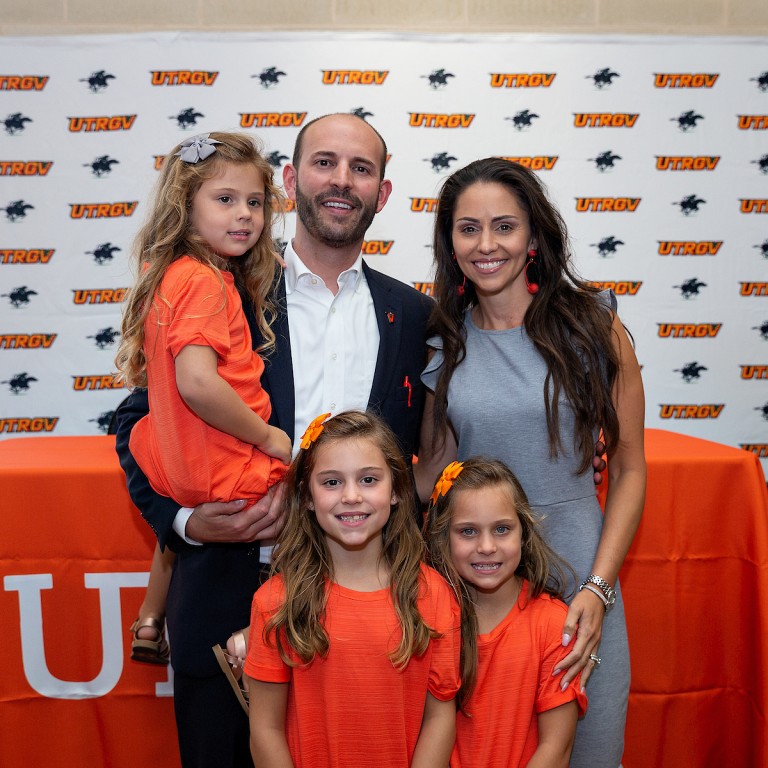 STRONG ATHLETICS 
UTRGV athletic programs experienced significant competitive success in Conque's first year: 
The men's soccer team earned its first-ever national ranking, coming in at No. 24. The volleyball team posted its first-ever victory over a Big 10 opponent, upsetting Maryland. Abraham Chirchir advanced to the NCAA Cross Country Championships for the second-straight year. The women's cross-country team pulled off a stunning fourth-place finish at the NCAA South Central Regional. Men's basketball earned the best WAC Tournament seed in program history, coming in at No. 2, by winning eight of its final 10 games. Indoor track & field team won nine WAC Championships. The men's golf team won two team titles and one individual medal. 
Then, spring seasons were cut short by the pandemic, while multiple teams were just coming into their own. The men's tennis team closed the season on a three-match winning streak, while the baseball team closed on an eight-game winning streak. 
"We had some great success this year, and in some sports, I thought we were just starting to hit our stride," Conque said. "While we're disappointed with the way it ended, we're confident that, when we resume, we'll be able to pick up where we left off." 
IMPORTANT PARTNERS 
Conque led UTRGV Athletics into a partnership with UT Health RGV, making it the official, exclusive healthcare provider for UTRGV Athletics. UTRGV student-athletes now have access to UT Health RGV's sports medicine physicians and orthopedic surgeons, as well as to specialists in primary care, mental health, women's health, psychiatry and neurology, ear, nose and throat, plastic surgery and nutrition. 
"The partnership with UT Health RGV has proven to be crucial as we navigate the world during this pandemic," Conque said. "We are so thankful for the support and guidance of UTRGV School of Medicine Dean Dr. John Krouse and his entire team." 
The most recent major initiative is a five-year partnership agreement with BSN SPORTS to make Under Armour the official athletic footwear, apparel and accessory brand of the UTRGV Vaqueros.
 
Under Armour, a leader in performance footwear, apparel, and equipment, will provide UTRGV's 16 sport programs with training gear for competition, practice and community appearances, and will outfit coaches and athletic department staff, as well.  
"Under Armour has made a significant impact during the COVID-19 pandemic by supporting hunger relief efforts, making masks to support healthcare professionals, and inspiring us with their tagline, 'The only way is through,'" Conque said. "We are confident this partnership will serve our student-athletes well and we look forward to being part of the Under Armour family for many years to come." 
STEPPING UP TO THE PLATE  
While navigating life in the pandemic has taken up much of the summer, UTRGV Athletics also took the lead on social justice by declaring loudly from voices that Black Lives Matter. The voices included Conque, men's basketball head Coach Lew Hill, track and field head Coach Darren Flowers, and more than a dozen student-athletes. 
There were statements, videos and media appearances from UTRGV Athletics, as well as round-table sessions where race could be discussed in a safe environment.
"I think as an athletic department with Chasse leading, we're going in the right direction of change," Hill said. "When George Floyd was killed, Chasse texted me immediately. I was going to seek him out, but he was already on it and that meant a lot to me. It showed me that he was on board. I've been telling people that I very much appreciate having someone that spearheads conversations like this running our department."
Conque said UTRGV Athletics has only begun to scratch the surface on this topic. 
"I look forward to more discussions in which the conversation can continue," he said. "When we listen and celebrate what is both common and different, we become wiser, more inclusive, and better organizations."  
'THIS IS OUR HOME'  
The Valley was hit hard by Hurricane Hanna this summer, and some campus areas flooded and had some damage. Some members of the community were without power for an extended period of time, including Conque. Still, he tweeted with his usual compassion for others:  
The impact of #HurricaneHanna has taken a toll on our homes, our University & our community. 2020 has dealt us our share of adversity, but we will come out of this stronger. Prayers for our friends & colleagues. The spirit & strength of the Valley will persevere.#RallyTheValley 
As for the year ahead, UTRGV Athletics is itching to get back out into the community to make an impact, to whatever extent is possible, given circumstances.  
"This is our home. The people here are our family, our friends and our neighbors," Conque said. "We're ready to roll up our sleeves and make a difference." 
ABOUT UTRGV
The University of Texas Rio Grande Valley (UTRGV) was created by the Texas Legislature in 2013 as the first major public university of the 21st century in Texas. This transformative initiative provided the opportunity to expand educational opportunities in the Rio Grande Valley, including a new School of Medicine, and made it possible for residents of the region to benefit from the Permanent University Fund – a public endowment contributing support to the University of Texas System and other institutions.
UTRGV has campuses and off-campus research and teaching sites throughout the Rio Grande Valley including in Boca Chica Beach, Brownsville (formerly The University of Texas at Brownsville campus), Edinburg (formerly The University of Texas-Pan American campus), Harlingen, McAllen, Port Isabel, Rio Grande City, and South Padre Island. UTRGV, a comprehensive academic institution, enrolled its first class in the fall of 2015, and the School of Medicine welcomed its first class in the summer of 2016.