Wednesday, August 5, 2020
  Community
By Victoria Brito
RIO GRANDE VALLEY, TEXAS – Imagine opening a portal to an alternate universe where zombies, monsters, ghouls and skeletons live. In order to get home, you have to defeat them to reopen the portal.
It sounds like a video game – but it's not.
This is "13th Street," the newest work by Dr. David Bowles, UTRGV associate professor of English in the Department of Literatures and Cultural Studies.
A series of books for children, it tells the tales of three Latinx youth in South Texas and their mysterious adventures in the otherworldly 13th Street.
Bowles was approached in 2018 by publishing giant HarperCollins with the concept of "13th Street," to be developed into a chapter book series for ages 5 to 9.
"I liked the idea and immediately saw ways to make it my own and write about things that matter to me," Bowles said. "These three kids, son primos (they're cousins), and they're living in the small fictional Texas town of Nopalitos. They get the chance to go from their hometown – which I imagine to be somewhere near Alice or Falfurrias – to the bigger, fictional Gulf City. And then they get swept up in adventure."
Drawing from cultural diversity of his own family, Bowles wrote each of the main characters as blended Mexican American and other heritages; their moms are sisters, and each is married to a guy from a different culture.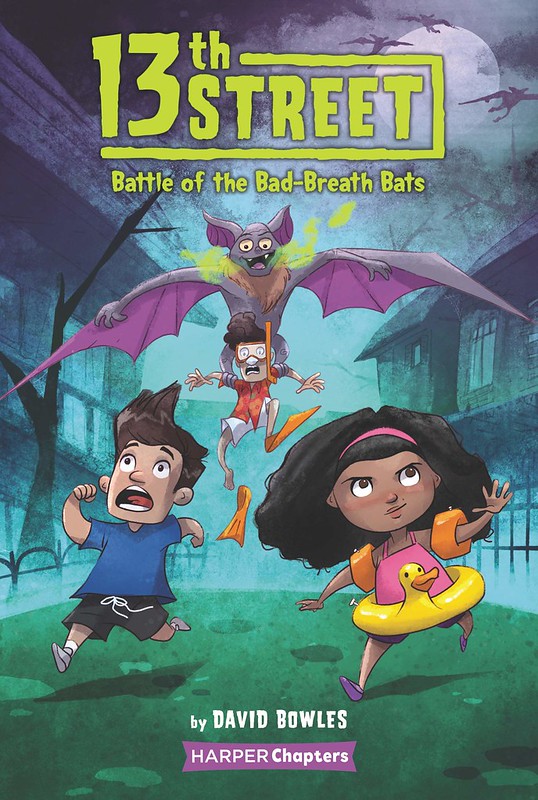 The main characters are cousins. Malia Malapata has a Dominican American father; Dante Dávila's father is Mexican American; and Ivan Eisenberg father is Jewish American. While the cousins haven't spent much time together in their young lives, all that changes during the summer trip to Gulf City.
Malia is fearless and assertive, but with a feminine side.
"Es una ​fregona" (she's a boss), Bowles said. "She is not necessarily afraid of things, she takes charge. She is definitely the leader of the group."
Dante, the beauty, is the handsome momma's boy with hazel eyes and is smart in his own way, but he has many fears.
"He is kind of a 'scaredy cat.' He's got lots of different phobias that kind of come from his mom being overprotective," Bowles said. "He's smart in his own way, always cracking jokes along the way as comic relief. His main arc is finding courage along the way, to stop being so vain because he's been spoiled, and to stop being so cowardly about things."
Ivan, the brains, is a Mexican-Jewish American who loves to read and has difficulty believing in faith and intuition.
"If it's not in a book or backed by science, he has a hard time trusting it," Bowles said. "He doesn't really work on faith very well, yet he is put in positions where he sets aside the things he has learned and has to trust his instincts and trust his cousins. It is hard for him, but he learns." 
In the first book, Battle of the Bad-Breath Bats, the cousins head to visit their Aunt Lucy for the summer. While venturing over to the water park in Gulf City, the children are deliberately sent to 13th Street by a mysterious old woman named Doña Chavela. Only children can access the portals into this alternate world.
"Later in the series, you find out why this sweet old woman sends children to an alternate world to fight monsters," Bowles said. "She shows up in every book. She is an important character and her reasons for sending the kids are key to understanding '13th Street.'"
In each book, when the children go into this other dimension, they have to defeat a group of monsters to open a portal that brings them back to the regular world.
"Until they defeat them, they are stuck. Every book is a different group of beings," Bowles said. "There are a bunch of characters who live on 13th Street and become allies to the children and help them defeat the monsters. In the final book, a lot of the allies come together."
The first book has been published simultaneously with the following two books in the series, The Fire Breathing Ferret Fiasco and Clash of the Cackling Cougars, which all were released on July 7. 
The books, illustrated by Shane Clester, feature unique features like activities and progress bars to motivate the reader to continue reading.
Additionally, Bowles included Spanish words to connect the bilingualism of South Texas.
"For example, Dante's catch phrase in the books is 'uy cucuy' when something scary happens," Bowles said.
ABOUT UTRGV
The University of Texas Rio Grande Valley (UTRGV) was created by the Texas Legislature in 2013 as the first major public university of the 21st century in Texas. This transformative initiative provided the opportunity to expand educational opportunities in the Rio Grande Valley, including a new School of Medicine, and made it possible for residents of the region to benefit from the Permanent University Fund – a public endowment contributing support to the University of Texas System and other institutions.
UTRGV has campuses and off-campus research and teaching sites throughout the Rio Grande Valley including in Boca Chica Beach, Brownsville (formerly The University of Texas at Brownsville campus), Edinburg (formerly The University of Texas-Pan American campus), Harlingen, McAllen, Port Isabel, Rio Grande City, and South Padre Island. UTRGV, a comprehensive academic institution, enrolled its first class in the fall of 2015, and the School of Medicine welcomed its first class in the summer of 2016.