Texas governor announces intent to appoint School of Medicine student as UT System Student Regent

  Friday, June 12, 2020
  Announcements
By Letty Fernandez
Editor's Note: On June 26, 2020, Patrick Ojeaga was officially sworn in as the UT System Student Regent. He attended his first Board of Regents meeting via a conference call on June 29.
RIO GRANDE VALLEY, TEXAS
– Texas Gov. Greg Abbott has announced his intention to appoint Patrick Ojeaga, a third-year medical student at the UTRGV School of Medicine, to serve as a student regent for the UT System Board of Regents.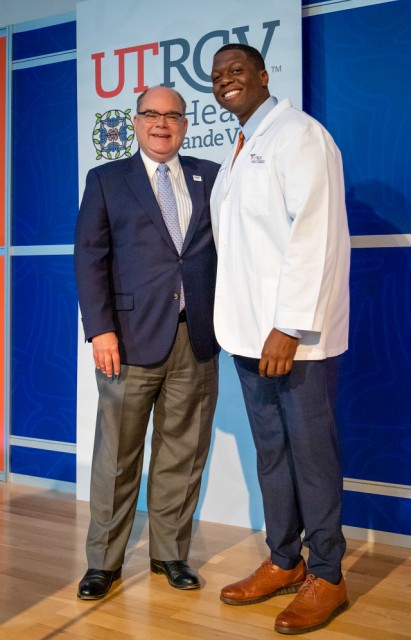 Born and raised in McAllen, Ojeaga is the first UTRGV student to be selected as a student regent.
"I am grateful and feel incredibly honored that Gov. Abbott has expressed his intent to appoint me as the next Student Regent of The University of Texas System," Ojeaga said. "I look forward to the opportunity to serve with the Board of Regents and to contribute to providing equal and fulfilling opportunities for our students to receive the highest quality undergraduate and graduate-level education."
Ojeaga is one of 10 student regents Abbott is appointing to represent their respective universities. He will serve through May 31, 2021.
"Patrick is a great example of the amazing opportunities UTRGV provides our students, especially those students from the Rio Grande Valley," said UTRGV President Guy Bailey. "He is a great ambassador for UTRGV and our School of Medicine, and I am confident he will serve as an exemplary Student Regent for our UT System."
Ojeaga, a student athlete at UT-Austin, was a member of the UT football team from 2015-2016.
After earning a bachelor's degree in biology, he was accepted to the UTRGV School of Medicine. He said he chose to study medicine at UTRGV because of its commitment to providing care to underserved areas and the school's close-knit community.
"I came back home to serve this area and learn and train where I was born and raised and learn from this community, where there is so much health disparity," he said in a 2019 interview. "I always knew I wanted to pursue medicine because of its unique combination of science and service." 
A member of the UTRGV School of Medicine Class of 2021, Ojeaga plans to specialize in orthopaedic surgery when he graduates.
He served as the American Medical Association/Texas Medical Association (AMA-TMA) chapter president, and is a student ambassador and peer tutor.
Dr. John Krouse, dean of the UTRGV School of Medicine and executive vice president for Health Affairs, said Ojeaga has been an outstanding student.
"We congratulate Mr. Ojeaga on his appointment to the University of Texas Board of Regents by Gov. Abbott," Krouse said. "He is a tremendous leader at our university, and we are confident his dedication and work ethic will be mirrored in his new position as the new student regent on the UT System Board."
ABOUT UT SYSTEM STUDENT REGENT
The student regent serves a one-year term, from June 1 through May 31 of the following year. The UT System Student Regent has the same rights as regularly appointed board members, except the right to vote or be counted towards a quorum for official board business. The position serves without compensation, but will be reimbursed for expenses incurred during official Board business.
ABOUT UTRGV
The University of Texas Rio Grande Valley (UTRGV) was created by the Texas Legislature in 2013 as the first major public university of the 21st century in Texas. This transformative initiative provided the opportunity to expand educational opportunities in the Rio Grande Valley, including a new School of Medicine, and made it possible for residents of the region to benefit from the Permanent University Fund – a public endowment contributing support to the University of Texas System and other institutions.
UTRGV has campuses and off-campus research and teaching sites throughout the Rio Grande Valley including in Boca Chica Beach, Brownsville (formerly The University of Texas at Brownsville campus), Edinburg (formerly The University of Texas-Pan American campus), Harlingen, McAllen, Port Isabel, Rio Grande City, and South Padre Island. UTRGV, a comprehensive academic institution, enrolled its first class in the fall of 2015, and the School of Medicine welcomed its first class in the summer of 2016.