Pandemic highlights need for expanded crisis management skillset

  Monday, June 1, 2020
  Community, Around Campus
By Maria Elena Hernandez
RIO GRANDE VALLEY, TEXAS – Even as the COVID-19 pandemic continues, hurricane season is starting. No one told the storms, though.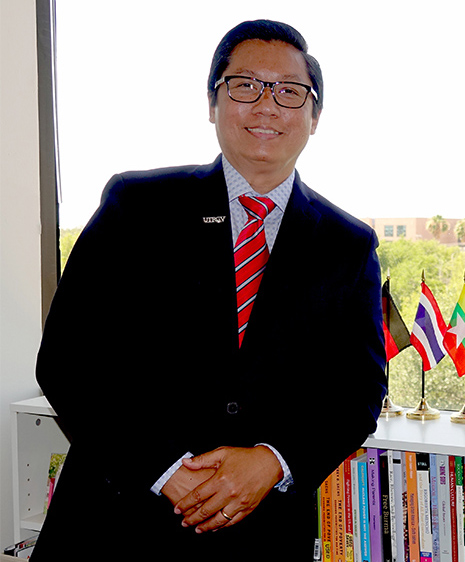 For the third consecutive year, a tropical storm developed before the official start of hurricane season on June 1. Not to be outdone by previous years, 2020 already has two named storms – Tropical Storms Arthur and Bertha – and the National Oceanic and Atmospheric Administration is predicting an above-normal hurricane season with three to six major hurricanes.
"This time, coupling with the pandemic, it will be more challenging, more difficult," said Dr. Dean Kyne, the UTRGV Disaster Studies Program coordinator and an associate professor of sociology.
Emergency management would need to deal with the impact of COVID-19, like social distancing and limited resources.
 "Can you imagine evacuation?" he said.
These are the types of scenarios disaster preparedness professionals face. UTRGV started its disaster studies master's program in 2016 to help educate emergency management specialists, public health planners, communications officers and others about emergency preparedness.
Starting this fall, the UTRGV Graduate College will offer a Disaster Management and Sustainability certificate. There is no application fee for the 12-hour program, which is completely online. And, the GRE currently is being waived for students applying to accelerated online graduate programs until Fall 2020 Module II. 
"We are hearing about local officials or people who are in the disaster management field, and they have been working for several years," Kyne said. "And they would like to go back to school, but they don't have plenty of time to go back as a full-time student."
The new graduate certificate will allow students to apply what they learn immediately to their work, Kyne said, as well as placing them on the path to earning a master's degree.
The certificate additionally could benefit current students in the disaster studies master's program ready to start in the industry.
"In terms of applying for a job, they don't need to wait until they graduated from the master's program. When they complete this certificate program, they can put it in their resume that they already completed the graduate certificate in disaster management and sustainability," he said.
The graduate certificate program also focuses on sustainability, since it is needed to achieve long-term goals.
"We are creating a mindset for students to be proactive, rather than reactive. It is very important for the future disaster preparedness professionals to have that kind of mindset, and also, to think of resiliency and sustainability," Kyne said.
RELATED LINK: UTRGV students share disaster preparedness research findings with area officials
Disaster management and sustainability are broad topics that affect everyone's lives, he said, and the COVID-19 pandemic is highlighting the need for knowledge in these fields.
"The pandemic is bad, but we can still learn from this experience in order to better prepare for the future," Kyne said.
To learn more about the new Disaster Management and Sustainability graduate certificate at UTRGV, visit https://www.utrgv.edu/graduate/for-future-students/graduate-programs/program-requirements/disaster-management-and-sustainability-certificate/index.htm.
ABOUT UTRGV
The University of Texas Rio Grande Valley (UTRGV) was created by the Texas Legislature in 2013 as the first major public university of the 21st century in Texas. This transformative initiative provided the opportunity to expand educational opportunities in the Rio Grande Valley, including a new School of Medicine, and made it possible for residents of the region to benefit from the Permanent University Fund – a public endowment contributing support to the University of Texas System and other institutions.
UTRGV has campuses and off-campus research and teaching sites throughout the Rio Grande Valley including in Boca Chica Beach, Brownsville (formerly The University of Texas at Brownsville campus), Edinburg (formerly The University of Texas-Pan American campus), Harlingen, McAllen, Port Isabel, Rio Grande City, and South Padre Island. UTRGV, a comprehensive academic institution, enrolled its first class in the fall of 2015, and the School of Medicine welcomed its first class in the summer of 2016.