Tuesday, May 26, 2020
  Alumni, Around Campus
By Letty Fernandez
RIO GRANDE VALLEY, TEXAS – The COVID-19 pandemic and the need for social distancing has placed UTRGV's commencement ceremonies online, so 3,559 graduates will earn their degrees virtually at 10 a.m. Sat., May 30.
The university has arranged celebratory speeches, and graduates will hear their names called as their photos appear on the screen.
The 166 students graduating from the UTRGV School of Nursing are entering the workforce ready to face and take on the challenges of an international health crisis.
"They will emerge as the leaders in this new reality, and there is no better time to be a nurse," said Dr. Sharon Radzyminski, dean of the UTRGV School of Nursing. "Nurses have always been there for the patient, and our graduates will rise to the occasion. I salute the graduates and their embrace of what nursing stands for."
In all, 124 graduates will earn a Bachelor of Science in Nursing (BSN); seven have earned the Registered Nurse to BSN degree (RN to BSN); and 35 are earning a Master of Science in Nursing.
Meet a few of the graduates from the BSN program at UTRGV.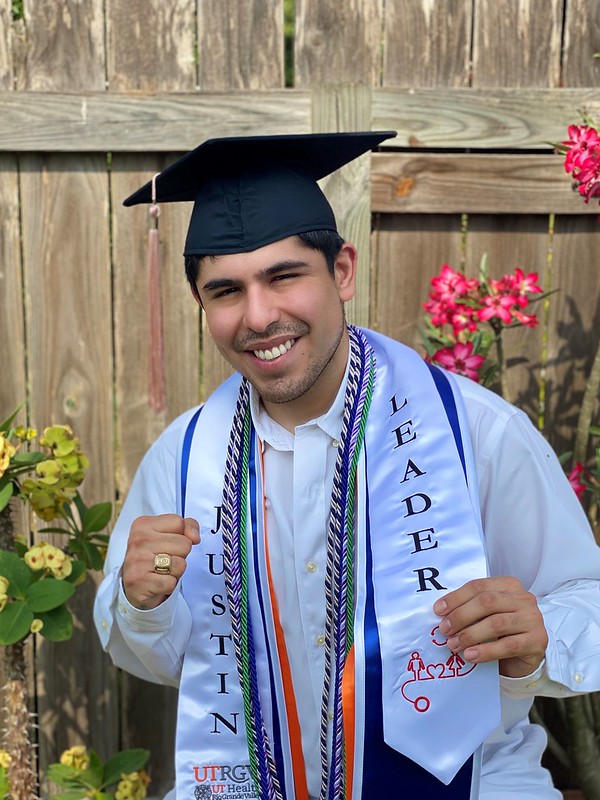 JUSTIN DE LEON, Harlingen
BSN, magna cum laude 
In 2017, Justin de Leon spent many days and nights in the hospital with his great-grandmother, who was very ill.
"My grandmother was worried and didn't want to leave my great-grandmother, so I would stay with them. I was very close to both," he said. 
It was there, in the hospital, that he found his calling.
"I noticed, when the nurse would walk in, they both felt more at ease, more secure, asking questions," he recalls. "I decided then I wanted to be the person who has the privilege to care for those in their most vulnerable state, to be the person to provide that care."
The 25-year-old Harlingen native has been working part time as a nurse technician at Valley Baptist Medical Center in Harlingen since August. Two weeks ago, he was hired officially as a registered nurse (RN) and will be assigned to the medical surgical unit at Valley Baptist once he passes his state board exams.
"As a nurse, you are exposed to different pathogens and bacteria, so there is always a risk," he said. "We have been taught all the precautions. I am ready for this. I am excited to be able to say to my patients, 'I am the RN and I will be taking care of you.'"
DeLeon will graduate with his BSN degree magna cum laude (with high honors). He said he plans to take part in the virtual ceremony and will watch it with his family.
"My mom cried when I put on my cap and gown. It is sad, because she knows I am not going to walk and receive my degree. But I understand why, and it has to be done this way."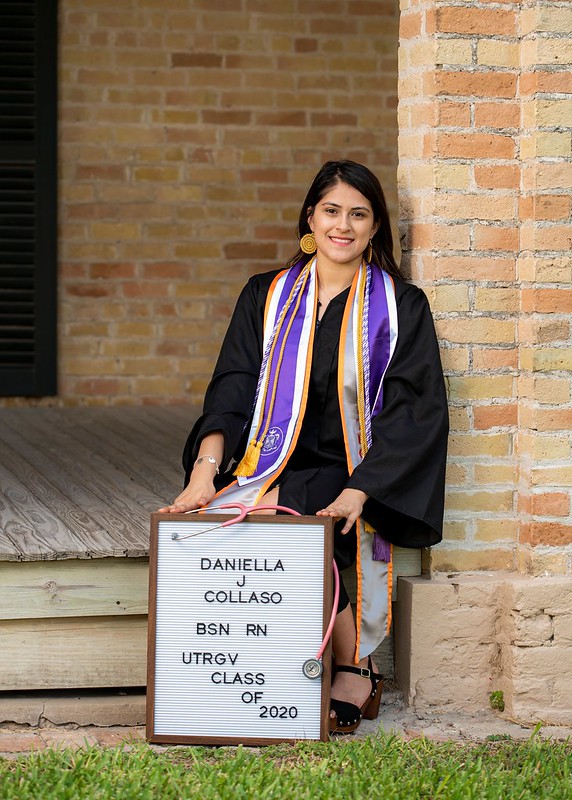 DANIELLA COLLASO, Brownsville
BSN, magna cum laude 
Daniella Collaso had wanted to be a volleyball coach, but that all changed in 2016, during her second year at UTRGV. 
"I discovered I loved caring for people, that I craved the human interaction and touching people lives," she said. "One day, I woke up and said, 'I think I want to be a nurse.' So, I went for it and here I am."
From then on, the 23-year-old Brownsville native was on a mission to make A's in her pre-requisite classes so she could earn a spot in the highly competitive BSN program.
"I spent many late nights studying, I missed family celebrations. It was definitely a sacrifice and required dedication, but I made it," she said.
Her dedication definitely paid off. She has earned her BSN degree with high honors and already has been offered a nursing job. She now is waiting to pass her state board examinations to become a licensed nurse.  
"At first, I was scared that I would be sent to a hospital and not have adequate protection and then bring COVID-19 home to my family," she admitted. "But, as time has passed, I am less fearful. This is why I became a nurse. I want to help people. How can I abandon them because of the virus?
"I am also comforted by the fact that, as a nurse, I will be able to leave my house to support myself, in order to not expose my family to the virus."
Collaso said she will watch the virtual graduation ceremony with her mother. Her dad works that day, so they plan to watch the pre-recorded ceremony again with him.  
"My parents understood and gave me everything I needed to succeed," she said. "And my clinical professor, Joanne Imperial, went above and beyond. I am so grateful to them."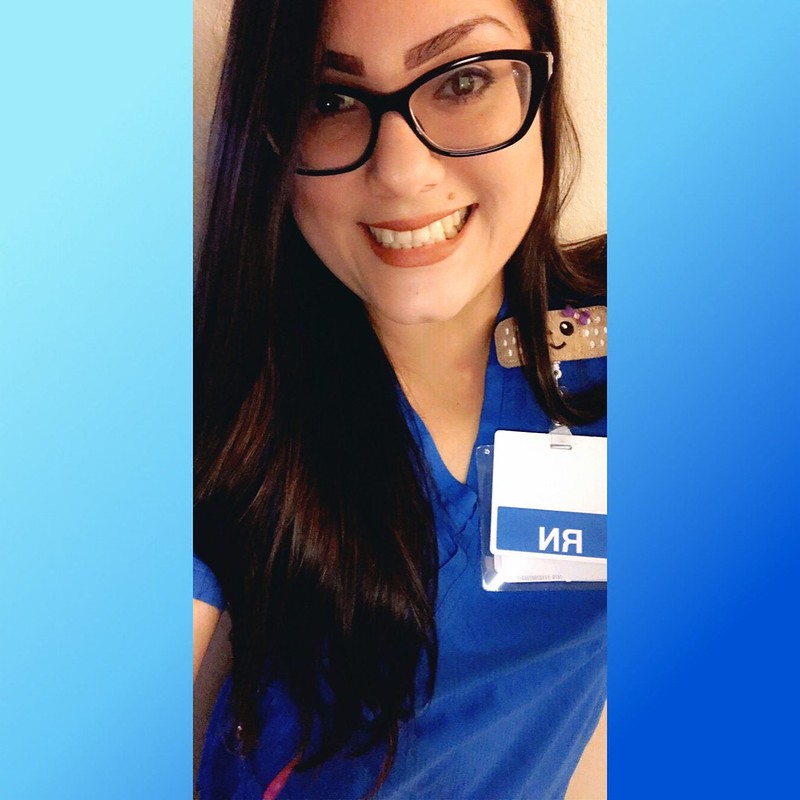 ALYSSA HERNANDEZ, Harlingen
BSN, magna cum laude
Alyssa Hernandez fell in love with nursing watching the nurses at MD Anderson Cancer Center in Houston.
She and her twin sister, Annelise, have a rare disorder and developed hepatic adenomas or liver tumors. Both have been patients of MD Anderson for almost 10 years and are doing well.
"One of my main nurses was amazing, the way she calmed me down and talked to me," Hernandez said. "You could tell nursing is her passion, and that is when I knew what I wanted to do – to help people. So, I decided to go back to college to become a nurse."
That journey began in 2017 when she earned an associate degree in nursing. Two years later, she started the Bachelor of Science (BSN) advanced program at UTRGV.
Hernandez already had a bachelor's degree in biology from UTRGV, which allowed her to fast track and complete the BSN program in eight months while going to school, working as a nurse and battling some health issues.
"I was dealing with so much, but I was able to get it done," she said. "School has always been my focus, learning, trying to get to where I want to be." 
This fall, she will start a Master of Science in Nursing program to become a nurse family practitioner. She currently works as a nursing consultant for a national non-profit company. The job fits in with the demands of graduate school.
"I do love working at a hospital. I miss it and I want to go back one day," she said. "The job that I have now is perfect. I will be able to keep up with both roles of a nurse and a student."
Working in the healthcare industry is in the Hernandez family. Her twin sister works as a research coordinator in the stroke neuro department at DHR Edinburg. Their brother Eder, a physician assistant, has his own urgent care clinic and oversees COVID-19 testing for the City of Brownsville. They are her role models, she said, and they inspire her. All three are UTRGV and legacy alumni.
Hernandez has earned high honors and graduates magna cum laude. She will watch the virtual graduation ceremony with her fiancé and her family via Zoom, as they have been getting together on Zoom throughout the pandemic.
"This is where we have to be selfless and care for others during COVID-19," she said. "Even though the ceremony will be virtual, we got through school and finished. We did it."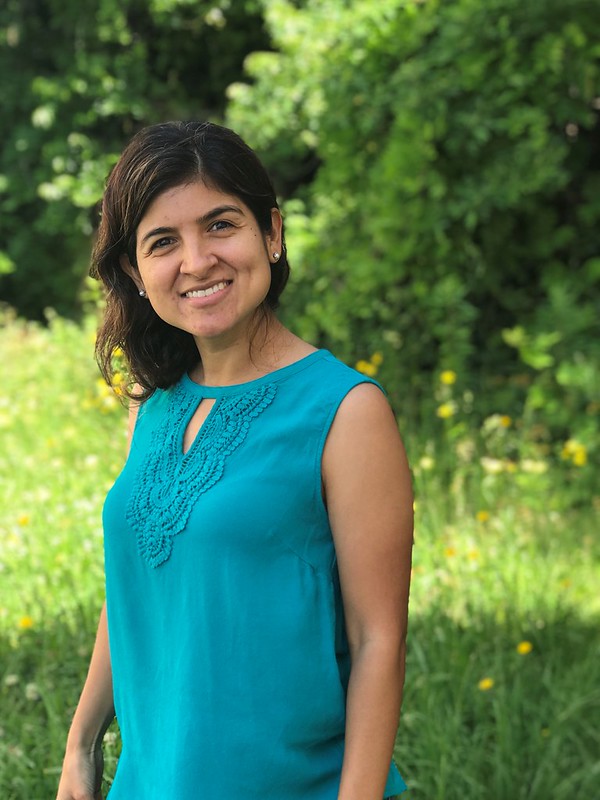 YVONNE WAGGONER, McAllen
BSN, magna cum laude
Yvonne Waggoner credits her children and mother for encouraging her to go back to college to earn a nursing degree.
The 42-year-old single mother of five had put college on hold while she homeschooled her children.
"I wanted to give them the best education I possibly could. I had always dreamed of going to college, but it was impossible," she said. "I just thought, when am I going to do this."
The when turned out to be 2015. She started college, taking her basics online at South Texas College while still homeschooling her children. Two years later, she transferred to UTRGV to pursue a degree in dietetics, but the program ended. Her mother suggested she study nursing; it was good advice.
"My children encouraged me," she said. "They told me, 'Just do it, go back. We will take care of ourselves. We will cook, will clean the house. We will do everything we can to support you.'"
About the time Waggoner was accepted into the nursing program, she also was dealing with family issues and with maintaining a high GPA to get and keep her spot in the nursing program. Despite the challenges, she stayed focused on her goal.
"School helped me get through it all," she said. "It was also a huge sacrifice not just for me, but for all my kids."
Waggoner graduates with a BSN degree magna cum laude (with high honors). She took a short vacation to spend quality time with family, something she had yearned for but had not been able to do in the past five years.
Now at home studying for the state board exams, she has her heart set on working at a hospital.
"I told my children, this is what I signed up for. I must take the necessary precautions, like everyone does during these times. I am not one to be fearful of what is to come," she said. "I just put myself in God's hands."
With children still at home – two daughters, 8 and 16 years of age – Waggoner already is looking at online graduate programs. She wants to get a master's degree and become a family nurse practitioner.
ABOUT UTRGV
The University of Texas Rio Grande Valley (UTRGV) was created by the Texas Legislature in 2013 as the first major public university of the 21st century in Texas. This transformative initiative provided the opportunity to expand educational opportunities in the Rio Grande Valley, including a new School of Medicine, and made it possible for residents of the region to benefit from the Permanent University Fund – a public endowment contributing support to the University of Texas System and other institutions.
UTRGV has campuses and off-campus research and teaching sites throughout the Rio Grande Valley including in Boca Chica Beach, Brownsville (formerly The University of Texas at Brownsville campus), Edinburg (formerly The University of Texas-Pan American campus), Harlingen, McAllen, Port Isabel, Rio Grande City, and South Padre Island. UTRGV, a comprehensive academic institution, enrolled its first class in the fall of 2015, and the School of Medicine welcomed its first class in the summer of 2016.