UTRGV psychology major graduates with bachelor's degree at age 75

  Wednesday, May 20, 2020
  Alumni, Around Campus
By Amanda Taylor
BROWNSVILLE, TEXAS – It's never too late to accomplish your goals – Lupita Moreno is living proof of that. The 75-year-old grandmother and great-grandmother graduated this semester with a bachelor's degree in psychology.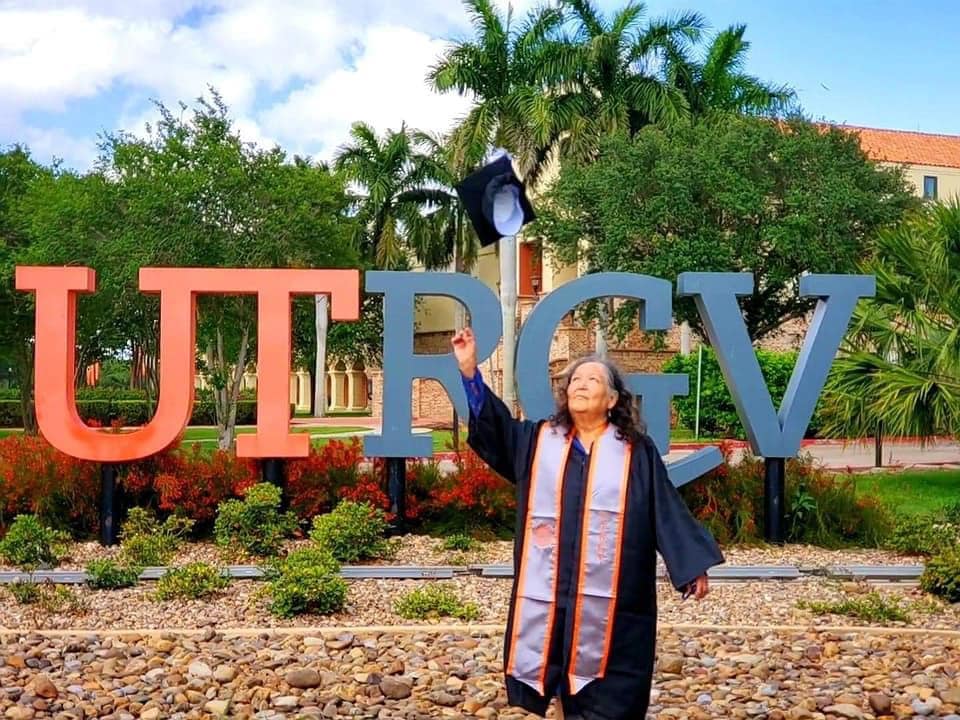 After a 50-year career in nursing, Moreno wanted to pursue her interest in clinical counseling. 
"I was inspired by seeing a lot of people with emotional problems that are ignored," the Brownsville native said. "I always wanted to learn more about psychology, so that's why I wanted to pursue psychology."
Moreno's story garnered national attention after her granddaughter, Christy Gil, posted to Facebook about her grandmother's success. 
"You've shown an example to so many that it is never too late to accomplish your goals and dreams," Gil said in the post, which went viral with close to 6,000 shares.
Moreno quit her job as a nurse to go to UTRGV full time in 2015, when she was 70 years old. While she still holds her nursing license, she said, it would have been impossible to maintain her full-time job and go to school full time, so sacrifices had to be made. 
"I went in wanting to see if I still had the ability to pull through (with coursework) and I got an A in my first class," Moreno said. "I decided to stay on after that." 
While Moreno transitioned to a full-time student at the age of 70, she got a few strange looks but she didn't let that bother her, she said. 
"Some people were probably wondering what I was doing there, but I would ignore it," she said. "As a nurse, I have a lot of skills in communications and I'm able to communicate with anybody, so I didn't let that bother me." 
But strange looks weren't her biggest challenge. It was maneuvering the computer and online programs that made her feel her skillset was limited.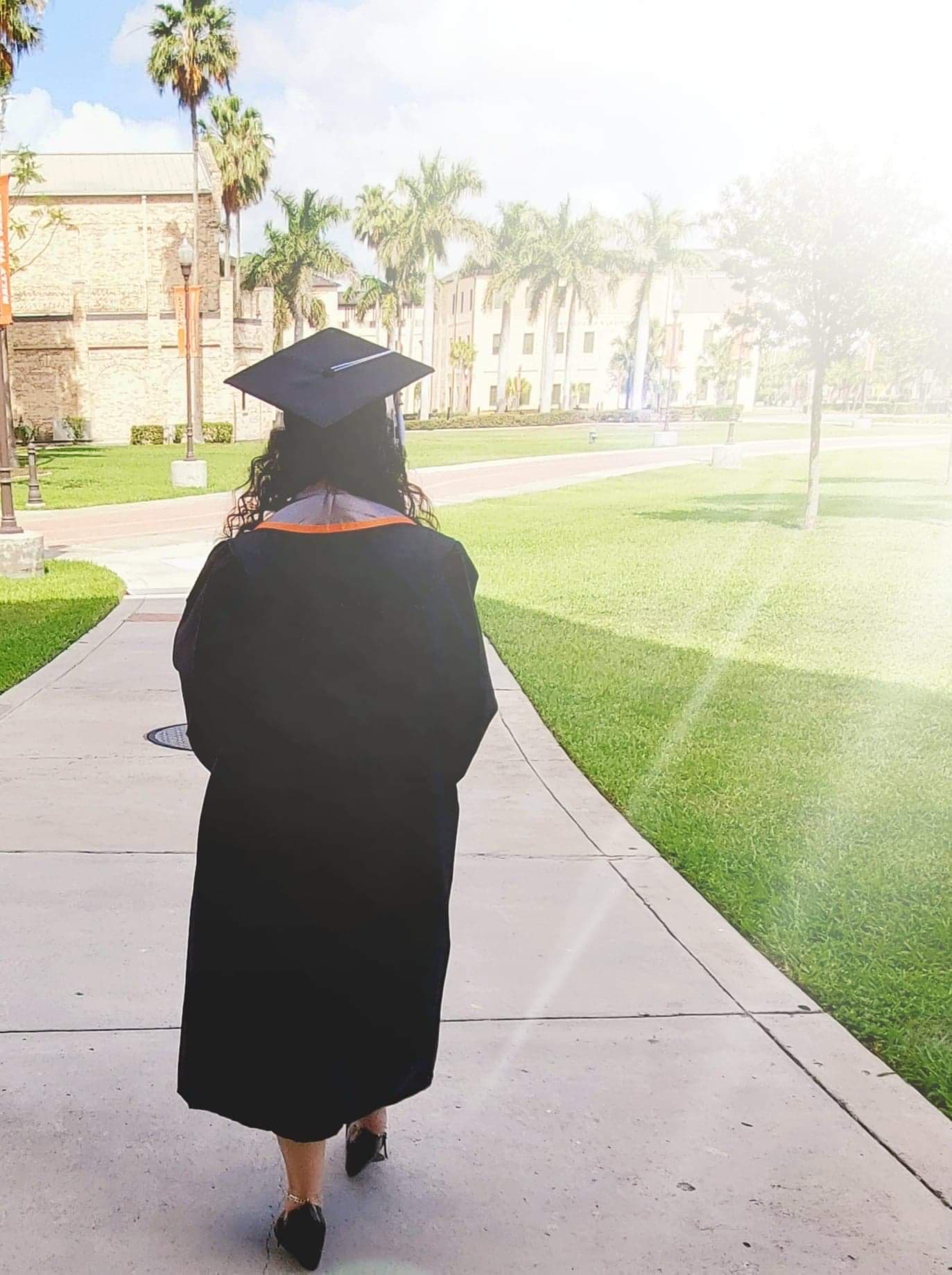 "I made a lot of friends at the university and I had a lot of help from professors," she said. "Especially from the library, because my computer skills are limited. They were great in helping me. Plus, some of the other students, who are 21 or 22, became some of my best friends and helped me, too." 
While Moreno preferred to sit in class as opposed to taking online classes, but that all changed when the COVID-19 pandemic hit and social distancing became the new normal. She had to shift her focus into online classes. 
 "I learned a lot and I've had a lot of people help me, especially with this last semester that went online," she said. "But I've managed." 
Gil said her grandmother she inspired her to go back to school herself. 
"I'm very, very proud of her. I know she's been working hard toward this and she's had a lot of ups and downs. What I admire most is that she never gave up," Gil said. "I think, at times, the drive I have, I get it from her. I was debating on whether or not to go back to school, but after I saw her, she just inspired me."
Moreno's daughter, Ana Logan, Gil's mother, shared her daughter's sentiment and sees her mother as an inspiration.
"I'm very proud of her, I'm amazed," Logan said. "She told me, 'It's never too late to go back.' And she's always encouraging me. She's my inspiration."
As for her future, Moreno said she has thought about going back for a master's degree, but for now, she's happy she was able to get her bachelor's degree and graduate. 
"I barely got the cap and gown right before the university closed due to the pandemic," she said. 
But Moreno didn't really care that she won't be able to walk in a live ceremony for her graduation. 
"What was important was to graduate, and put on my cap and gown and show that I did graduate because it's a big accomplishment. I'm glad I did it," she said. "It's never too late to go back." 
ABOUT UTRGV
The University of Texas Rio Grande Valley (UTRGV) was created by the Texas Legislature in 2013 as the first major public university of the 21st century in Texas. This transformative initiative provided the opportunity to expand educational opportunities in the Rio Grande Valley, including a new School of Medicine, and made it possible for residents of the region to benefit from the Permanent University Fund – a public endowment contributing support to the University of Texas System and other institutions.
UTRGV has campuses and off-campus research and teaching sites throughout the Rio Grande Valley including in Boca Chica Beach, Brownsville (formerly The University of Texas at Brownsville campus), Edinburg (formerly The University of Texas-Pan American campus), Harlingen, McAllen, Port Isabel, Rio Grande City, and South Padre Island. UTRGV, a comprehensive academic institution, enrolled its first class in the fall of 2015, and the School of Medicine welcomed its first class in the summer of 2016.