UTRGV PD recruits third K-9 officer

  Wednesday, May 13, 2020
  Around Campus
By Amanda Taylor
RIO GRANDE VALLEY, TEXAS – The UTRGV Police Department recently added a new member to the team.
K-9 Officer Eyka, a 2-year-old German Shepherd, was trained as a police K-9 in Europe before joining UTRGV PD late last year.

Eyka works with her seasoned K-9 officer partners, Odin and Suzy, and their handlers to keep UTRGV campus communities safer.
Their job is to do what dogs do so well – sniff out trouble. The K-9 officers can detect odors that could indicate a potential explosive device or drugs on campus.

Eyka, being the newbie in the department, is still acclimating to her responsibilities and works each day with her handler, Officer Isaac De La Garza.

"We started training in November and finished the academy in mid-December," De La Garza said. "There are 26 odors that she's trained to find and when she detects that odor, she can either sit down or lay down to indicate that there might be an explosive in that area."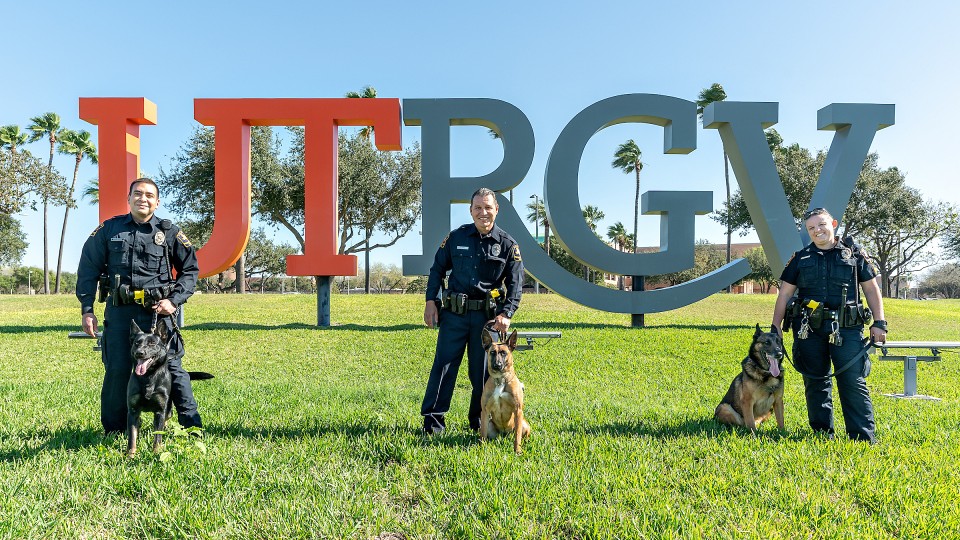 While each dog's role is a bit different from the other, every K-9 has completed rigorous training and continues practicing daily. Sgt. Molly Ralph, K-9 Odin's handler, said the dogs are beneficial to UTRGV because of the jobs they are able to do that humans cannot, such as narcotics detection.
"We have dogs that are trained to detect explosives or odors that are associated with explosives, like the components that are used to make those devices," Ralph said. "They're trained on those scents individually and then they're trained on narcotics, such as marijuana, meth or cocaine."
Officer Jorge Flores, handler of K-9 Suzy, a 3-year-old Belgian Malinois, said that the dogs are responsible for all UTRGV campuses, but that they can assist other police departments when needed due to their skill level.
"They're great assets to our department, and anyone who requests our help, we'll assist," Flores said.
Ralph has worked with Odin, a 9-year-old Belgian Malinois, for the bulk of her career at UTRGV. The team started in 2011 and Ralph has seen firsthand the benefits these K9s bring to campuses.

"I'm glad that we have these tools, the dogs, available to the campus community for so many different reasons and not just enforcement related," she said. "I think they make people a lot more comfortable around us."
Ralph said not every police department is capable of offering a K9 unit. She sees this unit as an added development opportunity for officers at UTRGV.
"It's something different that we can offer but also it's a professional development opportunity for our department, and a recruiting tool. Not a lot of officers get an opportunity to even apply for a K-9 unit in their career," Ralph said. "This has been most of my career, working with Odin, and I love it."
ABOUT UTRGV
The University of Texas Rio Grande Valley (UTRGV) was created by the Texas Legislature in 2013 as the first major public university of the 21st century in Texas. This transformative initiative provided the opportunity to expand educational opportunities in the Rio Grande Valley, including a new School of Medicine, and made it possible for residents of the region to benefit from the Permanent University Fund – a public endowment contributing support to the University of Texas System and other institutions.
UTRGV has campuses and off-campus research and teaching sites throughout the Rio Grande Valley including in Boca Chica Beach, Brownsville (formerly The University of Texas at Brownsville campus), Edinburg (formerly The University of Texas-Pan American campus), Harlingen, McAllen, Port Isabel, Rio Grande City, and South Padre Island. UTRGV, a comprehensive academic institution, enrolled its first class in the fall of 2015, and the School of Medicine welcomed its first class in the summer of 2016.