Saturday, May 9, 2020
  Around Campus, Awards and Recognitions
By News and Internal Communications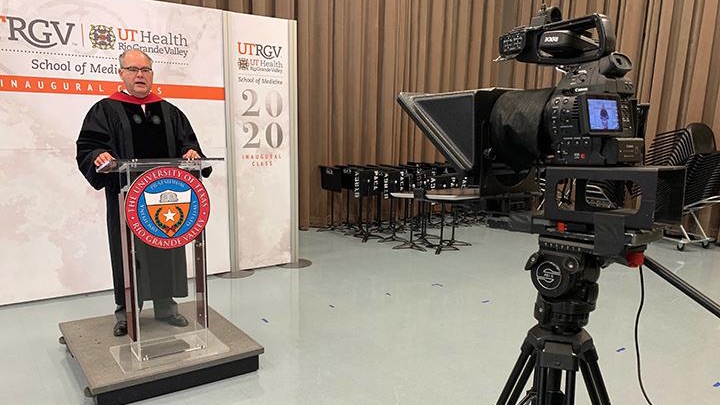 By Dimitra Trejo
RIO GRANDE VALLEY, TEXAS – Four intense years of medical school have flown by for McAllen native Veronica Treviño.
Today, she became Dr. Treviño.
As part of the very first class of the UTRGV School of Medicine, she is woven into the fabric of Valley history now. And with the graduation today of that inaugural Class of 2020, she is headed to Driscoll Children's Hospital in Corpus Christi to begin her medical residency.
"Being a part of the UTRGV School of Medicine's charter class has taught me how to be resilient and adaptable in every situation," Treviño said. "The feeling of finally achieving this lifelong goal is indescribable. I am so blessed and grateful to have been given the opportunity to be here today, and for all the support I've had along the way."
To celebrate the achievements of its 39 graduates, the UTRGV School of Medicine held a special commencement celebration for the Class of 2020 on Saturday, May 9.
It was a virtual ceremony, a poignant way to honor the challenges these graduates will face as they head into the world in a time of pandemic and global upheaval, a time when their dedication to human life is more critical than ever.
Online participants and visitors heard messages from UTRGV and UT System leaders like Kevin P. Eltife, chair of the UT System Board of Regents; Dr. Nolan Perez, of Harlingen, regent of the UT System; James B. Milliken, chancellor of the UT System; UTRGV President Guy Bailey; and keynote speaker Dr. Kenneth Shine, former executive vice chancellor for Health Affairs for the UT System.
In his remarks, Dr. John Krouse, dean of the UTRGV School of Medicine and executive vice president for Health Affairs, congratulated the 39 students on their milestone.
"You will forever be honored as the charter class from our medical school, and the first to proudly carry the UTRGV name across the country as you enter residency training," Krouse said. "This is an important day, not only in your careers, but also in recognition of the years of hard work and dedication the Rio Grande Valley community has invested in making this medical school a reality and in bringing you to this very special day."
Dr. Leonel Vela, the School of Medicine's senior associate dean for Educational Resources and senior associate vice president for Education, said the virtual ceremony was a unique way to acknowledge the School of Medicine charter class, while still practicing social distancing in the time of COVID-19.
"Seeing the Charter Class of 2020 students finish their medical school journey and transition to their residency programs brings a great sense of joy and fulfillment," Vela said. "While we wish we could have celebrated the ceremony in the traditional manner, we remain extremely proud of these new physicians, and applaud the faculty, staff and administration who have dedicated their time and effort in preparing them to enter the next phase of medical training."
The graduates now are headed to residency programs throughout the United States.
Treviño, on her way to Corpus Christi, said her goal has always been to care for the children of the Rio Grande Valley.
"That's a big part of why Driscoll Children's Hospital was my number-one choice for residency," she said. "Driscoll at the moment provides the closest access to upper-level care for our Valley children, and I wanted to train submersed in the needs of the children of South Texas. I wanted to be completely aware of what our South Texas children need from their healthcare providers, so that I could come out of residency knowing how to be a great pediatrician for our Valley kids."
The medical students were able to log onto a designated Commencement 2020 webpage to watch the ceremony from the comfort of their homes.
"Since we are on quarantine, my graduation celebration went from a large party with all my family and friends flying in from out of town, to a small and intimate celebration with my immediate family in my home," Treviño said. "This is very bittersweet."
Despite not being able to celebrate commencement in person, she is grateful for the lessons she and her classmates have learned as medical student in the time of COVID-19.
"This makes you look at the pandemic through a specific lens. It makes you realize the severity of the situation and the importance of everyone doing their part," Treviño said. "I chose to go into medicine because this field is my passion, and I will gladly put my life at risk in order to help other people keep theirs.
"But it is exceptionally important that the general population be selfless, too – that we all think about the immune-compromised, the elderly – and take responsibility so that we diminish the spread of this disease."
Treviño said she is grateful to be closing this chapter in her medical career, and thanks UTRGV and the School of Medicine for all she has gained.
"I am confident that I have acquired the tools I need to be successful, no matter what challenges residency throws my way," she said. "I am leaving the UTRGV School of Medicine having made bonds and relationships with classmates and faculty that I will keep and value for a lifetime."
ABOUT UTRGV
The University of Texas Rio Grande Valley (UTRGV) was created by the Texas Legislature in 2013 as the first major public university of the 21st century in Texas. This transformative initiative provided the opportunity to expand educational opportunities in the Rio Grande Valley, including a new School of Medicine, and made it possible for residents of the region to benefit from the Permanent University Fund – a public endowment contributing support to the University of Texas System and other institutions.
UTRGV has campuses and off-campus research and teaching sites throughout the Rio Grande Valley including in Boca Chica Beach, Brownsville (formerly The University of Texas at Brownsville campus), Edinburg (formerly The University of Texas-Pan American campus), Harlingen, McAllen, Port Isabel, Rio Grande City, and South Padre Island. UTRGV, a comprehensive academic institution, enrolled its first class in the fall of 2015, and the School of Medicine welcomed its first class in the summer of 2016.