Wednesday, April 22, 2020
  Science & Technology, Community
By Amanda Alaniz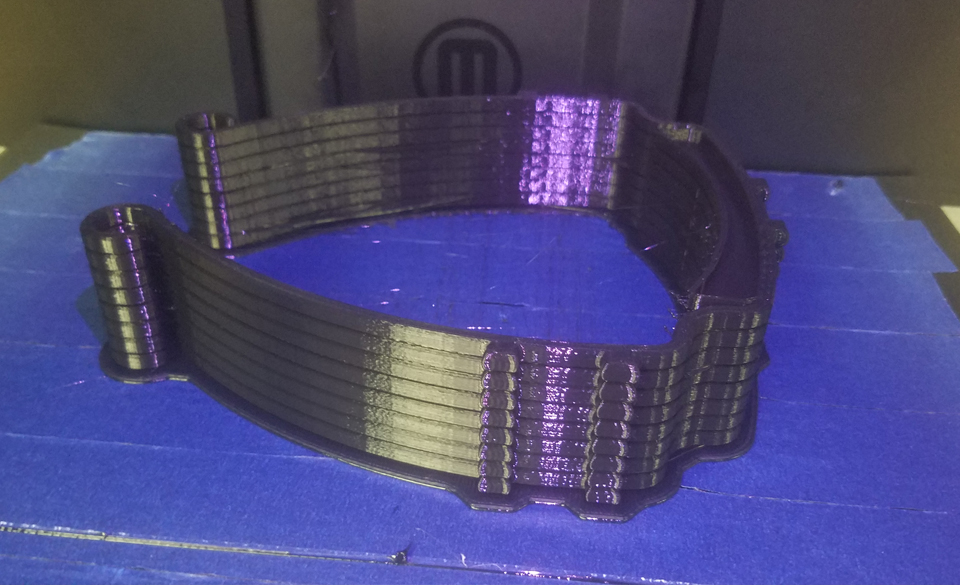 RIO GRANDE VALLEY, TEXAS – Necessary personal protection equipment (PPE), such as masks and face shields, have been increasingly scarce during the COVID-19 pandemic.
To help meet the need, the UTRGV community has taken the initiative to create the equipment.
Some are sewing gowns and cloth masks. Others, like members of the UTRGV College of Engineering and Computer Science, are 3D printing the items needed. 
Dr. Noe Vargas, assistant professor of mechanical engineering, and a group of student volunteers are utilizing their engineering experience and equipment to produce 3D face shields, and are testing 3D face mask models and ventilator components.
Vargas said he saw a national and international patch of networks coming together to help healthcare workers with equipment, and he saw an opportunity for his department to find ways to make important contributions during the pandemic.
"Engineering serves society. This is an excellent example of how our knowledge as engineers is going to help create these essential products," he said. "We can help our hospitals and our community, so we have a direct impact."
From an educational perspective, he said, he is sharing vital information and experience with his students.
"I want them to see how, as an engineer, they have this role, they serve society. And they can be agents of change, they can make a difference and they can collaborate with other fields. Altogether, have an impact," he said.
Vargas has a core group of several students who are helping research PPE, but the group continues to grow and he has emails from others wanting to help. Some students who have their own 3D printers have offered to help print anything needed.
Shaddi Barillas, a UTRGV senior and mechanical engineering major, is a pharmacy technician who has seen firsthand how rare the equipment needed is at the moment. When she received the email from Vargas asking for volunteers, she didn't hesitate to reply.
She recently purchased a 3D printer and thought that if she could contribute from her home in Edinburg, she would be more than happy to. 
"I think my involvement is very important. It does gives you actual hands-on experience, which is something a lot of engineering students are searching for," she said. "It also does give you a lot of potential to work with what you have.
"As an engineer, you have to think about working with what you have. The situation does give us the opportunity to think outside the box and to use our resources really well – which is something, I think, all engineering students should cultivate," she said.
As the engineering network continues to grow, there is a university network developing, as the engineering department will partner with the UTRGV Theatre Department to help distribute the needed PPE to UT Health RGV and the School of Medicine.
More than 40 plastic frames have been created using 3D printers and shared with the theatre department to add the protective transparent shield. 
Vargas said everyone brings a certain unique expertise to the table in the efforts to help the frontline healthcare workers. 
"The department of theatre, they have these skills and craftsmanship to manufacture this personal protective equipment. In engineering, we have skills and equipment to 3D print, to redesign mechanisms and to do these other components. Together, we are going to collaborate, providing different sides for the same products," he said. "To me, it's very interesting how areas who are far apart – engineering, arts and medicine – are coming together to make a difference."
The effort to create more 3D PPE is underway. Vargas continues to test face mask models and ventilator pieces, with research assistance from his students working remotely. 
Currently, he is shifting focus to the face shields because the need is high. 
Barillas said the efforts the university is making to help the frontline workers speaks volumes about the positivity, hard work and potential within UTRGV community. It makes her very proud of her university. 
"It really shows how much effort the whole community can have. And how much potential the community has to work together," she said. "We're all trying to help out UT Health RGV," she said. "It's in really hard times like these that prove how close we are as a community."
Find resources and stay up-to-date with UTRGV news relating to COVID-19 by visiting https://www.utrgv.edu/coronavirus/.
ABOUT UTRGV
The University of Texas Rio Grande Valley (UTRGV) was created by the Texas Legislature in 2013 as the first major public university of the 21st century in Texas. This transformative initiative provided the opportunity to expand educational opportunities in the Rio Grande Valley, including a new School of Medicine, and made it possible for residents of the region to benefit from the Permanent University Fund – a public endowment contributing support to the University of Texas System and other institutions.
UTRGV has campuses and off-campus research and teaching sites throughout the Rio Grande Valley including in Boca Chica Beach, Brownsville (formerly The University of Texas at Brownsville campus), Edinburg (formerly The University of Texas-Pan American campus), Harlingen, McAllen, Port Isabel, Rio Grande City, and South Padre Island. UTRGV, a comprehensive academic institution, enrolled its first class in the fall of 2015, and the School of Medicine welcomed its first class in the summer of 2016.