Wednesday, April 15, 2020
  Community, Around Campus
By Amanda Taylor
RIO GRANDE VALLEY, TEXAS – Just because you're supposed to stay at home during the COVID-19 pandemic, that doesn't mean you can't stay active!
UTRGV Recreation (UREC) is promoting a healthy lifestyle with digital fitness classes for UREC patrons.
Not only is exercise great for staying in shape and promoting mental health, it also is a way to get students to stay connected, said Fay Kennan, UREC fitness and wellness coordinator.
"We've been working really hard for patrons during this time and we thought the best thing for us would be to use Zoom – which is a tool that is readily available to everyone on and off campus – and have our instructors doing remote classes from home," she said.
If you have a UTRGV student or staff/faculty account, you have access to Zoom. A schedule is released on the UREC's social media pages (Facebook and Twitter) each week, to keep those wanting to participate up to date on which classes will be available. 
Kusy Zarzosa, fitness instructor and UTRGV student pursuing a master's degree in environmental science, is actively conducting Zumba classes – a popular class attended by UREC patrons.
"I believe Zumba is very popular in the Valley because dance fitness is more than just cardio," Zarzosa said. "You can involve it with toning, and there are so many branches of Zumba that we have been trying to bring to UREC."
Since the UREC is closed to maintain social distancing orders under the Hidalgo County mandate, fitness classes are being conducted live from various UREC instructors from their homes.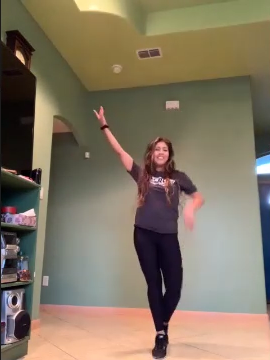 Anyone interested in taking a class just needs to click on the live Zoom link in order to join immediately.
"There is no password required so, potentially, if they (attendees) have other people that they'd like to join them for the class, they could do that at this time," Kennan said. "We are targeting the UTRGV community, though."
With some students and community members feeling the anxiety and stress of handling the COVID-19 pandemic, a little exercises and routine is a good way to keep healthy physically and emotionally.
"We're being optimistic," Zarzosa said. "We're trying to get back to this being our normal. We all have the technology available to stay connected and I think bringing fitness into it and staying active is something we should continue from home while still following the regulations to help eliminate the spread of disease."
Zarzosa also stressed that, whether it's from someone's living room or backyard, these Zoom fitness classes are available anywhere you can access a laptop or cellphone.
For more information on the UREC digital fitness classes or for schedule information, visit the UREC website.
ABOUT UTRGV
The University of Texas Rio Grande Valley (UTRGV) was created by the Texas Legislature in 2013 as the first major public university of the 21st century in Texas. This transformative initiative provided the opportunity to expand educational opportunities in the Rio Grande Valley, including a new School of Medicine, and made it possible for residents of the region to benefit from the Permanent University Fund – a public endowment contributing support to the University of Texas System and other institutions.
UTRGV has campuses and off-campus research and teaching sites throughout the Rio Grande Valley including in Boca Chica Beach, Brownsville (formerly The University of Texas at Brownsville campus), Edinburg (formerly The University of Texas-Pan American campus), Harlingen, McAllen, Port Isabel, Rio Grande City, and South Padre Island. UTRGV, a comprehensive academic institution, enrolled its first class in the fall of 2015, and the School of Medicine welcomed its first class in the summer of 2016.