Friday, February 28, 2020
  Community
By Amanda Taylor
 PHOTO GALLERY by Paul Chouy
RIO GRANDE VALLEY, TEXAS – In the case of a crisis, first responders rush in to render aid. Police officers, paramedics, firefighters and, sometimes, organizations like FEMA help assess damage and bring the situation under control.
Once the flashing emergency lights and sirens have gone, survivors must start to pick up the pieces. Healing after trauma can be difficult to do alone, so it is common for professionals to be brought in. 
Sometimes, these professionals have wagging tails and wet noses.
Meet Flip – a brown-eyed, gangly-legged pit bull mix rescued from a local animal shelter. Flip and his handler – UTRGV professor Dr. Denise Silcox, a licensed counselor – are responsible for providing aid to those who need comforting. 
Silcox and Flip recently were certified as an Animal-Assisted Crisis Response Team for the Rio Grande Valley, qualified to aid those who have been affected by natural, human-caused or technological disasters. 
"Adding a dog to crisis situations is novelty. It kind of snaps victims out of the shock a little bit. It's a little bit of normalcy," said Silcox, an assistant clinical professor within the UTRGV School of Rehabilitation and Counseling.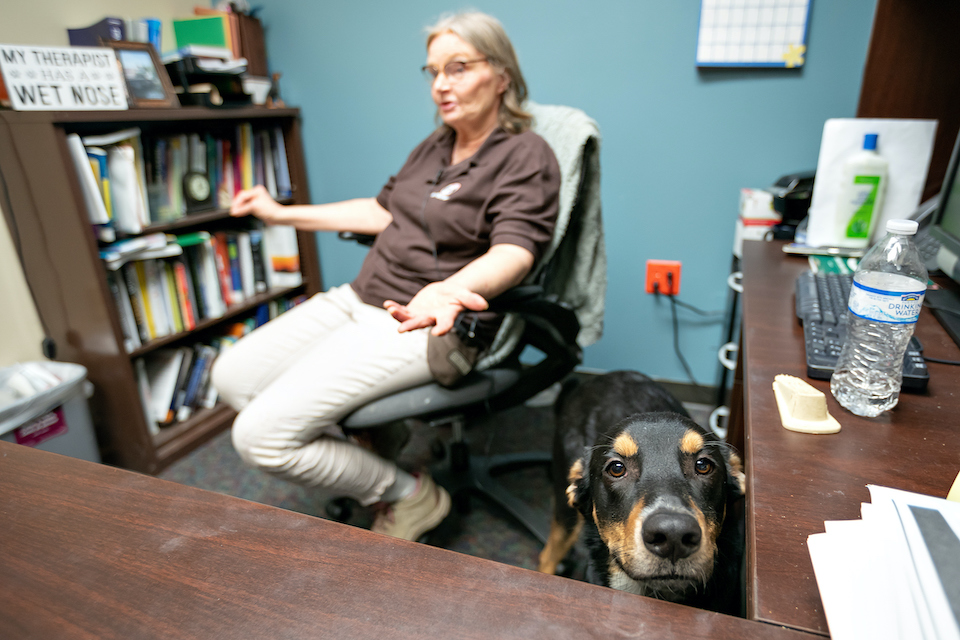 The certification comes from Pet Partners – the largest organization in certifying therapy pets and crisis response animals.
Flip needed to be a licensed therapy pet for at least six months before crisis response team certification. Now, Flip has passed all necessary tests to become a licensed crisis response animal, which means the duo could be called out to surrounding cities, as needed.
"This program is neighbor helping neighbor, so teams would only be dispatched to relatively nearby areas," Silcox said. "Here, it would be up to Corpus Christi, maybe San Antonio or El Paso."
The simple act of petting a dog or even having a dog nearby can significantly reduce the effects of trauma, Silcox said. While professional diagnoses from psychologists, therapists and counselors should be sought after trauma, adding a crisis response animal into treatment can help soothe surface pains.
"Years ago, there was a situation where after a mass shooting crisis, a woman clung to a crisis response dog for about fifteen minutes and just cried," Silcox said. "She never said a word to the handler, and she didn't need to. Dogs are empathetic and know when they are needed."
The first responsibility Silcox has as Flip's handler is deciding if a situation is safe for both of them. She never puts Flip into a situation where it could be dangerous, she said, as her first responsibility is to her dog. 
She also said that, while there is an increase in using therapy pets for support, the roles and rules are often blurred and misused.
Flip has to continue his training regularly to be ready to respond to crisis situations. While the duo is ready to serve the community, Silcox said, she also hopes they aren't needed anytime soon.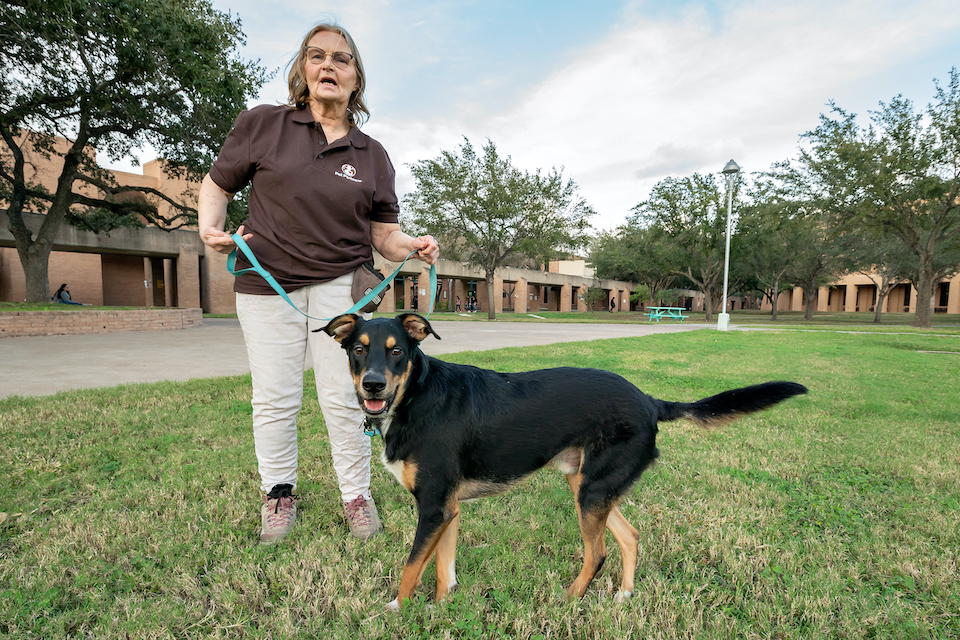 "We have not been deployed since we've got the certification, and while we are prepared and ready to go, I'm also hoping we don't have to go because that would mean a lot of people's lives have been turned upside down," she said. "If we can get away with that not happening to my neighbors, I'd be considerably happier."
ABOUT UTRGV
The University of Texas Rio Grande Valley (UTRGV) was created by the Texas Legislature in 2013 as the first major public university of the 21st century in Texas. This transformative initiative provided the opportunity to expand educational opportunities in the Rio Grande Valley, including a new School of Medicine, and made it possible for residents of the region to benefit from the Permanent University Fund – a public endowment contributing support to the University of Texas System and other institutions.
UTRGV has campuses and off-campus research and teaching sites throughout the Rio Grande Valley including in Boca Chica Beach, Brownsville (formerly The University of Texas at Brownsville campus), Edinburg (formerly The University of Texas-Pan American campus), Harlingen, McAllen, Port Isabel, Rio Grande City, and South Padre Island. UTRGV, a comprehensive academic institution, enrolled its first class in the fall of 2015, and the School of Medicine welcomed its first class in the summer of 2016.