The donation is the largest in the history of higher education in South Texas

  Tuesday, February 11, 2020
  Announcements
By News and Internal Communications
RIO GRANDE VALLEY, TEXAS –  The University of Texas Rio Grande Valley (UTRGV) on Tuesday announced a $38 million gift from the Valley Baptist Legacy Foundation (VBLF), the largest single donation in the history of higher education in South Texas.
The gift, which establishes a unique medical hub for scientific discovery focused on improving health in the Rio Grande Valley (RGV), is also the largest gift in UTRGV history. 
With the assistance of this gift, UTRGV should move into the top 200 American Universities in both philanthropic giving and total research expenditures.
"This is a historic day for UTRGV, Valley Baptist Legacy Foundation, and the entire Rio Grande Valley," said UTRGV President Guy Bailey. "We are so proud of the partnership we have with the Valley Baptist Legacy Foundation, and with this $38 million gift, their total giving to UTRGV is now over $62 million. This is truly transformative!"
The medical hub project is named THRIVE because it seeks to Transform Health Research In the Valley and Elsewhere by leveraging existing strengths to make UTRGV a national epicenter for biomedical research.
THRIVE provides high-quality, evidence-based medical services in surgery, and clinical genetics to the Rio Grande Valley.
THRIVE is a collaboration of the UTRGV Departments of Human Genetics, Neuroscience, Neurology, Pediatrics, and Surgery.
THRIVE is led by Dr. Sarah Williams-Blangero, the H-E-B Distinguished Chair in Diabetes and Genomics, and the director of the South Texas Diabetes and Obesity Institute.
"The Board and Staff of the Valley Baptist Legacy Foundation are excited about several elements of this grant, namely the combination of local research along with increased access to clinical care for our community," said Judy Quisenberry, executive director of the VBLF. "We believe that having a medical school in the valley is the key component to actually improving the health of all who live here, and that is what we exist to support. 
"Most people are not aware of the first-class research taking place currently in Genomics, right here in the Rio Grande Valley, and our hope is that this investment will be leveraged for even greater research capability."
THRIVE also serves as a magnet to attract new researchers, clinicians, and grant funding to the area.
By fostering the growth of research and research workforce, THRIVE increases research grant funding awarded to UTRGV and, ultimately, help UTRGV to achieve Emerging Research University (ERU) status.
ERU status allows UTRGV access to additional funding to dramatically expand research capabilities, discoveries, and advances in health outcomes.
"This is a monumental gift with extraordinary impact," UT System Chancellor James B. Milliken said. "The partnership between Valley Baptist Legacy Foundation and UTRGV is life-changing because it's serving as a catalyst for scientific discovery that will directly and specifically benefit the people of South Texas. We are profoundly grateful to the Valley Baptist Legacy Foundation for its investment in the Rio Grande Valley, and for its confidence in UTRGV to carry out a shared mission to transform health care in this region."
Three years ago, VBLF gifted UTRGV $15 million to help establish the UTRGV Institute of Neurosciences.
That facility is currently under construction and is expected to be completed in summer of 2021.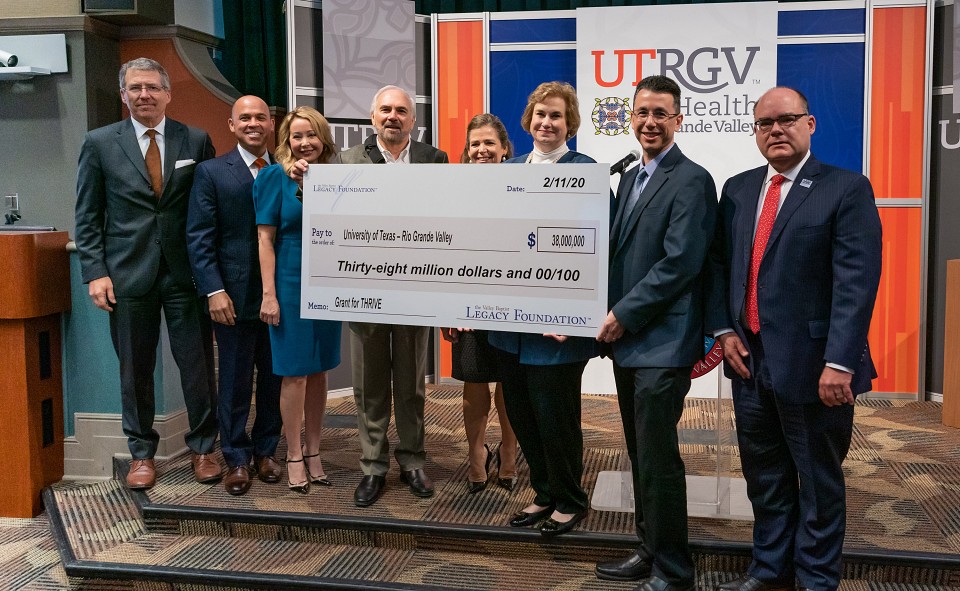 ABOUT UTRGV
The University of Texas Rio Grande Valley (UTRGV) was created by the Texas Legislature in 2013 as the first major public university of the 21st century in Texas. This transformative initiative provided the opportunity to expand educational opportunities in the Rio Grande Valley, including a new School of Medicine, and made it possible for residents of the region to benefit from the Permanent University Fund – a public endowment contributing support to the University of Texas System and other institutions.
UTRGV has campuses and off-campus research and teaching sites throughout the Rio Grande Valley including in Boca Chica Beach, Brownsville (formerly The University of Texas at Brownsville campus), Edinburg (formerly The University of Texas-Pan American campus), Harlingen, McAllen, Port Isabel, Rio Grande City, and South Padre Island. UTRGV, a comprehensive academic institution, enrolled its first class in the fall of 2015, and the School of Medicine welcomed its first class in the summer of 2016.