Monday, February 3, 2020
  Around Campus, Community
By Amanda Alaniz
 PHOTO GALLERY by Paul Chouy
EDINBURG, TEXAS – FEB. 3, 2020 – Hanss Mujica, a UTRGV alumnus and PSJA Memorial folklórico teacher, has been involved in the UTRGV Ballet Folklórico for about seven years. In the time, the company became like family for him.
"Family above everything else, is what I love to say," he said. "We spend so much time together that we've created this bond as a family. And because we have that family bond, it's not always perfect. We bicker, we fight. 'The step doesn't go like this, it's supposed to be this way.' But that's behind the scenes. As soon as you cross that stage, you see those lights, you see that audience, everything just goes away."
The UTRGV Ballet Folklórico celebrates its 50th anniversary this year.
It was founded in 1970 at what was then Pan American University by the late Dr. Amilda Thomas, a professor in the Department of Health and Physical Education. Thomas retired in 1987, and the reigns of the program were handed over to husband and wife team Francisco Muñoz and Maria Oralia Muñoz.
Following Francisco Muñoz's retirement in 2018, Miguel Peña, a UTRGV dance lecturer, became the new program director.
Peña said the UTRGV Ballet Folklórico is widely considered one of the most influential ensembles at the collegiate level, in the region and nationally.
"It's an honor to be here with the Ballet Folklórico," he said. "Whoever is here in this position, they're in charge of being the face of folklórico in the Valley. There's a lot of other groups here in the Valley, there's middle school groups, high school groups, that I know look up to this group because it's the university company of the Rio Grande Valley."
Some of the dancers say the nationally recognized program has become such a UTRGV cornerstone because of its uniqueness and its representation of culture.
Dance major and junior Guadalupe Garza said that when he was in high school, he had the chance to see the university's Ballet Folklórico perform. He knew in that moment he wanted to be part of it.
"There's not many universities that I know of that have a folklórico group," the Edinburg native said. "I feel honored that I'm here and it's one of the universities that offers folklórico. You'll be able to study that here and graduate with a concentration in folklórico."
Garza's fellow dance major and Palmview native Brizaida Garcia said after joining the company, she switched her major because she grew to love the program. 
"Folklórico is rich in culture, and it says a lot about the culture we have here in our region, in the Valley. A lot of people have a passion for it, and I see more people come in and try it and start liking it," the junior said. "I think that's why it keeps growing and people keep coming in and falling in love with it, just like I did."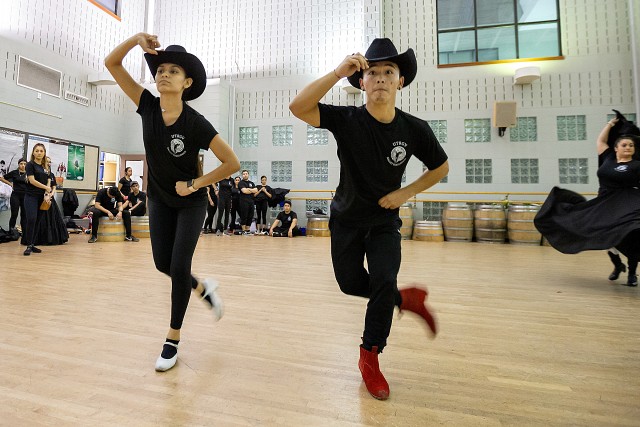 50TH ANNIVERSARY PERFORMANCE
In celebration of the major milestone, the company will bring to the stage their annual show, "Alegría," which tells the story of Mexico's history and culture through dance told in several sections.
Each year they perform it, Peña invites choreographers to help the dancers and change up the dance, as well as bringing something new to the stage.
"Mexico is super rich in tradition and culture and in dances. So, each year we try to show something different from Mexico, to honor the richness that Mexico has in culture, music, dance and traditions," he said.
About 60 people are involved in the production, including dancers and musicians.
Amy Castellanos, a UTRGV alumna who graduated with a master's degree in special education, will be one of more than 30 dancers participating in "Alegría."
Currently a folklórico teacher at an IDEA Public School in Edinburg, she said the chance to showcase her culture and passion through dance is why she has stayed involved in folklórico. Being on stage for her feels like "home."
"Every year I dance, I feel like my passion for it grows. I feel like it's my place. I enjoy every second," she said. "In particular, I need to dance like there's no tomorrow."
"Alegría" will be Feb. 7-9 at the UTRGV Performing Arts Complex on the Edinburg Campus.
Visit patron.utrgv.edu/alegria to purchase tickets and view other dates.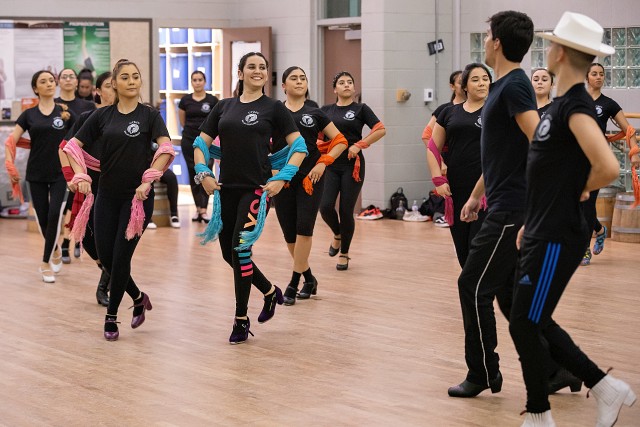 ABOUT UTRGV
The University of Texas Rio Grande Valley (UTRGV) was created by the Texas Legislature in 2013 as the first major public university of the 21st century in Texas. This transformative initiative provided the opportunity to expand educational opportunities in the Rio Grande Valley, including a new School of Medicine, and made it possible for residents of the region to benefit from the Permanent University Fund – a public endowment contributing support to the University of Texas System and other institutions.
UTRGV has campuses and off-campus research and teaching sites throughout the Rio Grande Valley including in Boca Chica Beach, Brownsville (formerly The University of Texas at Brownsville campus), Edinburg (formerly The University of Texas-Pan American campus), Harlingen, McAllen, Port Isabel, Rio Grande City, and South Padre Island. UTRGV, a comprehensive academic institution, enrolled its first class in the fall of 2015, and the School of Medicine welcomed its first class in the summer of 2016.