Thursday, January 16, 2020
  Community
By Maria Elena Hernandez
 PHOTO GALLERY by David Pike
BROWNSVILLE, TEXAS – The University of Texas Rio Grande Valley and Saint Joseph Academy in Brownsville have signed a Memorandum of Understanding on a Dual Credit program that will result in students earning up to 24 college credits at no cost to students and their families. 
High school juniors and seniors at SJA will be able to enroll in classes at UTRGV to jumpstart their college career and earn university credits beginning in August.  
Dr. Janna Arney, UTRGV deputy president and an alumna of SJA, said it was a great honor for her to work on the initiative.
"UTRGV's goal is to work with each partner to design a curriculum that meets their unique needs; I think we have really done that with this partnership with SJA," Arney said. "Today is a great day for UTRGV, St. Joseph Academy and our community."
The unique collaboration will bring UTRGV professors to SJA's campus to deliver instruction, allowing students to begin their college journey and gain an edge, all while enjoying the benefits of attending SJA.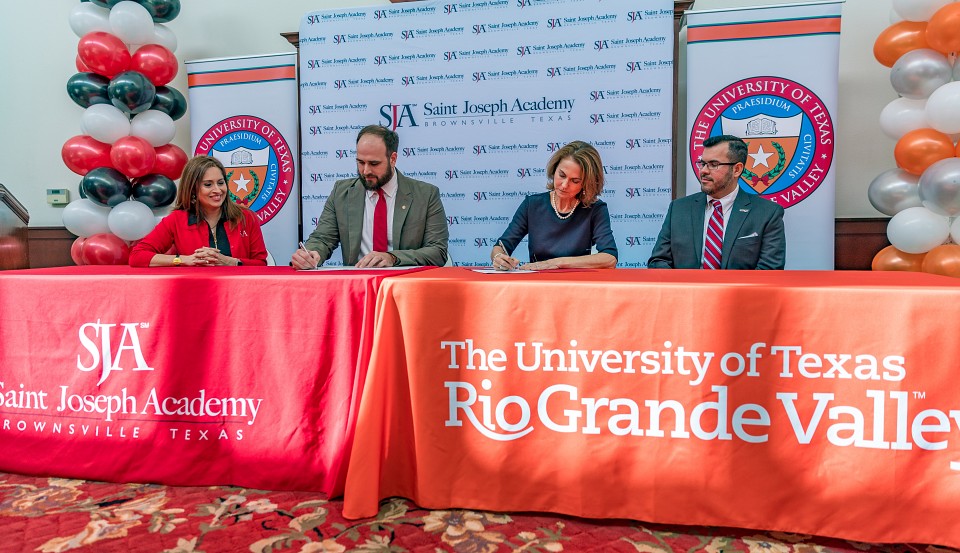 Michael Motyl, president of SJA, said the collaboration is especially important for students who are hoping to accelerate their college education.
"We are very excited for this partnership with UTRGV," Motyl said. "We feel it is a game changer for us and for our students, and the highlight for us is having UTRGV professors on our campus, delivering instruction to our students." 
UTRGV currently works with 27 school districts throughout the region, some of which have multiple campuses with students who participate in dual credit. 
UTRGV is serving 753 high school students between dual credit, early college and the UTRGV Mathematics, and Science Academy (MSA).
"We know that students who have the opportunity to take college credit while in high school outperform those who don't," Arney said. "It is our goal to continue to provide early connections and experiences through strong partnerships with our local school districts."
To learn more about the dual enrollment program, visit 
https://www.utrgv.edu/undergraduate-admissions/dual-credit/index.htm
.
ABOUT UTRGV
The University of Texas Rio Grande Valley (UTRGV) was created by the Texas Legislature in 2013 as the first major public university of the 21st century in Texas. This transformative initiative provided the opportunity to expand educational opportunities in the Rio Grande Valley, including a new School of Medicine, and made it possible for residents of the region to benefit from the Permanent University Fund – a public endowment contributing support to the University of Texas System and other institutions.
UTRGV has campuses and off-campus research and teaching sites throughout the Rio Grande Valley including in Boca Chica Beach, Brownsville (formerly The University of Texas at Brownsville campus), Edinburg (formerly The University of Texas-Pan American campus), Harlingen, McAllen, Port Isabel, Rio Grande City, and South Padre Island. UTRGV, a comprehensive academic institution, enrolled its first class in the fall of 2015, and the School of Medicine welcomed its first class in the summer of 2016.