Wednesday, December 18, 2019
  Community, Alumni
By News and Internal Communications
By Cinthia Monsivais
PHOTOS by Paul Chouy: (Password: Edwin)
RIO GRANDE VALLEY, TEXAS – For UTRGV alumnus Edwin Gomez – now an athletic trainer for his alma mater, Palmview High School – a coveted college internship with the NFL's Tennessee Titans turned into the catalyst for a dream career.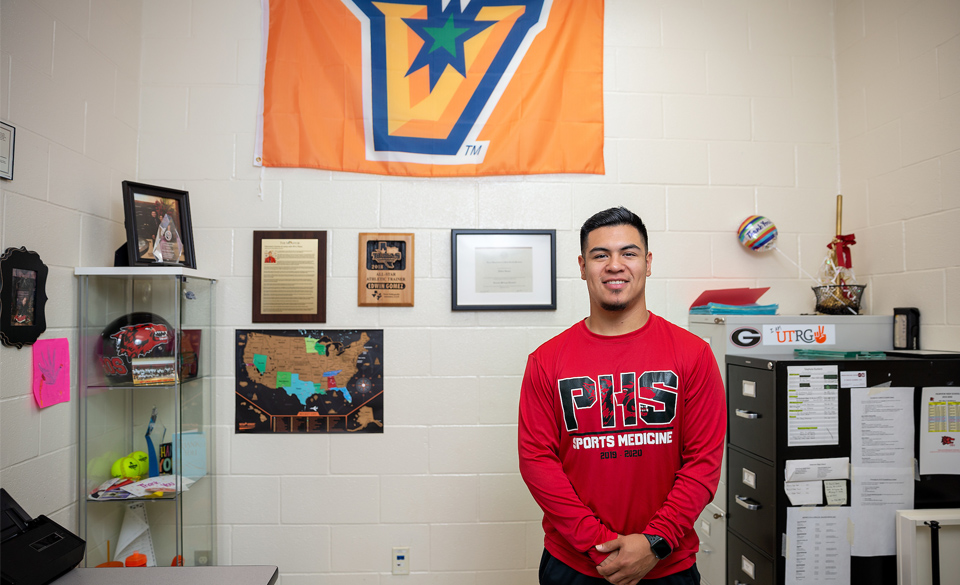 Gomez graduated from UTRGV in 2016 with a bachelor's degree in Kinesiology, which helped him get to where he is today, working as an athletic trainer.
There, he works with students on and off the field, helping them prevent injuries, providing them with rehabilitation services and answering questions about their pains or aches.
His internship with the Tennessee Titans not only expanded his knowledge in athletic training, but also gave him his first hands-on experience in a career he is passionate about.
TIME WITH THE TITANS
In 2016, Gomez applied to a scholarship and internship program through the Professional Football Athletic Trainers Society. The program, which is in partnership with the National Football League, provides each recipient a monetary scholarship along with the opportunity to work at an NFL summer training camp.
He sent his application to all 32 teams in the NFL, and heard back from eight of them; seven of those were rejections.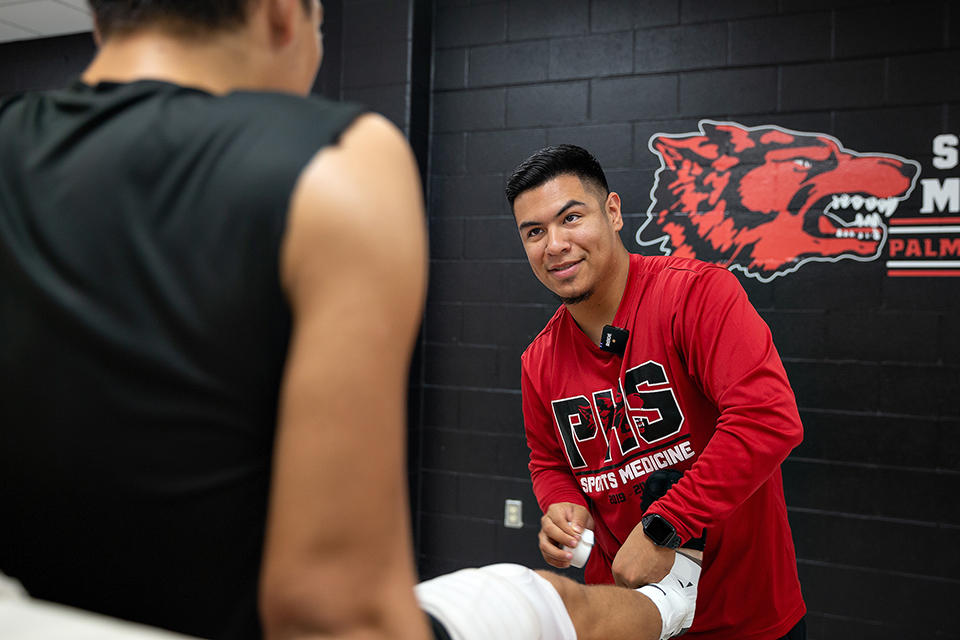 He was in a class at UTRGV one day when he got a phone call. Although he normally would not have answered, he got a gut feeling; something was telling him to answer.
It was a Tennessee Titans rep, calling to let Gomez know he was one of two candidates being considered for the internship.
"I'm really ambitious. So, when he asked me why I deserved that position, I told him just that: I'm a real go-getter," Gomez said. "I told him, anything he taught me, he would only need to teach me once; he wouldn't have to tell me three times or correct me twice.
"I'm glad to say that I proved myself to him and eventually got invited back, although by that time I had already accepted the job at Palmview."
He describes his time in Tennessee as "tiring, yet awesome." He clocked in every day at 5 a.m. and would get out at 10 p.m. Yet the experiences he was part of were more than enough to make up for the long hours.
 "The neat part was that they let me be a part of the staff, they let me chime in on what I thought about the rehab procedures," Gomez said. "And they would have these workshops where each staff athletic trainer would sit us down and teach us different rehab techniques."
THE JOURNEY
When he was growing up, Gomez participated in football, track, soccer and folkloric dancing, but it wasn't until the summer before his senior year in high school that he realized he was seriously interested in athletic training. During his time as an athlete at Palmview High School, Gomez had torn his quad while playing off-season, and his injury required him to visit his athletic trainers frequently.
Witnessing their work with him "really sparked an interest," Gomez said.
Still, Gomez had decided to give his passion for dance a chance. After graduating from Palmview High School in 2010, he received a scholarship to attend Central New Mexico Community College in Albuquerque, where he pursued a career in flamenco dance. It became clear to him, though, that dance was not the career he wanted.
So, Gomez moved back to the Rio Grande Valley, where he enrolled at UTRGV and pursued a degree in athletic training. He also became part of the UTRGV Athletic Training Internship Program, which prepared him for a professional career in sports medicine and helped him fulfill the requirements to obtain a Texas Athletic Trainer license.
It was his time as a student athletic trainer intern for UTRGV's athletics department that Gomez says truly prepared him to "be the type of athletic trainer I am today."
"UTRGV is unique as far athletic training goes. They have a licensing program which requires you to do an 1,800-hour apprenticeship before even challenging the licensing exam," Gomez said. "But they're really hands on, and for a Division 1 university, that is really unheard of. Most other universities don't want you working with athletes, but at UTRGV, I got to work on D1 athletes, and it was a unique experience."
AWARDS
His dedication to his student athletic training position led to him being named the Student Athletic Trainer of the Year in 2016, his senior year.
"I was always the first one there and the last one out," Gomez said. "That year I worked with volleyball and baseball, which was amazing, and communicating with the coaches and my athletic trainer, being well rounded with the athletes, as well as a lot of hustling, is what got me that award."
In spring 2017, shortly after graduating from UTRGV, Gomez was at a Valley Athletic Trainers Association student trainer workshop, where he was set to speak, when he was told that an athletic trainer position would be opening up that summer at Palmview High School. He applied for the position, "and the rest is history," Gomez said.
During his time as an athletic trainer for Palmview High School, Gomez has helped La Joya ISD earn a first place Safe School Sports Award from the National Athletic Trainer Association, and was named one of six All-Star Athletic Trainers of 2018 by the Texas Girls Coaches Association.
And this summer he was given the Outstanding Young Professional award by the Valley Athletic Trainers Association at the annual Athletic Training Seminar on South Padre Island.
IMPACT
Gomez said his main goals as an athletic trainer are to help his athletes, and to do everything he can to improve the athletic training field.
"Being around sports is what drew me in," he said. "I'm a big sports fan, and anytime I am around a game, I get involved. I'm usually really involved with the kids, and their win is my win, their loss is my loss. I love helping them, from post-operational to being back on the field. It's an amazing feeling."
The same ambition that drove Gomez to pursue athletic training continues to fuel his career. He now wants to pursue a master's degree in either Healthcare Administration or Sports Administration.
"I plan to go back for my master's, build my network, and keep building my resumé, then pursue a position as a director of sports medicine someday," he said.
ABOUT UTRGV
The University of Texas Rio Grande Valley (UTRGV) was created by the Texas Legislature in 2013 as the first major public university of the 21st century in Texas. This transformative initiative provided the opportunity to expand educational opportunities in the Rio Grande Valley, including a new School of Medicine, and made it possible for residents of the region to benefit from the Permanent University Fund – a public endowment contributing support to the University of Texas System and other institutions.
UTRGV has campuses and off-campus research and teaching sites throughout the Rio Grande Valley including in Boca Chica Beach, Brownsville (formerly The University of Texas at Brownsville campus), Edinburg (formerly The University of Texas-Pan American campus), Harlingen, McAllen, Port Isabel, Rio Grande City, and South Padre Island. UTRGV, a comprehensive academic institution, enrolled its first class in the fall of 2015, and the School of Medicine welcomed its first class in the summer of 2016.