UTRGV wraps up second day of commencement ceremonies in Edinburg

  Saturday, December 14, 2019
  Around Campus, Community
By Amanda Alaniz
EDINBURG, TEXAS – Graduation day finally arrived for more than 2,000 graduates who were the center of attention at UTRGV's fall commencement ceremonies on Saturday, Dec. 14. 
Held at the Bert Ogden Arena in Edinburg, the celebration, which included three ceremonies, wrapped up two days of graduation for the university, which began in Harlingen on Friday with more than 580 graduates.  
The morning ceremony took an additional happy turn as UTRGV graduating student Gisela Saldana's boyfriend, Andrew Diaz, surprised her as she walked across the stage to accept her diploma. Entering from the opposite side of the stage, Diaz dropped to one knee in front of her and proposed. 
And she said yes! 
Over the two-day period, the ceremonies included a total of 2,700 graduates. 
Family and friends packed the spacious arena to celebrate with their graduates and watch them take the next step into a new chapter of their lives.
UTRGV President Guy Bailey joked with the graduates and audience during the morning ceremony that the last time he was in the arena was for a Jennifer Lopez concert. 
"And some of you may have been at that same concert. Our ceremony today won't be quite that entertaining but it will be more meaningful in many ways, especially for our students, for their parents and for all of you who are here to support them," Bailey said. 
Bailey reminded the graduates that this is not the end of their journey, but the beginning as new university alumni.  
"We are very proud of you who are graduating here today. This is a real achievement, we know that you're going to go out and change the world," Bailey said. "You will make things better for the Valley, better for your families, and it is our honor to have served you over the last four to five years." 
JUST DO IT 
For many, graduation is a day for them to reflect what their hard work and perseverance helped them achieve.  
Jonah Goldberg, the UTRGV associate athletic director for Communications, walked the stage during the 9 a.m. ceremony to accept his Master of Business Administration diploma. Graduating and completing his degree felt surreal, he said. It had been more than 11 years since he graduated from college, so deciding to go back was a big commitment.  
"I've been working here for a number of years, going back to the days of legacy institution UTPA. I've been impressed by the education offerings at the university and how it's grown over years. I had an epiphany one night that, here I am, working at a university, helping other people improve their education. I should be working on my own." he said. 
Goldberg, a native of Merrick, New York, registered for the MBA Accelerated Online program because it offered flexibility and convenience, given his hectic schedule.  
He said he was thrilled to wear the cap and gown, but having his family in the crowd, watching him walk across the stage, was the cherry on top.
To others thinking about going back to school, he said, "Do it."  
"If you're considering going back to school, you absolutely should. Because if you even thought about it, to me it means you actually want to do it and you're just trying to figure out how you're going to make it work," he said.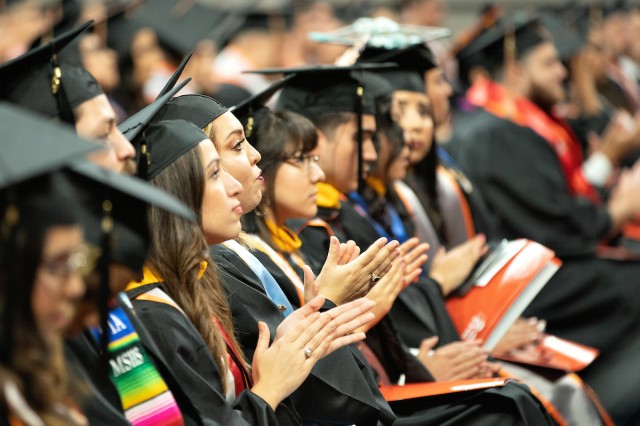 FROM THE EDUCATION FIELD TO THE MEDICAL FIELD 
Going back to school was in the cards for fellow graduating UTRGV student Belinda Torres. The San Benito native accepted her degree from the Department of Physician Assistant Studies.  
Being involved in the medical field runs in her family; her brother is a PA and her sister is a clinical psychologist.  
She had had every intention of applying to medical school right after she earned her bachelor's degree in biomedical science. But when her mother was diagnosed with stage 4 ovarian cancer, she decided to put pause on her dream career to take care of her mother.  
She received her master's and doctoral degrees in education from UTRGV's legacy institutions. Her mother lost the battle with cancer while Torres was working on her doctorate. 
All while her mother was getting treated, Torres became familiar with the PA profession and decided to finally pursue her dream of becoming a medical provider. 
"I worked in postsecondary education for 15 years. Although I loved working with students and the field of education, I always had that desire to pursue a career in medicine," she said. "I am eagerly awaiting the opportunity to begin my career as a physician assistant and to help make a difference in the lives of those in my community."  
TAKE ADVANTAGE OF OPPORTUNITIES 
Participating in the 1 p.m. ceremony was electrical engineering major Jackeline Gonzalez, who said she was ready to graduate.  
The Donna native said her experience at UTRGV offered her many opportunities to earn internships and be part of organizations that helped her build her résumé.  
She already has accepted an offer to work at IBM in Austin after graduation.  
Gonzalez said she's excited about her big day after her long journey to get there. She encourages others to really research and get involved with the university to help them figure out their career path. 
"I think everyone's nervous when starting college. Sometimes you're not sure what you want to do. That was the case with me, I didn't know if I wanted to do electrical engineering," she said. "I understand there's some nervousness to that, but don't be scared. You still have a long way to discover yourself. Do your research because there's so many resources the university offers." 
To learn more about UTRGV 2019 Commencement, visit www.utrgv.edu/commencement.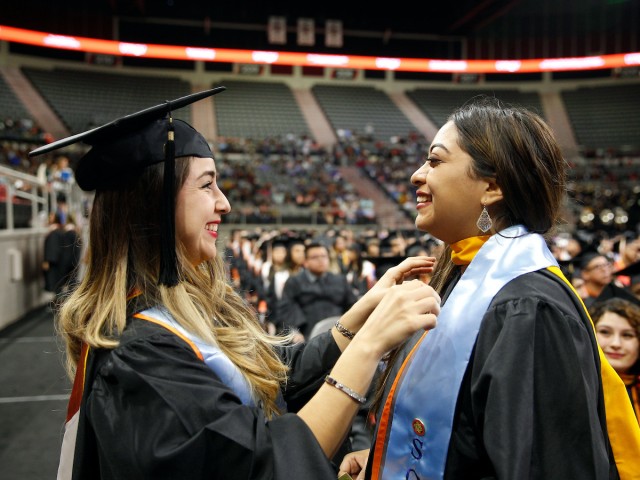 ABOUT UTRGV
The University of Texas Rio Grande Valley (UTRGV) was created by the Texas Legislature in 2013 as the first major public university of the 21st century in Texas. This transformative initiative provided the opportunity to expand educational opportunities in the Rio Grande Valley, including a new School of Medicine, and made it possible for residents of the region to benefit from the Permanent University Fund – a public endowment contributing support to the University of Texas System and other institutions.
UTRGV has campuses and off-campus research and teaching sites throughout the Rio Grande Valley including in Boca Chica Beach, Brownsville (formerly The University of Texas at Brownsville campus), Edinburg (formerly The University of Texas-Pan American campus), Harlingen, McAllen, Port Isabel, Rio Grande City, and South Padre Island. UTRGV, a comprehensive academic institution, enrolled its first class in the fall of 2015, and the School of Medicine welcomed its first class in the summer of 2016.