Monday, December 9, 2019
  Around Campus
By Amanda Alaniz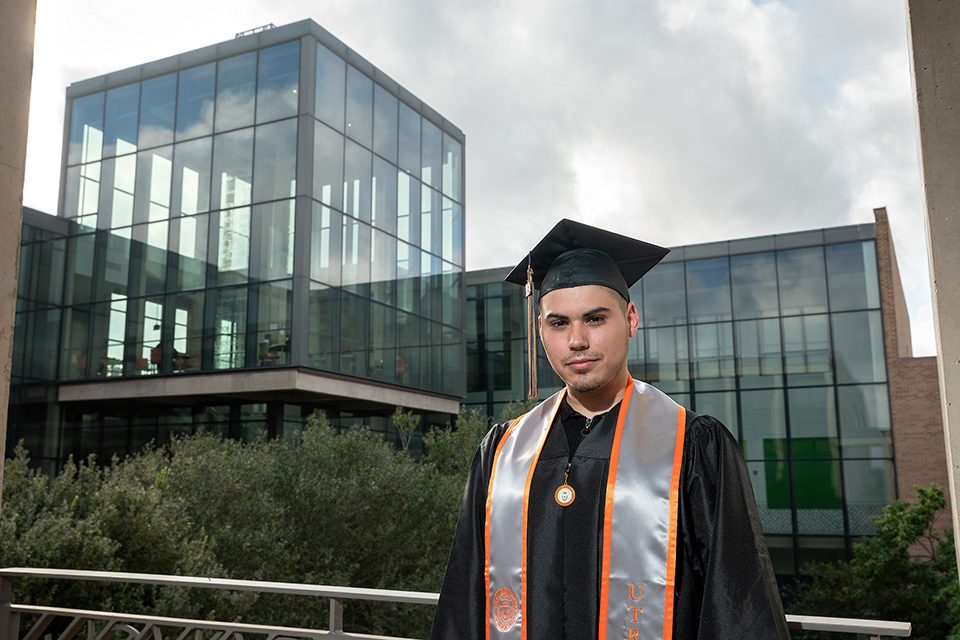 RIO GRANDE VALLEY, TEXAS – Gabriel Islas, a graduating UTRGV student and Interdisciplinary EC-6 ESL major, said becoming comfortable with his own identity wasn't easy. 
When he was growing up, the Mission native said, he was bullied. He felt isolated, even from his own family. He didn't have anyone he felt he could turn to. 
He found a safe escape in theater.
"Theater for me has helped me unleash my identity, my being comfortable with my sexuality and who I am. And a lot of people still don't accept it within my family. But it's OK, it gets better," he said.
Islas' journey to his own acceptance of being gay proved to be difficult, and one particular assignment during his time at UTRGV proved to seriously test him emotionally.  
He was enrolled in Literature and Disciplinary Learning in Elementary School (READ 3350), and the assignment was to write a memoir. He wanted to write about Halloween, because that holiday is special to him – a day when people can be whoever they want to be.
It took some convincing by his professor, but Islas decided to dig deep and write his story – about his struggles growing up. He created a hand-crafted children's book, and a short video, entitled "The Who Behind the Me."
The process left him vulnerable, he said, but he wanted to be transparent and, as a future educator, he wants to make a difference for future students.
"This is a small memoir of me, in a way. Of me coming out, and the journey of my life. How I grew up and who raised me," he said. "I feel like this topic is not spoken about enough. I feel educators in the school systems need to provide a more comfortable environment for their students. That's what I want to do. I want to help students in my classroom to become leaders of the world, if I possibly can."
Islas wrote his coming out story and relived some of the dark moments of his past. When he told his family he was gay, some were accepting. Others outright rejected him. 
"It was very difficult, reflecting on those moments when I was feeling alone," he said. "I talk about it a little more in my video – how I was disowned by my father when I was 18, and the journey I had to take after that. I had to learn how to become a man for myself. Grow up. I had to work. I came to school full time and kept my grades up. I want to finish what I started."
In his project book, he wrote a page about the disturbing moment he contemplated taking his own life. Lady Gaga – and her words – stopped him. Her music popped into his head, and he took a step down from the chair. 
"When I say Lady Gaga saved my life, I'm being very transparent about that. Her lyrics spoke to me. She helped me by discovering who I was in a time of confusion, especially living in a very conservative Mexican American culture in the Rio Grande Valley," he said. "The culture has this perception of how males should be like. That we should be dominant, very masculine. It's not what Lady Gaga says. It's about being who you are, staying true to yourself, staying true to your identity, and spreading love and kindness."
Islas said his mother has been his biggest support system. There was a time when she was confused, but they overcame that and grew even closer.
"She loves me, regardless. She told me that she was proud. She always told me since day one, when I graduated high school, 'It doesn't matter what career you go into, follow your heart, follow your dreams. As long as you stay true and you're happy, that's all that matters,'" he said.
To this day, Islas continues to teach himself to be better, to be more confident of who he is. It helped that the UTRGV community provided a welcoming environment, with guidance for the next steps in his academic journey. 
On Dec. 14 at the Bert Ogden Arena, Islas will accept his diploma during the College of Liberal Arts ceremony. He already has plans for his future – to work on his teaching certification and become an educator in the performing arts.
Students see teachers as superheroes, he said, and he wants to help teach his own students to be OK with who they are, to be kind and to accept others.
"I don't want kids to go through the things I went through, feeling alone," he said. "Feeling like they don't belong in this world. I want something uplifting for them, something positive, something great. 
"Promoting higher education – I feel that's the most important journey," Islas said.
ABOUT UTRGV
The University of Texas Rio Grande Valley (UTRGV) was created by the Texas Legislature in 2013 as the first major public university of the 21st century in Texas. This transformative initiative provided the opportunity to expand educational opportunities in the Rio Grande Valley, including a new School of Medicine, and made it possible for residents of the region to benefit from the Permanent University Fund – a public endowment contributing support to the University of Texas System and other institutions.
UTRGV has campuses and off-campus research and teaching sites throughout the Rio Grande Valley including in Boca Chica Beach, Brownsville (formerly The University of Texas at Brownsville campus), Edinburg (formerly The University of Texas-Pan American campus), Harlingen, McAllen, Port Isabel, Rio Grande City, and South Padre Island. UTRGV, a comprehensive academic institution, enrolled its first class in the fall of 2015, and the School of Medicine welcomed its first class in the summer of 2016.