The Clay's the Thing …

  Monday, December 2, 2019
  Awards and Recognitions
By Amanda Taylor
CHAUTAUQUA, NEW YORK / RIO GRANDE VALLEY, TEXAS –  A giant lump of clay sat in the center of a circle of student artists.
The artists, barefoot and hunched over, squeezed and worked the pallid clay between their fingers to understand its malleability.
Ultimately, that simple lump of clay would bond students for a final project and offer perspective into the world of working artists.
Three UTRGV student artists were part of that immersive summer experience during a seven-week art residency program at the Chautauqua School of Art in Chautauqua, New York.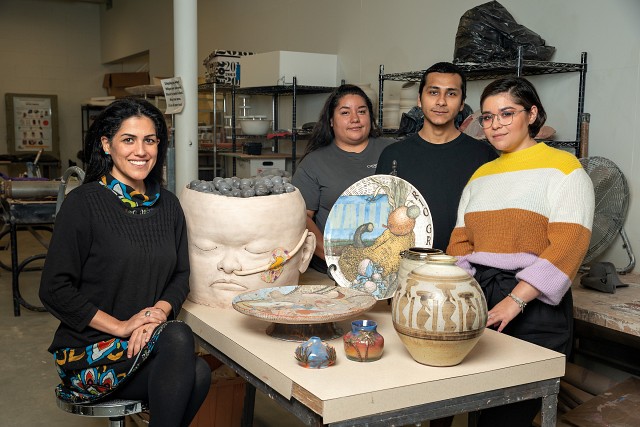 Dr. Raheleh T. Filsoofi, UTRGV assistant professor of ceramics in the School of Art and core faculty member at the Chautauqua School of Art, said experiences like this one are invaluable in helping students broaden their perceptions of the art world.
"There are so many opportunities for participants to have connection with core faculty that are there during the summer and work through different projects with the residents," she said. "There are also groups of visiting artists who come and visit throughout the program."
Financial support for students to attend the Chautauqua residency came from the UTRGV School of Art, the Office of the Vice President for Student Success and the Office of Global Engagement and Community Impact.
THE STUDENT EXPERIENCE
Fourteen UTRGV students applied to the Chautauqua residency program, but only three seniors were accepted – Shari Flores, a studio art major from La Joya; Adilene Rosales, a ceramics major from Mission; and Jonathan Hernandez, a fine arts major from Edinburg. A total of 38 students are accepted into the residency program each year.
Flores said her experiences at Chautauqua helped her expand on how she thinks about art and the mediums she uses.
"It allowed me to see working artists who work beyond traditional mediums like painting and drawing, and if they do work with these mediums, how they are able to transform that into the contemporary art world," she said.
To get accepted into the residency program, each artist must present a documentation of work progress and a personal narrative about his or her inspiration. Filsoofi said she is proud of her three students for getting in, because acceptance into this program is difficult and competitive. 
"For all of us that met in Chautauqua, it was very important to learn about the place itself and what it means to be there," she said.
In her own art, Filsoofi uses natural resources to make clay for sculpting. Applying these processes to the Chautauqua group, she sparked a social art project based on intuitive concepts. This meant that there was no planning ahead of time – the artists simply sculpted the clay and trusted their partners to help shape and mold it as it was happening.
"We tested the soil in Chautauqua, and we went through the process of creating clay from that soil," she said. "It was a very labor-intensive project, but through a very performative act, students got together to create this large sculptural form which is abstract."
The piece is called "The Social Sculpture," and acts as a visual recording of the participants movements and the intuition they fostered together. The sculpture was fired in a kiln at Chautauqua and will be officially installed at the school next year.
"We initially started the sculpture not knowing each other, and started with an amount of clay," said Flores, the studio art major. "We were encouraged to work together to build something without any prior plan or concept. It was a very fluid way of working without thinking. We were just trusting each other to work intuitively in collaboration with other artists."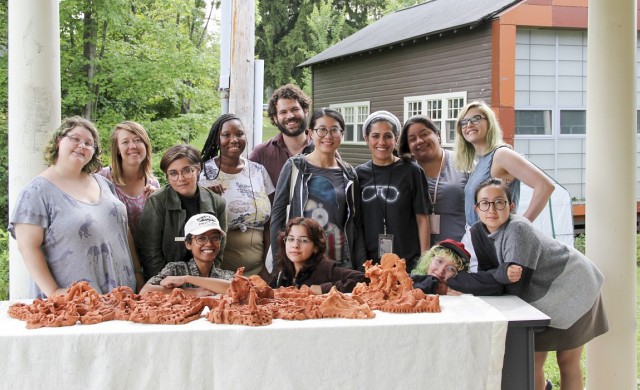 Rosales, a senior studying advanced ceramics, was able to bring her concepts on childhood cancer awareness to Chautauqua. She sold a piece at an art show held at the school, but her major takeaway from the residency program was being able to share her knowledge with others.
"I got to see things that we don't typically see here in the Valley," she said. "But I really liked talking to younger students. I got to explain to them what childhood cancer really is and how it's underfunded."
Filsoofi said artist residency programs like Chautauqua allow artists to collaborate and share what they've learned when they get home.
"One of the most important aspects of the program is how you're going to give back to your own community," she said. "I believe if we continue this relationship with Chautauqua, it will provide the opportunity for us to create a more dynamic art scene in the Valley."
ABOUT CHAUTAUQUA INSTITUTION
Chautauqua Institution is a not-for-profit, 750-acre community on Chautauqua Lake in southwestern New York State, where about 7,500 people are in residence on any day during a nine-week season. A total of more than 100,000 attend scheduled public events there.
Chautauqua is dedicated to the exploration of the best in human values and the enrichment of life through a program that explores the important religious, social and political issues of our times; stimulates provocative, thoughtful involvement of individuals and families in creative response to such issues; and promotes excellence and creativity in the appreciation, performance and teaching of the arts.
ABOUT UTRGV
The University of Texas Rio Grande Valley (UTRGV) was created by the Texas Legislature in 2013 as the first major public university of the 21st century in Texas. This transformative initiative provided the opportunity to expand educational opportunities in the Rio Grande Valley, including a new School of Medicine, and made it possible for residents of the region to benefit from the Permanent University Fund – a public endowment contributing support to the University of Texas System and other institutions.
UTRGV has campuses and off-campus research and teaching sites throughout the Rio Grande Valley including in Boca Chica Beach, Brownsville (formerly The University of Texas at Brownsville campus), Edinburg (formerly The University of Texas-Pan American campus), Harlingen, McAllen, Port Isabel, Rio Grande City, and South Padre Island. UTRGV, a comprehensive academic institution, enrolled its first class in the fall of 2015, and the School of Medicine welcomed its first class in the summer of 2016.