Thursday, October 17, 2019
  Around Campus
By Amanda Alaniz
EDINBURG, TEXAS – Creating connections and maintaining trust with patients are critical components in occupational therapy.
So UTRGV Department of Occupational Therapy clinical assistant professors Dr. Roel Garcia and Dr. John Luna decided to utilize the College of Education and P-16 Integration's Mixed-Reality Simulation (MRS) software to create "real-life" clinical scenarios in pediatrics for their graduate students.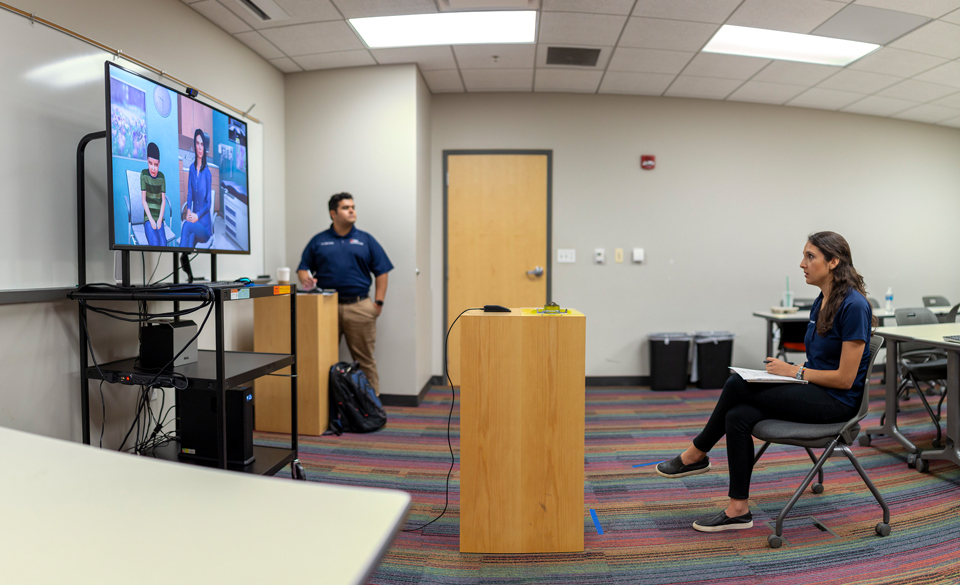 Students are given a clipboard and a set of questions they would ask mother-and-son avatars to gather information about the child's medical history, behavior and social interactions. The information would then be used for a treatment evaluation. 
The idea to utilize the software was discussed about a year ago, Garcia said, because graduate students complete fieldwork as part of their degree plan, and some were concerned they were having difficulty interacting with clients.
"They didn't have those communication skills to interact," he said. "So, using the MRS popped into my head, that that could possibly work to help improve those skills."
Luna received similar feedback from fieldwork educators about the level of preparation students had, in terms of community interaction.
"We have clinical competency-based education modules, but the MRS really gives us a tool that helps us facilitate that in a progressive learning environment, where we can introduce concepts and then expand upon them in class," he said. "We can help them build not just competency, but also confidence, by using tools like the MRS."
PRACTICAL LEARNING
Garcia and Luna reached out to Juan De La Rosa, a systems analyst in the Educational Technology Resource Center, to learn more about the software, and did some test runs themselves with the department. They decided MRS would be beneficial.
Twenty-four students participated in the MRS sessions Sept. 26-27 in the Education Complex on the UTRGV Edinburg Campus.
Brownsville native Ashley Taylor, a second-year graduate student, was one of the participants. The experience interviewing "clients" and being able to use the simulation could help build her skillset.
"It's different. It's computerized, a virtual simulation, and you get thrown different factors, like how to handle clients when they're upset or they feel very vulnerable with information," she said. "What I took away from it was being able to reengage the client to the conversation, and to keep practicing."
Taylor's classmate, Celina Martinez, a second-year UTRGV graduate student from La Feria, said the exercise definitely helped them prepare for what it would be like when they do their fieldwork.
After completing the session, she said, she could see herself applying what she learned to her career.
"I think it can help really create that kind of relationship with others, to help with communication, because that's very important in occupational therapy," she said. "You're talking to a lot of people, so you need to understand what they're going through, and to make sure how you're communicating with them helps them feel unjudged and comfortable."
Garcia and Luna shared similar views about having access to a resource, such as the MRS, and how it could help students grow.
"I'm glad we have this at our university that we can use as a resource. Hopefully, we can expand on it and make it better for our students," Garcia said. "For what it has right now, what it offers, it's great for our department."
Luna agreed that access to learning tools like the MRS is a great example of how UTRGV supports students to help ensure their future success.
"It gives us the tools to create this innovative educational environment for our students that in turn can support their success in the community," Luna said.
ABOUT UTRGV
The University of Texas Rio Grande Valley (UTRGV) was created by the Texas Legislature in 2013 as the first major public university of the 21st century in Texas. This transformative initiative provided the opportunity to expand educational opportunities in the Rio Grande Valley, including a new School of Medicine, and made it possible for residents of the region to benefit from the Permanent University Fund – a public endowment contributing support to the University of Texas System and other institutions.
UTRGV has campuses and off-campus research and teaching sites throughout the Rio Grande Valley including in Boca Chica Beach, Brownsville (formerly The University of Texas at Brownsville campus), Edinburg (formerly The University of Texas-Pan American campus), Harlingen, McAllen, Port Isabel, Rio Grande City, and South Padre Island. UTRGV, a comprehensive academic institution, enrolled its first class in the fall of 2015, and the School of Medicine welcomed its first class in the summer of 2016.