Monday, September 16, 2019
  Announcements, Community
By News and Internal Communications
  PHOTO GALLERY by Paul Chouy
Password: advantage (case sensitive)
EDINBURG, TEXAS – The University of Texas Rio Grande Valley on Monday announced the most expansive free-tuition program among public institutions in the state of Texas.
Beginning Fall 2020, the new UTRGV Tuition Advantage will cover the costs of tuition and mandatory fees for qualifying students who have an adjusted gross family income of $75,000 or less.
UTRGV Tuition Advantage is open to all in-state undergraduate students, including incoming freshmen and returning and transfer students, who meet the program's requirements.
"The ability to pay for college should not be a determining factor in who attends a UT institution," said Board of Regents Chairman Kevin P. Eltife. "The regents are committed to minimizing financial barriers, and we are exceptionally pleased with UTRGV's new tuition assistance program and the impact it will have on making access and affordability much easier for students and their families."
Overall, UTRGV estimates more than half of its undergraduate students will attend the university during the 2020-2021 academic year without paying tuition and mandatory fees.
"The UT System is committed to increasing access and student success at all of our institutions, and we applaud UTRGV for launching this extraordinary program to make a high-quality college education more accessible and affordable for all," said UT System Chancellor James B. Milliken.
UTRGV recently has been recognized nationally for its unmatched value. Money magazine ranked UTRGV the third-best public university in Texas (behind Texas A&M University and University of Texas at Austin, respectively) based on quality of education, affordability and outcomes. In the recent Washington Monthly college rankings, UTRGV was the highest-ranked public university for value nationwide and a Top 20 Master's University.
"The UTRGV Tuition Advantage will be a game-changer for higher education in Texas," said UTRGV President Guy Bailey. "At UTRGV, you can obtain a high-quality education without mortgaging your future. I truly believe we are the best value in Texas higher education."
More information on UTRGV Tuition Advantage, including program requirements, is available here.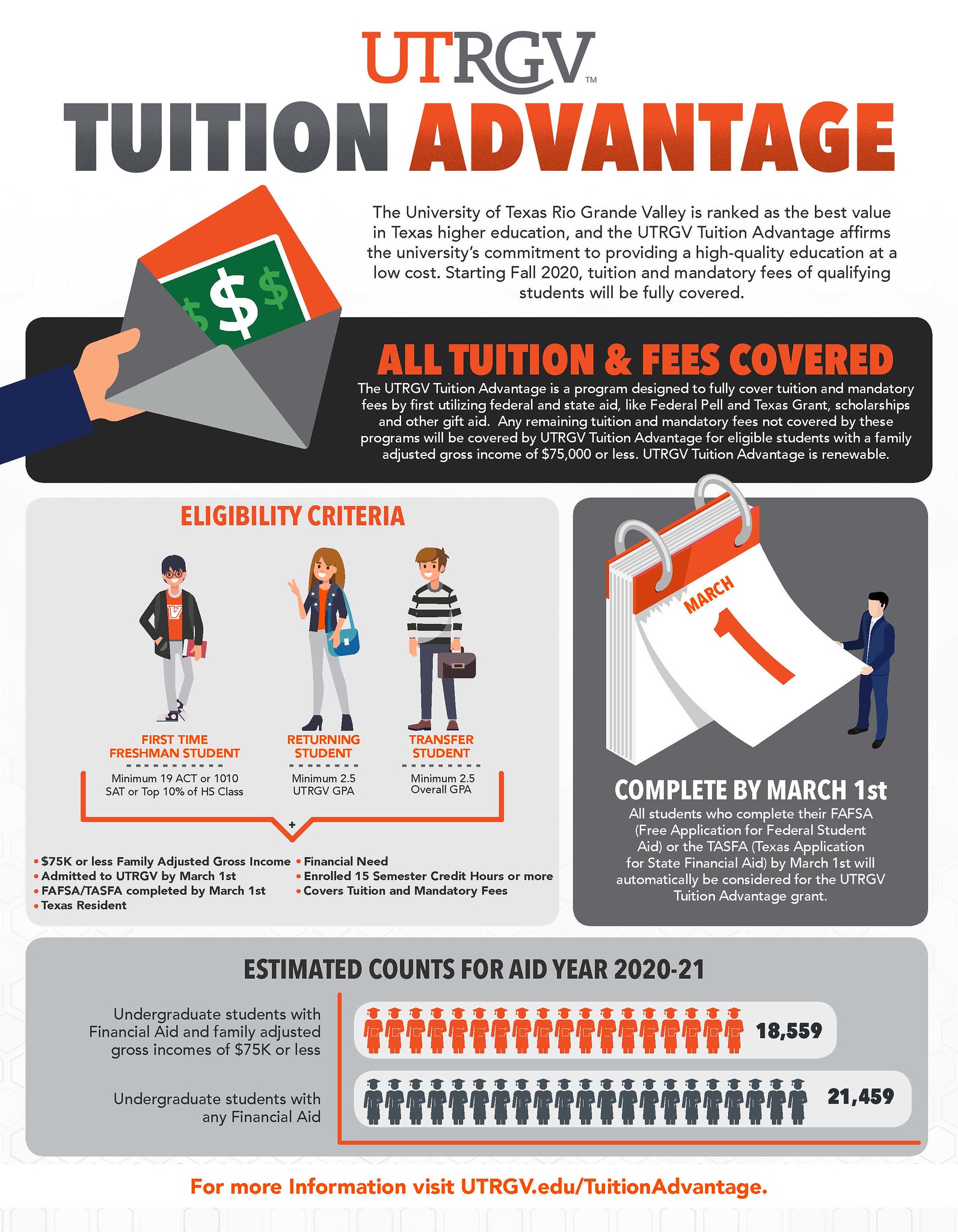 ABOUT UTRGV
The University of Texas Rio Grande Valley (UTRGV) was created by the Texas Legislature in 2013 as the first major public university of the 21st century in Texas. This transformative initiative provided the opportunity to expand educational opportunities in the Rio Grande Valley, including a new School of Medicine, and made it possible for residents of the region to benefit from the Permanent University Fund – a public endowment contributing support to the University of Texas System and other institutions.
UTRGV has campuses and off-campus research and teaching sites throughout the Rio Grande Valley including in Boca Chica Beach, Brownsville (formerly The University of Texas at Brownsville campus), Edinburg (formerly The University of Texas-Pan American campus), Harlingen, McAllen, Port Isabel, Rio Grande City, and South Padre Island. UTRGV, a comprehensive academic institution, enrolled its first class in the fall of 2015, and the School of Medicine welcomed its first class in the summer of 2016.