Friday, September 13, 2019
  Around Campus, Student Life
By Maria Elena Hernandez
RIO GRANDE VALLEY, TEXAS – College students face challenges that go beyond academics. Some deal with issues outside the classroom – like addiction.
"Many students out there do struggle with this," said Dr. Christopher Albert, director of the UTRGV Counseling Center. "We can help them to go through the process of what's called recovery from addiction."
SERVICES AVAILABLE
The UTRGV Counseling Center's services include the UTRGV Collegiate Recovery Program.
"The goal is to raise awareness, provide education and connect students with services that can help them if they're dealing with substance abuse problems, alcohol addictions, even addictions that don't involve alcohol or drugs, such as gambling or eating or sex," Albert said.
"We know that one of the primary ingredients for successful recovery is support and having a network of support, especially from peers who have gone through the recovery process themselves," he said. "So the program is primarily about building that type of network of support, as well as providing education and building awareness."
HIGHLIGHTING RECOVERY
September is National Recovery Month, and as part of building awareness, the Valley community will be able to join the Collegiate Recovery Program at two events this month.
On Sunday, Sept. 15, the program will join UTRGV Athletics, the UTRGV School of Rehabilitation Services and Counseling, and several community organizations in the first Community Recovery Walk. It will be held at the UTRGV Women's Soccer game in Edinburg. Information about available resources will be provided before the 7 p.m. game begins, and a Recovery Walk will be held during intermission.
The UTRGV Collegiate Recovery Program Recovery Walk-A-Thon will be held on the Edinburg and Brownsville campuses later this month:
Edinburg Campus:
 11 a.m. - 2 p.m. Wednesday, Sept. 25, on the East Chapel Lawn.
Brownsville Campus:
 11 a.m. – 2 p.m. Thursday, Sept. 26, on the Student Union Lawn.
Albert said an addiction that is not being treated gets in the way of a student's success, not just during their academic career, but also throughout life.
"We do want to draw attention," he said. "You don't just have to be struggling with an addiction to join us. We want everyone to join us. We want allies."
 Participation in the Collegiate Recovery Program is free. Even students who aren't sure something they're struggling with is an addiction are invited to reach out to the program.
"Come on in and just ask. You're not committing to anything if you drop in for information," Albert said.
Anyone interested in getting more information about the UTRGV Collegiate Recovery Program can visit utrgv.edu/recovery.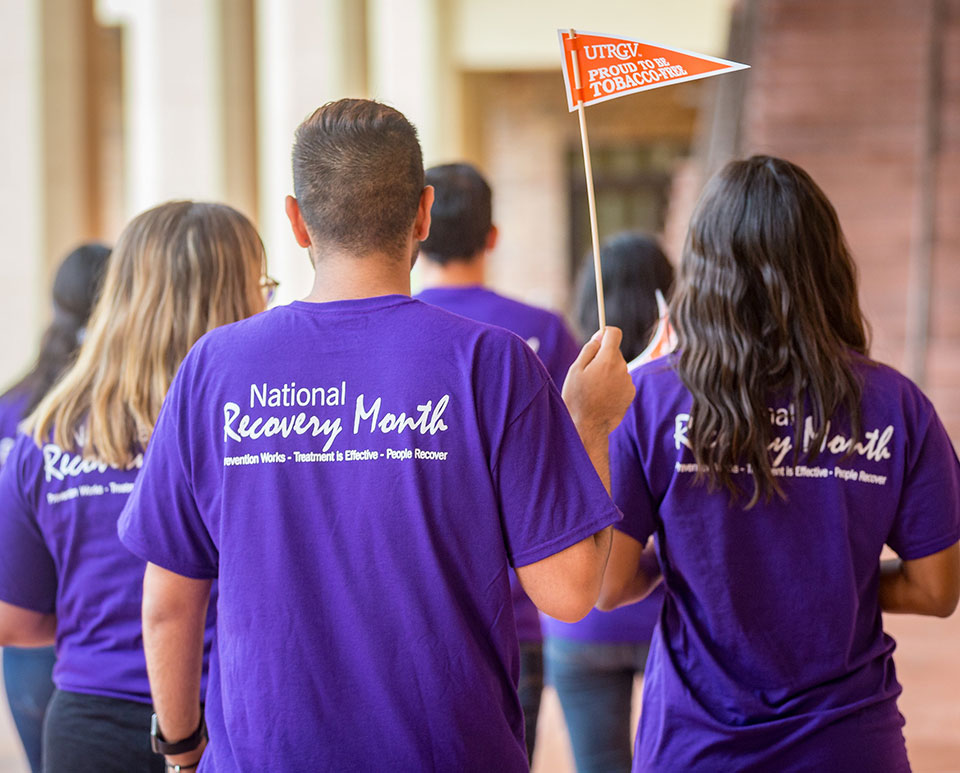 ABOUT UTRGV
The University of Texas Rio Grande Valley (UTRGV) was created by the Texas Legislature in 2013 as the first major public university of the 21st century in Texas. This transformative initiative provided the opportunity to expand educational opportunities in the Rio Grande Valley, including a new School of Medicine, and made it possible for residents of the region to benefit from the Permanent University Fund – a public endowment contributing support to the University of Texas System and other institutions.
UTRGV has campuses and off-campus research and teaching sites throughout the Rio Grande Valley including in Boca Chica Beach, Brownsville (formerly The University of Texas at Brownsville campus), Edinburg (formerly The University of Texas-Pan American campus), Harlingen, McAllen, Port Isabel, Rio Grande City, and South Padre Island. UTRGV, a comprehensive academic institution, enrolled its first class in the fall of 2015, and the School of Medicine welcomed its first class in the summer of 2016.