Today, Sept. 12, is National Video Games Day

  Thursday, September 12, 2019
  Around Campus
By Priscilla Ramirez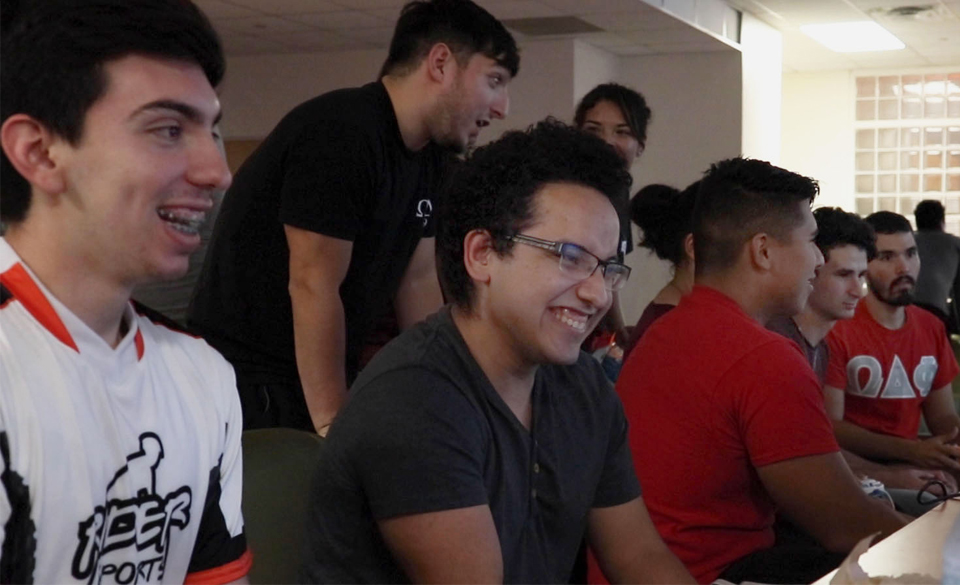 RIO GRANDE VALLEY, TEXAS – If you ask about his childhood, Irving Guerrero will tell you just how video games shaped his life.
Now president of Rider Esports – a UTRGV student-led organization that cultivates a positive, competitive gaming culture – Guerrero, of Hidalgo, said his interest in gaming definitely has evolved.
"When I was little, I was happy just to see a new game come out," he said. "But to see games in a competitive scene – I didn't really think about it back then."
That's where Rider Esports, cofounded by Guerrero and some friends in fall 2018, comes in. It gives gamers a chance to socialize, play their favorite games, and challenge themselves in friendly competitions.
Because esports is considered an intramural sport at the college level, Rider Esports is able to use the University Recreational Center (UREC) for meetings, where they discuss tournaments, establish groups and, of course, practice.
With the popularity of esports growing, more people are rallying their teams to compete. With that comes a growing audience of friends and gamers to attend tournaments. And let's not forget the prize money. Teams can have sponsors, and as competitions intensify with more and better players, a high-stakes environment can develop.
Video games have shaped an entire generation as a common form of entertainment – much like radio, film and television did for previous generations. Today, gaming comes in a broad array of platforms – computers, consoles, and even mobile apps are creating more access to video games than ever before.
CHALLENGER APPROACHING
UTRGV junior Marco Ortiz Jr., of McAllen, is an officer in Rider Esports, and leads in two popular fighting game titles, "Dragon Ball Fighters" and "Street Fighter." He is also an active competitor and player of "Mortal Kombat."
Ortiz admits he was nervous, at first, about participating in gaming competitions, but said once he did, the nerves went away.
"It's just something you have to put yourself into. If you lose, you lose. It's still a learning experience," he said. "It's not just about the competition, it's about the experience."
While practice is an important part of building confidence in your game, Rider Esports also uses a popular free voice chat system called Discord, which allows them to communicate with a wide community of players.
BUILDING AND GROWING
Guerrero said that while he loves gaming, his goal as president of Rider Esports is to promote the organization and grow membership. 
"I have personally competed in 'League of Legends,'" he said. "But now I want to be part of a more managerial scene. I want to build up this organization for everyone at UTRGV."
Joining him on the quest to renown is the club vice president, Alejandro "Alex" Hernandez, a mechanical engineering major, who is a tournament organizer.
"I get to meet all sorts of people, I get to talk to all different kinds of people," Hernandez said. "That's what I really enjoy – seeing the community come together."
Throughout the year, Rider Esports hosts informational booths on campus and organizes tournaments for the UTRGV community.
Guerrero and Hernandez both said the mission of Rider Esports is to create a full-fledged gaming team to travel across the country for tournaments and scrimmages. That only exists online, right now, but they've begun to network with other universities, starting in Texas, to get the ball rolling.
"Eventually, here in the long run, that's what we would like to do. We want to get colleges to come down to us," Hernandez said. "People always ask where the Rio Grande Valley is, and we want to make a statement."
Reach Rider Esports via email at
rideresports@outlook.com
,
or through their Discord invite link:
https://discord.gg/PSDGRrf
.
ABOUT UTRGV
The University of Texas Rio Grande Valley (UTRGV) was created by the Texas Legislature in 2013 as the first major public university of the 21st century in Texas. This transformative initiative provided the opportunity to expand educational opportunities in the Rio Grande Valley, including a new School of Medicine, and made it possible for residents of the region to benefit from the Permanent University Fund – a public endowment contributing support to the University of Texas System and other institutions.
UTRGV has campuses and off-campus research and teaching sites throughout the Rio Grande Valley including in Boca Chica Beach, Brownsville (formerly The University of Texas at Brownsville campus), Edinburg (formerly The University of Texas-Pan American campus), Harlingen, McAllen, Port Isabel, Rio Grande City, and South Padre Island. UTRGV, a comprehensive academic institution, enrolled its first class in the fall of 2015, and the School of Medicine welcomed its first class in the summer of 2016.