Friday, August 23, 2019
  Around Campus, Community
By Amanda Alaniz
 PHOTO GALLERY by Paul Chouy and Silver Salas
Password: movein (case sensitive)
EDINBURG, TEXAS – An estimated 850 UTRGV students are expected to be living on campus this academic year, and move-in days are always hectic and emotional.
On the Edinburg Campus on Thursday, families wheeled in boxes, crates and bags into the dorms to help their college students make the new space feel like home.
Incoming freshman Max Hernandez, a Houston native and early childhood education major, was guided to his dorm to begin the mandatory inspection of the space. His parents were there to help him before he began to settle in. 
"I hope to have a great experience, meet new people and get the education that I want," he said.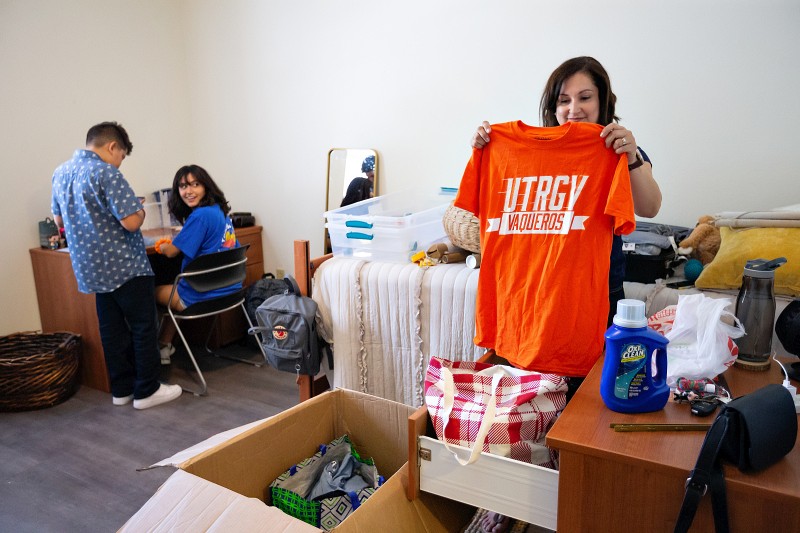 His father, Mario Hernandez, said he's happy that his youngest son is starting college, but he is going to miss having him around.
"We feel happy because he's going to start a new life here. The other hand, we're going to be kind of sad, but it's for a good reason," he said.
Amber Marie Gonzalez, a Rio Hondo native and nursing major, said she felt some relief when she knew she was going to be rooming with her friend, Ana Saucedo. The freshman is ready to experience what life will be like living away from home. 
"I feel excited. I feel like it's going to be really fun, something different, living on my own," Amber said.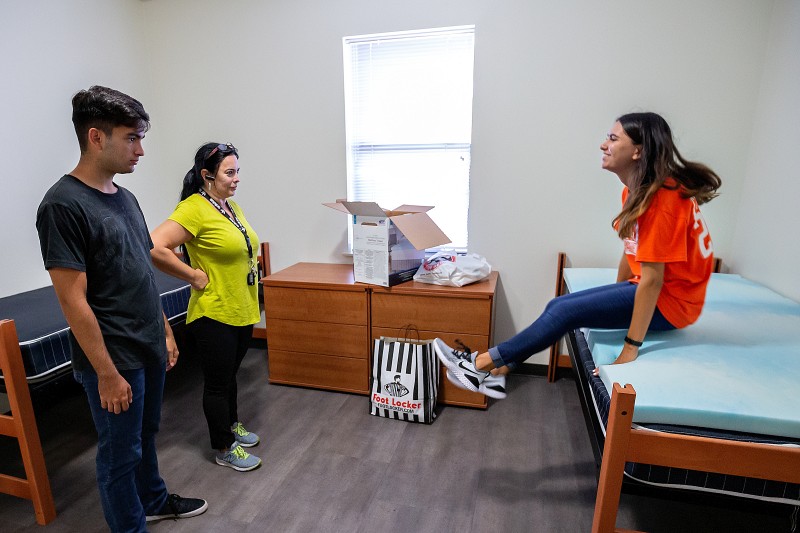 Erica Gonzalez, her mother, is proud of her daughter for what she has accomplished, but found herself overcome with emotion while helping Amber move into her dorm.
Amber's friend Ana, a Rio Hondo native and nursing major, also was settling into their shared dorm, and appreciated the help from her own family as they hauled in boxes, bedding, decor and a full-length mirror. She, too, is looking forward to campus life.
"There's a lot to do around here, all the activities, getting to meet new people," she said.
Gabriela Saucedo, Ana's mother, referred to her daughter as her right hand at home and was happy for her to start this new chapter.
"She's my only girl, it was just me and her, the girls at the house. I'm going to miss my other female, my partner in crime," she said. "I told her to stay focused and have fun at the same time and get involved. If she goes through what she wants, she's going to have a long time in school, so she just needs to focus and get it done, because it'll be worth it."
Ana's brother Rodrigo said he's going to miss going bike riding with his big sister, and her cooking, but he is excited for her.
"She's finally going to college, she'll be happy," he said.
Vaquero Move-In Day continues in Brownsville on Friday, Aug. 23.
To learn more about living on campus at UTRGV, visit the UTRGV Department of Housing and Residence Life.
ABOUT UTRGV
The University of Texas Rio Grande Valley (UTRGV) was created by the Texas Legislature in 2013 as the first major public university of the 21st century in Texas. This transformative initiative provided the opportunity to expand educational opportunities in the Rio Grande Valley, including a new School of Medicine, and made it possible for residents of the region to benefit from the Permanent University Fund – a public endowment contributing support to the University of Texas System and other institutions.
UTRGV has campuses and off-campus research and teaching sites throughout the Rio Grande Valley including in Boca Chica Beach, Brownsville (formerly The University of Texas at Brownsville campus), Edinburg (formerly The University of Texas-Pan American campus), Harlingen, McAllen, Port Isabel, Rio Grande City, and South Padre Island. UTRGV, a comprehensive academic institution, enrolled its first class in the fall of 2015, and the School of Medicine welcomed its first class in the summer of 2016.