Friday, August 9, 2019
  Community, Around Campus
By Maria Elena Hernandez
RIO GRANDE VALLEY, TEXAS – In his final year at Rising Scholars Academy of South Texas, Rene Zavier Villarreal was part of the chess team, which won first place at the Texas Chess Association Regional Chess Championship.
He enters ninth grade this fall at Veterans Memorial High School in Brownsville where, of course, he plans to join the chess team. So the 14-year-old didn't wait for school to start to sharpen his chess skills.
He and his 8-year-old brother, Adan Lopez, both signed up for the UTRGV Summer Chess Camp in July.
"It's pretty cool to know you're trained by professionals at something you really want to be good at," Villarreal said. "It's better to learn from the best."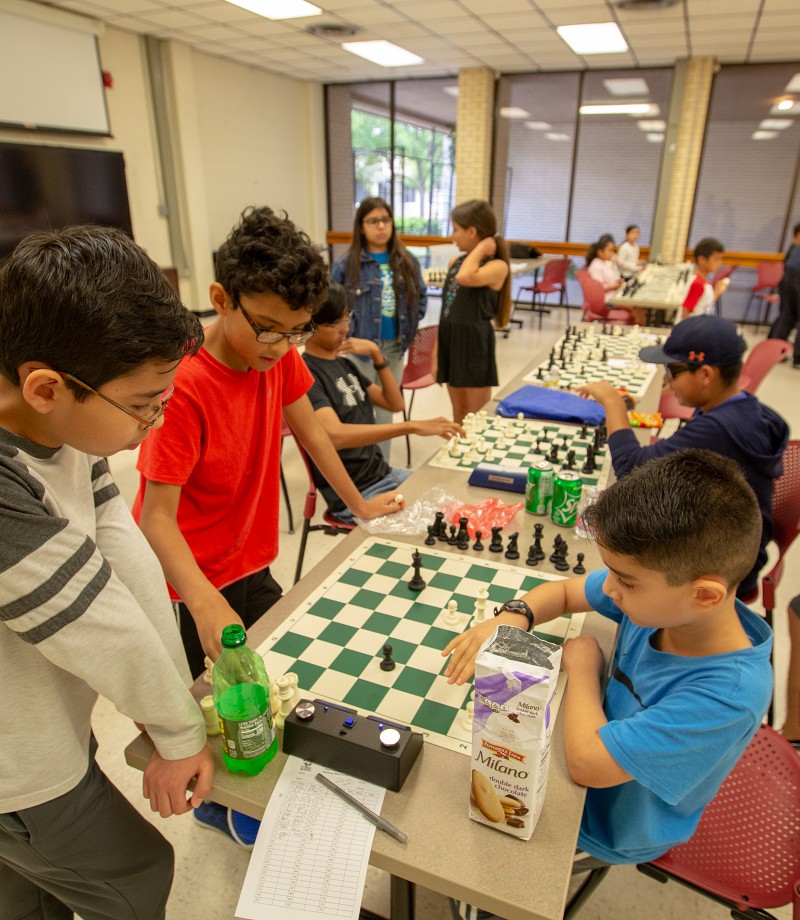 LEARNING FROM CHAMPIONS
UTRGV chess program manager Alex Mista led the summer camp. Mista is a grandmaster, the highest title a chess player can earn.
Fellow grandmaster Vladimir Belous assisted him during the weeklong camp. Belous is a member of UTRGV's back-to-back national collegiate chess championship team, which successfully defended its title earlier this year.
Eighteen students signed up for the chess camp, held at the UTRGV Brownsville Campus.
"We had a lot of fun playing chess, playing tournaments, solving puzzles, and many more activities," Mista said.
In one exercise, camp participants had to checkmate in one or two moves.
"We also had some lectures where we described strategies on how to do openings and finish the game," said Mista.
FOSTERING FUTURE CHESS MASTERS
Belous, a member of the UTRGV chess team who assisted with the camp and is originally from Russia, said camps like this one are a great place to start developing one's passion for chess.
"In the future, who knows? Maybe we will get our own grandmaster," he said. "Everyone who is on the UTRGV chess team right now, I think they started the same as these kids, with chess camp. I also got knowledge from grandmasters. Just to talk, to play against each other or to play against me here, they're getting strong and stronger."
Villarreal said he had lots of fun.
"It's a great experience. It's helped me in the stuff I've had trouble with," he said.
He also said it helped his younger brother improve his skills.
At the end of the camp, participants were awarded certificates, trophies and chessboards signed by UTRGV's national championship team. A few students also won a voucher for a one-on-one lesson with a grandmaster.
And while the chess summer camp is over, there are more opportunities to meet with the UTRGV chess team. Chess meetings, usually held Wednesdays at Cortez Hall on the UTRGV Brownsville Campus, are free and open to everyone.
For more information, like the UTRGV Chess Team Facebook page.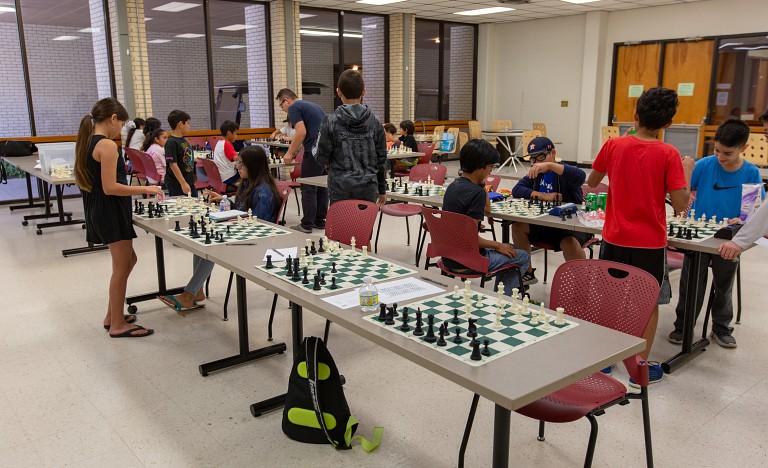 ABOUT UTRGV
The University of Texas Rio Grande Valley (UTRGV) was created by the Texas Legislature in 2013 as the first major public university of the 21st century in Texas. This transformative initiative provided the opportunity to expand educational opportunities in the Rio Grande Valley, including a new School of Medicine, and made it possible for residents of the region to benefit from the Permanent University Fund – a public endowment contributing support to the University of Texas System and other institutions.
UTRGV has campuses and off-campus research and teaching sites throughout the Rio Grande Valley including in Boca Chica Beach, Brownsville (formerly The University of Texas at Brownsville campus), Edinburg (formerly The University of Texas-Pan American campus), Harlingen, McAllen, Port Isabel, Rio Grande City, and South Padre Island. UTRGV, a comprehensive academic institution, enrolled its first class in the fall of 2015, and the School of Medicine welcomed its first class in the summer of 2016.