Wednesday, August 7, 2019
  Awards and Recognitions, Announcements
By News and Internal Communications
RIO GRANDE VALLEY, TEXAS – Dr. Gladys Maestre, professor of neurosciences at The UTRGV School of Medicine, director of the Rio Grande Valley Alzheimer´s Disease Resource Center for Minority Aging, and director of the Memory Disorders Center at the UTRGV Institute for Neurosciences, is part of an international study that found monitoring blood pressure over 24 hours out-of-office is the best way to predict heart and vascular disease.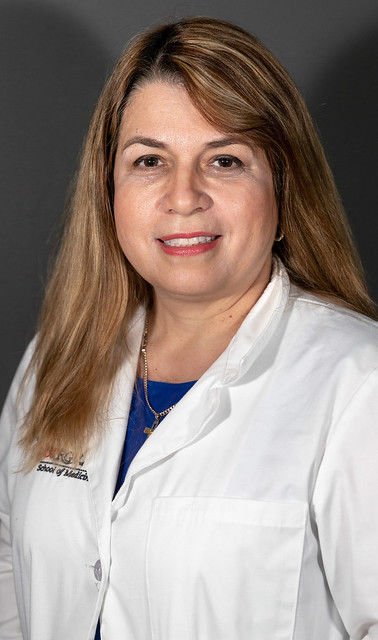 Maestre, who supervised the 12-country study in Venezuela, said blood pressure is the most important treatable risk factor for diseases of the heart and the arterial system.
The conclusions of the international study – published recently by the influential "Journal of the American Medical Association" – are important, Maestre said, because most health insurers in the United States reimburse ambulatory blood pressure monitoring only when blood pressure is found to be high in the clinical setting but is suspected to be normal otherwise, or for those patients with blood pressure measurements in a doctor's office lower than measurements taken out-of-office.
Monitoring blood pressure over 24 hours in patients treated for hypertension is not covered by Medicare and Medicaid, limiting the access to the highest standard of care.
"This disregards the fact that 24‑hour ambulatory blood pressure monitoring is cost-effective," she said. "It enables the prevention of cardiovascular disease by starting blood pressure-lowering treatment in a timely manner."
Compared with hospital-based treatment of the complications of high blood pressure – mainly chest pain caused by narrowing of the arteries of the heart, myocardial infarction (heart attack) and stroke – prevention is cost-effective and mitigates the risk of premature disability and death.
About 30 percent of all adults and 60 percent of people 60 or older have high blood pressure.
"Ambulatory blood pressure monitoring should therefore be available at all levels of the healthcare delivery chain," Maestre said. 
METHODOLOGY
The international study followed 11,135 individuals for 14 years, with study participants enrolled in 12 countries in Europe, East Asia and Latin America.
The study was coordinated internationally by professors Jan A. Staessen and Zhen-Yu Zhang, both affiliated with the Research Unit Hypertension and Cardiovascular Epidemiology, University of Leuven in Belgium.
Researchers compared the predictive accuracy of blood pressure measurements done by a healthcare provider in an office setting, with repeated blood pressure measurements recorded during the day, at night and over 24 hours.
The results showed the probability of heart and vascular disease during follow-up sessions was associated most closely with the blood pressure readings over 24 hours and at night.
Blood pressure recorded over 24 hours predicts these complications much better than the blood pressure measured on a single occasion by nurses or physicians in practices or in the hospital, Maestre said, and whole-day blood pressure measurement should include the blood pressure recorded at night during sleep.
"Although heart and vascular disease are strongly associated with blood pressure, irrespective of how it is measured, we previously did not know which type of blood pressure measurement captured risk in the most accurate way" she said.
Worldwide, high blood pressure causes more than half of the deaths that can be attributed to cardiovascular disease, and it is important to note that high blood pressure, of all the risk factors for heart and vascular disease, is the most treatable.
"Our research highlights the necessity of measuring over 24 hours to diagnose high blood pressure and to institute and fine tune its treatment," Maestre said.
ABOUT UTRGV
The University of Texas Rio Grande Valley (UTRGV) was created by the Texas Legislature in 2013 as the first major public university of the 21st century in Texas. This transformative initiative provided the opportunity to expand educational opportunities in the Rio Grande Valley, including a new School of Medicine, and made it possible for residents of the region to benefit from the Permanent University Fund – a public endowment contributing support to the University of Texas System and other institutions.
UTRGV has campuses and off-campus research and teaching sites throughout the Rio Grande Valley including in Boca Chica Beach, Brownsville (formerly The University of Texas at Brownsville campus), Edinburg (formerly The University of Texas-Pan American campus), Harlingen, McAllen, Port Isabel, Rio Grande City, and South Padre Island. UTRGV, a comprehensive academic institution, enrolled its first class in the fall of 2015, and the School of Medicine welcomed its first class in the summer of 2016.