Friday, August 2, 2019
  Community, Announcements, Athletics
By News and Internal Communications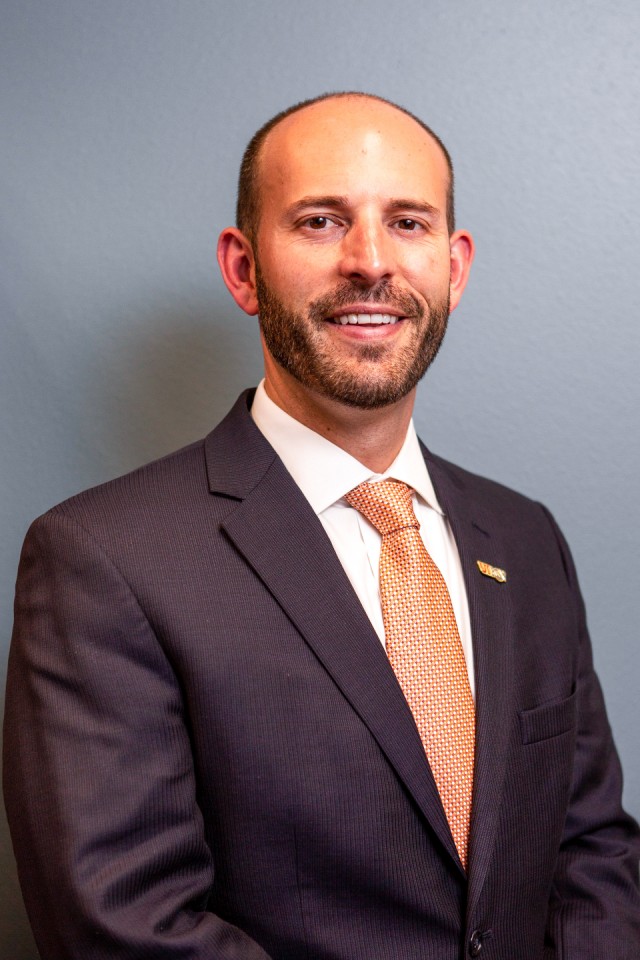 RIO GRANDE VALLEY, TEXAS – The University of Texas Rio Grande Valley announced Friday that it has hired Chasse Conque (pronounced Chase Konk) as its new Vice President and Director of Athletics.
Conque has served as Vice Chancellor and Director of Athletics at the University of Arkansas at Little Rock since 2015. An official start date has not been set but Conque hopes to begin his new role by Sept. 1.
"I first want to thank President Guy Bailey for affording me this opportunity to lead UTRGV Athletics. His vision and passion for intercollegiate athletics is second to none," Conque said. "It is evident that UTRGV is on the move, and sustaining a strong athletics program is key to uniting the campus community and the entire Rio Grande Valley."
During Conque's tenure at Little Rock — which competes at the NCAA Division I level — he helped lead a resurgence of the athletic department, both on and off the playing surfaces:
Little Rock won a combined 19 team and individual Sun Belt Conference championships, highlighted by both the men's and women's basketball teams reaching the second round of the NCAA tournament.
Three Little Rock head coaches garnered Sun Belt Conference Coach of the Year honors.
Nearly four dozen Little Rock student-athletes were named all-conference.
In 2017-18, Little Rock posted the highest Graduation Success Rate of any Division I institution in Arkansas in six of the last seven years, graduating 82 percent of Trojan student-athletes.
Little Rock student-athletes have posted a department-wide GPA above 3.00 for 13 consecutive semesters, including a 3.36 GPA following Fall 2018 in which 124 Little Rock student-athletes registered a GPA of 3.00 or higher and 38 boasted a perfect 4.00.
In Spring 2018, Little Rock added a wrestling program that joined the Pac-12 Conference. 
In 2017-18, Little Rock set a program record for fundraising, raising $4.3 million to bring its total to more than $11 million over the past three years.
"We are confident that Chasse is the right person to take UTRGV Athletics to the next level," Bailey said. "He is truly a rising star in the industry, and hiring someone of his caliber is a direct reflection of the great things occurring at UTRGV."
"I'd like to thank Rick Anderson (EVP for Finance and Administration) for serving as interim athletics director and the members of the search committee for their outstanding work throughout this process." 

One of Little Rock's top athletic highlights under Conque came in 2015-16 when the men's basketball team finished the season 30-5 and advanced to the second round of the NCAA Tournament after an 85-83 double-overtime win over Purdue. The head coach of that team was Chris Beard, whom Conque hired in April of 2015. Beard is now head coach at Texas Tech and considered one of the top coaches in the country after leading the Red Raiders to the national championship game last season.
"UTRGV has made an outstanding hire in Chasse Conque," Beard said. "Chasse is a leader in every sense of the word. He will work tirelessly with everyone involved to elevate UTRGV Athletics. Chasse knows how to build championship programs and his work ethic, integrity and innovative thinking make him a perfect fit for UTRGV.  Congratulations President Bailey and UTRGV for winning big with this hire." 
As part of the UTRGV hiring process, Conque was given a tour of the Valley to see firsthand the university's expanding footprint, including visits to the Edinburg, Harlingen and Brownsville campuses. He also met with a variety of students, faculty, staff, alumni and other community leaders during his visit.
"I look forward to working with our coaches and staff to continue to enhance the Vaqueros student-athlete experience while partnering with our campus community, former lettermen, alumni and supporters to truly make UTRGV Athletics the pride of the Rio Grande Valley," Conque said. "My family and I look forward to joining the Vaqueros family and calling the Rio Grande Valley our new home."
Conque earned his MBA from the University of Arkansas at Little Rock in 2008 and his bachelor's degree in finance from the University of Central Arkansas.
Conque and his wife, Lisa, have three daughters: twins Julianna and Sydney (7) and Adeline (5).
What others are saying about Chasse Conque:
"UTRGV just hired a winner. Chasse is one of the great young athletic directors in the country. He brings with him a strong background in fundraising and doing things the right way. I will miss not having him in the Sun Belt but glad to have him in Texas. He is going to do a great job for UTRGV and they couldn't have pick a better person for the job.
— Jim Baker, Director of Athletics at UT Arlington
"UTRGV has hired one of the real up-and-comers in athletics administration. Chasse is a very talented and solid man who will be a great asset to the university and to the community."
— Dr. Joel Anderson, chancellor emeritus at the
University of Arkansas at Little Rock
"Chasse Conque is a great athletic director and an even better person.  He is a consummate professional yet makes work enjoyable for all. Chasse will instill a confidence in all constituents regarding the athletics program growing the brand on many levels. I congratulate Chasse and all the Vaqueros."
— Dr. Brad Teague, Director of Athletics at Central Arkansas
"Chasse Conque is truly one of the 'rising stars' in this business. While a big loss for Little Rock, this is a great — no, tremendous — hire for UTRGV."
— Karl Benson, former commissioner of the Mid-American,
Western Athletic and Sun Belt Conferences
ABOUT UTRGV
The University of Texas Rio Grande Valley (UTRGV) was created by the Texas Legislature in 2013 as the first major public university of the 21st century in Texas. This transformative initiative provided the opportunity to expand educational opportunities in the Rio Grande Valley, including a new School of Medicine, and made it possible for residents of the region to benefit from the Permanent University Fund – a public endowment contributing support to the University of Texas System and other institutions.
UTRGV has campuses and off-campus research and teaching sites throughout the Rio Grande Valley including in Boca Chica Beach, Brownsville (formerly The University of Texas at Brownsville campus), Edinburg (formerly The University of Texas-Pan American campus), Harlingen, McAllen, Port Isabel, Rio Grande City, and South Padre Island. UTRGV, a comprehensive academic institution, enrolled its first class in the fall of 2015, and the School of Medicine welcomed its first class in the summer of 2016.