Saturday, July 27, 2019
  Community, Around Campus
By News and Internal Communications
EDINBURG, TEXAS – The UTRGV School of Medicine welcomed its newest 55 students July 27 with a White Coat Ceremony at UTRGV Performing Arts Auditorium.
The ceremony marks the beginning of a medical student's education and career.
After being cloaked in their signature white lab coats by School of Medicine leaders, the fourth cohort of UTRGV medical students recited the Hippocratic Oath – which acknowledges their primary role as caregivers – in the presence of their loved ones, school leaders and peers.
Dr. John H. Krouse, executive vice president for Health Affairs and dean of the UTRGV School of Medicine, congratulated the students for their achievements thus far and emphasized the importance of staying humble and showing compassion.
"The White Coat Ceremony is certainly a celebration of our students, but even more importantly marks a solemn day in which young student physicians pledge to uphold the highest ethical and moral standards as medical practitioners in training, and take their oaths to care for all patients, not only those in positions of privilege or power, but also those without voices or means, and without ready access to medical care," Krouse said. 
"They promise to uphold these lofty standards of professionalism, which have characterized physicians and healers since the earliest days of civilization."
Dr. David L. Lakey, vice chancellor for Health Affairs and chief medical officer for The University of Texas System, delivered the keynote address.
"To be a healer isn't just another job," Lakey told the new medical students. "It's a commitment to a lifetime of service, learning and care. That is the deepest part of why we are here. It's why your families are so proud of you. It's why you're so excited, and nervous. It's why the title 'doctor' means something special in our society."
ABOUT THE CLASS OF 2023
With the arrival of the Class of 2023, the UTRGV School of Medicine reaches a full enrollment of 210 students.
Here are some facts about the incoming class:
The students were selected from more than 4,400 applications. Of those applicants, the School of Medicine interviewed 389 potential students.
This class has the largest number of students from the Rio Grande Valley than previous classes, with 24 Valley natives joining the School of Medicine. Of the 24 Valley students, 15 are graduates of UTRGV. 
Women comprise more than half of the class, with 31 female students (56 percent).
The students of the Class of 2023 include 38 percent Hispanic, 23.5 percent Asian/Indian, 23.5 percent white and 15 percent African American.
The class has an average MCAT score in the 73rd percentile nationwide, a grade point average of 3.61, and a BCPM (Biology, Chemistry, Physics, Math) grade point average of 3.51.
A COMMITMENT TO SERVE
Valley natives and UTRGV alumni Noel Garza and Sidney Charm Reyes said they feel fortunate to attend medical school close to home and serve the communities that have supported them.
"I love the Valley. It has everything, and it's growing so fast," said Garza, who graduated from UTRGV in May 2019 with a bachelor's degree in biology and chemistry.
Reyes, who grew up in Las Milpas and Edinburg, said she wanted to attend medical school close to home because she wants to give back to her community.
"I want to live with purpose, and knowing that I'm part of something that has purpose is one reason I want to stay here," Reyes said. "Being from this area, I can relate. This is my community. I feel like I'm living my life with purpose by staying here."
Jennifer Adams, who graduated from Stanford University with a bachelor's degree in biomechanical engineering, said she was drawn to UTRGV because of its location on the border with Mexico.
"The one thing about UTRGV is that it emphasizes border and migrant health and I'm very interested in that," she said. "I grew up in China on the border of Tajikistan, on the very westernmost border of China, so I've always been drawn to the health issues that arise in that sort of environment."
A private reception followed the White Coat Ceremony, for students and their families at the Medical Education Building on the UTRGV Edinburg Campus.
Classes for the School of Medicine Class of 2023 start July 29.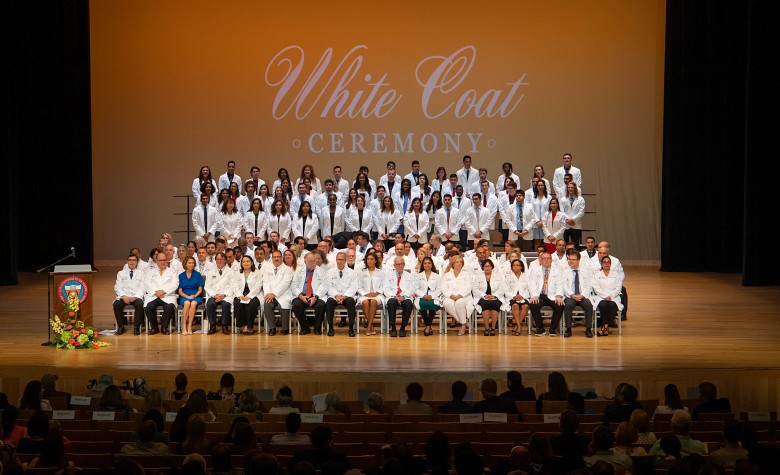 ABOUT THE WHITE COAT CEREMONY
White Coat ceremonies serve as a rite of passage for medical students. The Arnold P. Gold Foundation started the White Coat Ceremony in 1993 to welcome new medical students to the health care profession. Today, almost all medical schools in the United States, as well as schools for other healthcare professions, perform such ceremonies.
ABOUT UTRGV
The University of Texas Rio Grande Valley (UTRGV) was created by the Texas Legislature in 2013 as the first major public university of the 21st century in Texas. This transformative initiative provided the opportunity to expand educational opportunities in the Rio Grande Valley, including a new School of Medicine, and made it possible for residents of the region to benefit from the Permanent University Fund – a public endowment contributing support to the University of Texas System and other institutions.
UTRGV has campuses and off-campus research and teaching sites throughout the Rio Grande Valley including in Boca Chica Beach, Brownsville (formerly The University of Texas at Brownsville campus), Edinburg (formerly The University of Texas-Pan American campus), Harlingen, McAllen, Port Isabel, Rio Grande City, and South Padre Island. UTRGV, a comprehensive academic institution, enrolled its first class in the fall of 2015, and the School of Medicine welcomed its first class in the summer of 2016.