UTRGV offering new degree in hospitality and tourism

  Friday, July 26, 2019
  Community
By Amanda Alaniz
RIO GRANDE VALLEY, TEXAS – JULY 26, 2019 – In much the spirit of Lumiére's grand song, "Be Our Guest," UTRGV has launched a hospitality and tourism initiative designed to teach students about serving guests with style and meeting their needs with efficiency.
The new bachelor's degree program is offered by the UTRGV Robert C. Vackar College of Business and Entrepreneurship, and Dr. Arjun "A.J." Singh, founding director of the Hospitality and Tourism Management Program, was recruited by the university to spearhead it.
"Several years ago, hospitality and tourism was viewed as a vocation. But more and more at major universities it's viewed as a business degree," Singh said. "What we want out of the program is for students to get that core business foundation, but at the same time, specific skillsets that will make them successful in the hospitality and tourism field."
Singh moved to the Rio Grande Valley last year from Michigan and has been working and teaching in the hospitality industry for decades. He definitely sees the value of having a program of this nature in this growing area, he said, and it could be a steppingstone for students.
The program officially opened to students during the Spring 2019 semester with introductory courses: Host 1301, Intro to Hospitality and Tourism, and Host 2310, Intro to Food Preparation and Menu Planning.
Chef Marcel Fortuin, a part-time lecturer and instructor for courses related to the food industry, brings 43 years of experience to his instruction. He said he definitely sees how beneficial the degree will be to students looking for a career in hospitality and tourism.
"When you can say you have a bachelor's degree, and later on, a higher degree from UTRGV in the culinary/tourism/management department – well, resorts and hotels are really looking for someone like that. That gives them the information to bring to those jobs."
The number of classes offered in Fall 2019 will grow to include marketing strategies, hospitality law, and international travel and tourism.
Students also will be able to get a minor in the program.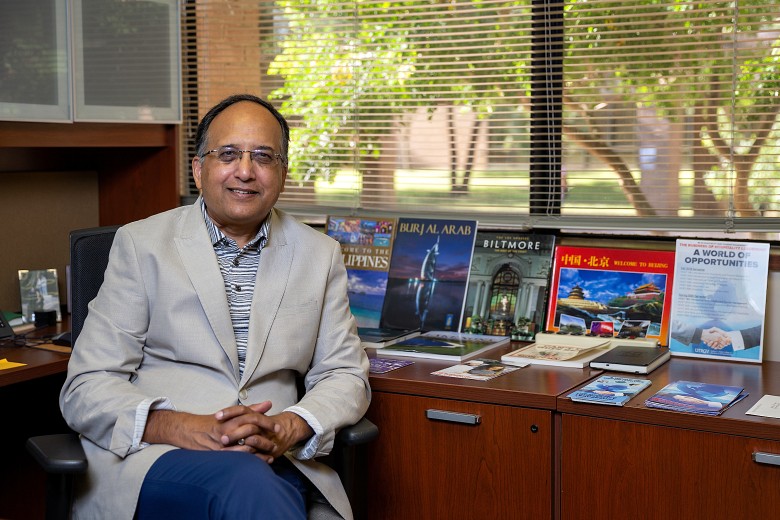 The degree can be applied to a variety of fields relating to the service industry, such as retail, restaurants or hospitals. Singh said they're currently designing the degree to include four different career tracks.
"If someone wants to get into the hotel and development side or real estate asset management side, that's a career path people can choose," he explained. "If you want to get into media planning, there's a track for that. For those with an entrepreneurial mindset, we've got a track on restaurant entrepreneurship.
"And, we've got a unique track on healthcare hospitality," Singh added.
Singh said they have a list of potential items to broaden the program, so that it becomes a resource for the community at large, as there has been interest in non-credit classes that award a certificate.
"My focus initially is going to be that we provide the management talent for all the hospitality businesses in the Valley," he said. "There are many businesses that need continuing education, so we want to be viewed as a resource for them. As a program, we want to offer certificate courses, short courses that add value and improve the professional skill levels of managers."
As the hospitality and tourism program establishes itself, Singh said, they will look into hiring research faculty and building partnerships with local businesses. They also will continue to grow the university's Business and Tourism Research Center, a community engagement program that designs, conducts and disseminates research (like the annual Winter Texan Report) relevant to area businesses and communities.
To learn more about the Hospitality and Tourism Program, email host@utrgv.edu or Dr. A.J. Singh at arjun.singh@utrgv.edu.
ABOUT UTRGV
The University of Texas Rio Grande Valley (UTRGV) was created by the Texas Legislature in 2013 as the first major public university of the 21st century in Texas. This transformative initiative provided the opportunity to expand educational opportunities in the Rio Grande Valley, including a new School of Medicine, and made it possible for residents of the region to benefit from the Permanent University Fund – a public endowment contributing support to the University of Texas System and other institutions.
UTRGV has campuses and off-campus research and teaching sites throughout the Rio Grande Valley including in Boca Chica Beach, Brownsville (formerly The University of Texas at Brownsville campus), Edinburg (formerly The University of Texas-Pan American campus), Harlingen, McAllen, Port Isabel, Rio Grande City, and South Padre Island. UTRGV, a comprehensive academic institution, enrolled its first class in the fall of 2015, and the School of Medicine welcomed its first class in the summer of 2016.